How Sustainable is this Market Rebound? - March Market Update



March 3, 2020 / Written by Rich Harvey
By Rich Harvey, CEO & Founder propertybuyer
Written by: Rich Harvey, CEO & Founder
propertybuyer.com.au
Click here to watch Rich's - How Sustainable is this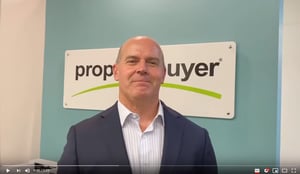 Borrowers will know that banks typically provide pre-approvals for 90 days - That should be enough time to find a property, right? Well in this market it's not!
Digital Finance Analytics identified that 42.5% of buyers in Sydney failed to convert their pre-approvals into a purchase (and in Melbourne it is 40%). The level of frustration is rising beyond boiling point for buyers struggling to find quality properties. This is being played out at many weekend auctions where those wounded- bull bidders keep charging ahead and bidding without regard to long term value.
Stock levels were down 30% in Sydney during 2019 and despite a positive start to the year, demand is still outstripping supply. My message for buyers is simple – don't panic buy, keep researching, but when the right property comes up – go for it!
The market is moving up and the projected price growth will become a reality later in the year. However, while it is a tough market, it is not impossible to buy well.
This time 12 months ago the property market was in a dire situation with several massive headwinds crushing sentiment including APRA's 7% minimum rate floor, interest only loans repriced, higher scrutiny on household expenses, the threat of negative gearing loss, foreign buyer exodus, vacancy rates rising and pre-election jitters. We finished 2019 with one of the fastest rebounds in history and predictions of more double-digit growth and housing shortages again.
Fast forward to today and many of these issues have dissipated or been replaced by other new headwinds including the Coronavirus, "Trumpism", trade wars, and continued tighter credit conditions.
On the flipside, the underlying factors driving positive consumer sentiment are now:
Forecast low supply and strong demand

Low interest rates

Low unemployment

Strong population growth

Stabilised market confidence

Low exchange rates
Auction results for February were very strong with most weeks delivering close or just above 80% clearance. See last week's results below: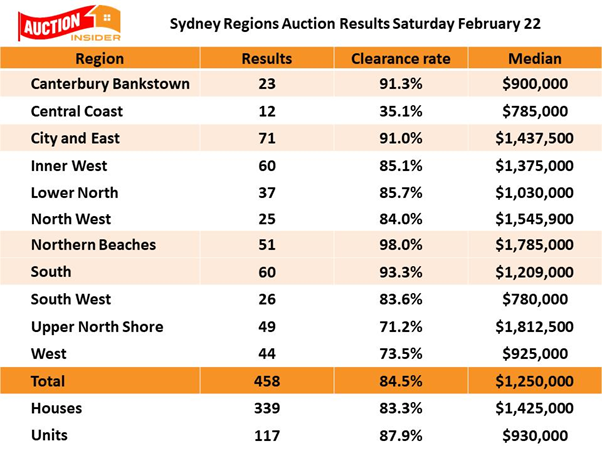 Source: Dr Andrew Wilson (My Housing Market)
Current median house prices and forecasts for each capital city as reported by Domain are here: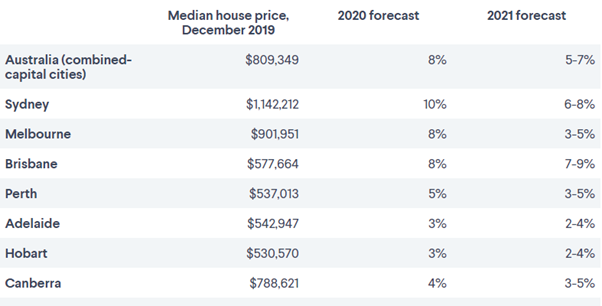 Source: Domain Research House 2020
One of the measures to closely watch is the extent to which vendors are pushing the boundaries with asking prices. Average asking prices by vendors increased 2.3% on a monthly rolling average and 9.5%. for the past 12 months according to SQM. Agents are saying they are also finding it hard to price properties when they are faced with a barrage of offers well above the upper limit of the guide price.
Low interest rates are a fundamental factor driving price growth. We are in for a period of sustained low interest rates as the global economy struggles to readjust to low productivity. The upside for borrower is that money is cheap – just look at the incredible 5-year rates you can get at sub 3% now. This means median properties prices will rise until they find a new "equilibrium level" in our cities.
If you have not looked are revising your loan structure, then I advise you to speak with your broker ASAP to see if there is a better deal available.
During the past month our team has bought some excellent properties for our clients. I helped a lovely investor couple secure an off-market 2-bedroom apartment in Manly just 400m from the Wharf for $1.2m (will rent for approx $830pw). Being off market, my clients did not have to contend with a crazy auction scenario which could have pushed the price beyond fair market value. We also secured a great family home for an expat in Fairlight for just over $3.5m, an oversized apartment in Gladesville for $795k close to the water (in the first week of the campaign), three investment properties in Newcastle in the range $500k to $700k, several off-market houses in Brisbane and won an auction for a house at Beecroft at $1.75m.
One of the key questions I am asked every day is "Should I buy now or wait?" Should you wait for the perfect moment when the market hits the bottom and then buy, or do you just pounce when the market is rising?
There is no doubt we are in a rising market, but those buyers waiting for the market to "crash" again may be waiting a long time. The bottom of the market was last May on federal election day. We have already had the correction and the fundamental drivers will see prices rise again. But the good news is we are yet to reach the previous peak.
So, the choice is simple – watch the market pass you by again and miss the boat or seek help from a quality buyer's agent and ride the next wave of growth.
I produced a short 2 minute video about this issue you can watch here: To Buy Now Or Not To Buy.
To get a professional buyers' agent by your side providing smart advice on a changing market, please call us today on 1300 655 615 for a friendly chat with my team or click here to send an email inquiry.
or click below to: