How will Coronavirus Impact Property Prices? - April Market Update



March 31, 2020 / Written by Rich Harvey
By Rich Harvey, CEO & Founder propertybuyer
Written by: Rich Harvey, CEO & Founder
propertybuyer.com.au
Click here to watch Rich's Video - How will Coronavirus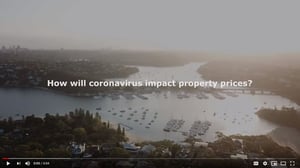 What a strange week it has been! This coronavirus pandemic is an unexpected shock to us all. I hope that you and your loved ones are safe and well. We are all in this together.
A lot of people are asking me how much will coronavirus affect house prices?
Things are moving so fast but at the time of writing there is a rising number of infections and deaths from the disease. Strong containment measures and early interventions will hopefully slow the spread if the community works together to adhere to social distancing and isolation requirements.
The community is experiencing a new level of tension so the anxiety you are feeling is normal.
What will sentiment do to the market?
However bad this virus is to the health and economy of our nation it doesn't change the fundamentals of the property market. Property is fundamentally driven by population growth and the state of the economy including employment levels. If we get unemployment levels over 10% then we could have a major price correction. But my prediction is that unemployment is likely to rise to around the 7.5% level and see prices contract 5% to 10% depending the suburb.
Buyers and sellers need to remember that sentiment is a short-term issue. We have a demand-heavy long-term property market. Pent up demand is sitting there just under the surface. Tight restrictions on development and planning create supply shortages.
Population growth, strong migration and aspirational buyers all lead to higher demand.
We need to remember this pandemic is a HEALTH ISSUE which is causing a major economic shock and the market will return to normal at some point.
The government is spending like crazy to keep people in work, to keep income flowing and the wheels of the economy moving. The stimulus package so far amounts to a total of $213 billion (as at end of March) seeking to keep business afloat and people in work.
Where to Next with the Property Market?
There is no doubt house prices will contract – but they will NOT crash. Buyers are acting far more cautiously with offers and at auction. Access to property will be harder with the current restrictions on open houses (by individual appointment only) and a ban on public auctions. It will be more difficult for buyers to engage in the buying process.
Auction clearance rates will decline. In early February they were around 80%, but they crashed to 37% on the weekend of the 28th March with large volumes of auctions being withdrawn due to the government ban on public auctions. I anticipate auction volumes will continue at a lower clearance rate of around 40-50% in the coming months. Auctions moving to the online forum will mean that public auctions lose their in-house mojo and it will be difficult for agents to use their usual tactics to cajole bidders to bid higher.
Over the next few weeks and months, we will see the overall volumes of listings decline as nervous vendors are likely to withdraw or delay their selling plans until the health crisis is over. The lack of stock may provide a counter-balancing effect on the market helping to underpin prices as buyers will continue to seek property during this period.
Opportunities
Sellers will need to meet the market. Vendors are likely to be better off selling quickly now before the further impacts of increased unemployment filter through the economy and prices decline.
Buyers need to ensure their jobs and income are secure. Buyers will have greater buying power as the market has swung back in favour of the buyer. I believe there will be two peaks coming -
Peak panic - when the greatest number of virus infections and deaths are occurring, and

Peak pain – when the economic pain from the health crisis sees greater unemployment and sentiment at its lowest point

The current market is providing opportunities for buyers to pick up "COVID-19 property discounts". The best time to buy is when sentiment is at its lowest point – but it is a mugs game to pick that precise point.
Buyers should consider using a buyers' agent to help them – they can do the inspection for you, only focusing on properties that truly meet your brief and stack up.
Long term, the market will improve. Ultra- low interest rates will encourage property buyers to take action.
When will the market turn up and what are the signs?
The time frame depends on how long the pandemic lasts for and how quickly and effectively it can be contained.
Louis Christopher of SQM Research compares this downturn to a very large storm. Christopher says we are currently approaching the eye of the storm. Once we see a peak in daily new cases, the storm will start to dissipate. When that will be is dependent upon the measures now taken to get on top of the virus. Going by our Asian counterparts, we could be through the worst in as early as six weeks. However, if current measures are not enough, the virus will be around for longer, additional harsher measures will be introduced, and it will be at this point that there is deep, prolonged damage to the economy. It doesn't take long to cut jobs, but it takes much longer to create new jobs. I am an optimist and hope that we will get on top of the case numbers within 6 weeks – but time will tell.
The moment we see virus case numbers start to trend down, will be the moment that not just the market, but the whole economy will start to rebound.
Some of the key signs to look for are:
Auction clearance rates will stop falling and start to rise

Volume of transactions will start to increase

Median prices will recover fairly quickly
What can you do to prepare yourself?
You need to prepare NOW to protect yourself, your family and your finances
Refinance your current loans – speak to your mortgage broker and seek out a better deal
If you need a referral to a finance broker, ask us for a recommendation.
Get a cash buffer in place when you refinance.
If you can't refinance – consider asking the bank for repayment holiday – this doesn't mean you get these regular payments waived – it just means you capitalise the interest and pay later.
Apply for benefit packages offered by Government
Support your local businesses as best you can
Till next time – please stay safe and consider your fellow Australian.
If you would like to arrange a time to chat to my team about your current circumstances and how to position yourself to move forward, please get in touch. Call us on 1300 655 615 or email us your details using this link here.
Or click below to: