Is it ever OK to stretch your budget? - November 2019



November 20, 2019 / Written by Rich Harvey
By Rich Harvey, CEO & Founder, propertybuyer.com.au
Click here to watch the video: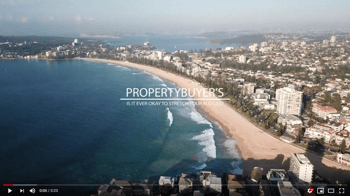 Remember when you were a kid and you scrimped and scraped together all of your pocket money and any spare change you found between the couch cushions to buy the latest video game?
Or, for those of my vintage, the latest LP record from your favourite band?
Imagine the disappointment if you'd met your goal for that thing you really wanted, that you'd been dreaming about for ages, and then found its price had increased when you went to buy it.
That's kind of what buyers in real estate markets like Sydney are facing at the moment, with what looks like the start of a new property boom seeing median prices soar once more.
When you find yourself in a situation where you've found a property you're really keen to move on, but it's just a little out of reach, what do you do?
Should you throw some more money at it? Or should you just walk away and hope something else comes along?
If you're grappling with the notion of stretching your budget in order to get a deal over the line, consider these four questions. They might help you to make up your mind.
Is it the perfect home?
Most buyers I work with have a checklist of needs and wants for their ideal home or investment property.
They know how many bedrooms they need and how spacious they should be. They know if they absolutely must have a detached house or could live with an apartment. They know the size of the unit complex they'd be comfortable in.
They have specific hopes when it comes to location, both at a suburb level as well as that proximity to schools, transport, lifestyle amenity and the like.
Some of these wants are flexible. In a rising market, flexibility is a good thing to have. But, or course, there are some items on the checklist that are non-negotiable.
If you've found a property that meets pretty much every item on your list, including those wants as well as your needs, then it can be pretty hard to walk away without a spirited fight.
The difficulty is that Sydney, like many other major cities, is in the midst of renewed growth. The time when listings were slow to move, competitors were few and far between and the power balance was firmly in the buyers' favour, look to effectively be over for the most part.
It means that if you've found your dream home or a really stellar investment prospect, chances are someone else has too. You'll probably need to stump up some more cash to make it yours.
If it ticks most or even all of your boxes, you've got to ask yourself… can you afford not to? Can you live with letting this one go through to the net?
If not, then it might be worth putting a bit of extra cash on the table, so you never have to wonder about the one that got away.
Is there growth potential?
Another consideration is whether the extra amount you pay now can be returned several-fold in the future.
Perhaps the property is in a strong suburb that's likely to continue experiencing growth over the mid- to long-term. It might be one that's seeing a lot of urban renewal or gentrification or is likely to in the future.
Think of Redfern just 10 to 15 years ago. Or Newtown or Marrickville. They went from grungy or tired, and cheap, to trendy and expensive. Think of sleepy little seaside towns up and down the coast a little longer ago than that, which have benefited from an influx of tree changers and cashed-up weekender residents from Sydney.
Maybe the place you've got your heart set on is an area where the demographics are slowly starting to change and, a little way down the road, it'll be home to a new generation of residents that'll lift its appeal and value.
Perhaps it's already in high demand with buyers – say, with young families thanks to its leafy streets or abundance of local parks and great schools – and will therefore only become more desirable over time.
Or maybe it's the actual property itself that has some good future potential. It might be that it's a fixer-upper that could benefit from investment in a new kitchen or bathroom, a refreshed look, maybe a tweak to the floorplan to add more space.
It might be that it's a house on a big block where, when you're ready and able, you could take on a small development project to meet changing demand.
Look for ways in which the property you're considering could be improved, added to or thought of in a slightly different way in order to help along its growth.
And remember – growth doesn't just have to be market-led at a suburb level. It can be 'manufactured' in many cases too.
How long have you got?
If you're buying a home or an investment that you don't realistically intend to hang on to for the long-term, then perhaps stretching yourself isn't a good idea.
But then, almost all successful property investment – and that includes your primary residence too – is about having a long-term view.
Let's say you scrape together an extra $10,000 or $15,000 to make your offer to buy successful. Cast your mind 10 years down the road. Will you have lost that additional investment?
If you're buying a good property in a good area, and I'd imagine that describes most savvy buyers, then it's unlikely your investment now will turn sour with time.
Is it going to ruin your life?
There's a big difference between stretching yourself and over-extending yourself.
A very big difference.
Stretching yourself is finding some extra resources from somewhere – your savings, other investments, by making some sacrifices, or perhaps from calling on your mum and dad – to buy the property you're interested in.
It's not digging yourself into a deep money pit, from which you have little-to-no chance of escaping.
Making an informed decision is always critical in these cases and it's worth examining your personal circumstances very carefully in order to make sure you're not placing yourself in strife.
Of course, selecting which properties are worth the stretch, and which you should let go through to the keeper, can be tough. Your safety net is undoubtedly to have an experienced buyers' agent on board with sound advice on when it's worthwhile digging deeper and finding a little more.
To have a friendly Buyers' Agents to contact you:
or
call us on 1300 655 615 today.