February 2015 - Sydney Prestige Property Market set to Shine



February 18, 2015 / Written by Thirst Creative
By Rich Harvey, Managing Director propertybuyer
While the lower and middle price brackets have been going crazy in Sydney, the upper end of the market is yet to really fire up. Find out what drives this market.
For our first event for the year we've got respected commentator Terry Ryder coming to reveal his hotspots for 2015. See details below.
Also check out my most recent blogs and client stories.
In this edition we look at:
Sydney Prestige Property Market set to Shine
Seminar - Forecasts & Hotspots for Property in 2015 - 18th March
Client Stories
Inspiration Corner
1. Sydney Prestige Property Market set to Shine
Expats and prestige buyers are making a comeback. The prestige property market is not influenced by slight adjustments in interest rates like the middle and lower price segments of the market which are more mortgage sensitive. It is a market driven largely by business and consumer confidence, share market performance, the Aussie dollar, foreign buyer activity and political events domestic and abroad.
RP data report that there has been a 30% increase in property sales over $3m in both 2013 and 2014 compared to 2012 figure. This compares with a 12.4% growth in the volume of properties sold overall in Sydney in 2014. An increase in trading volumes is often a pre-cursor to price growth in a market segment.
The chart below shows the rolling annual change in dwelling values for Sydney properties since Jan 2001. In the last 12 months the most affordable price range has increased 12.4%, the middle market segment increased 14.8% and the most expensive price ranges increased 12.8%.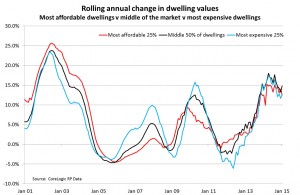 We are seeing a rising number of inquiries from expats seeking to get a foothold back into the rising Sydney market often well before they return home. Expats in Singapore, Hong Kong, Dubai, London, US and other major cities are often posted for 5 or more years. Typically they may be starting a family and with young ones rapidly growing up they are considering a move back to Australia and then thinking about schooling options or universities. We've recently helped a number of expats buy back into Sydney in Vaucluse and Mosman and recommended some great schools nearby.
Foreign prestige buyers are also making more inquiries about our services as they seek to secure a slice of paradise in Australia. These buyers need extra assistance understanding the market fundamentals and which types of properties are likely to perform.
I've been speaking with several high profile agents to gauge what factors will drive the prestige market in 2015. In summary the factors that will help stimulate the prestige market include:
The Aussie dollar dropping from 95 cents in July 2014 to around 77 cents today makes it cheaper for overseas buyers (that's an 18% decline!)
Strong share market performance – with the ASX200 rising around 17% over the last year
Improved business performance translates into bonuses for financial services executives
Stronger business confidence and company profits
Increasing Chinese interest in trophy homes, particularly in the Eastern Suburbs and Lower North Shore
Evidence of consistently strong sale prices 2013–2014.
Rising buyer activity from expats
Strong migration interest under the SIV program.
Dr Andrew Wilson, Senior Economist, Domain Group says Sydney is clearly the stand out leader amongst the capital cities and Sydney continues to experience the strongest market conditions since 2003 with no sign of waning. The Sydney median house price increased sharply by 4.1 per cent over the last quarter to a new record high of $873,786. Sydney unit prices also recorded strong growth - increasing by 2.9 per cent to $597,668. Over 2014, Sydney's median house price increased by 14.1 per cent – just below the 2013 result of 15.4 per cent.
Sydney has also shown the highest aggregated capital growth of any capital city in the years after the GFC. Tim Lawless, head researcher at RP Data, commented that since the beginning of 2009, Sydney has been a stand out in the housing market. From January 2009 through to January 2015 Sydney home values have increased by 57 per cent.
Below are the most recent median prices in several sought after suburbs and the comparison to two years prior:
Point Piper: Currently: $8.843,000 2 years ago: $6,778,000
Elizabeth Bay: Currently: $4.932,000 2 years ago: $3,982,000
Potts Point: Currently: $2.458,000 2 years ago: $1,920,000
Vaucluse: Currently: $3,602,000 2 years ago: $3,084,500
Mosman: Currently: $2,559,500 2 years ago: $2,131,000
Cremorne: Currently: $2,116,500 2 years ago: $1,630,500
Manly Currently: $2,061,500 2 years ago: $1,703,500
Clontarf Currently: $2,712,000 2 years ago: $2,246,000
Palm Beach: Currently: $2,385,000 2 years ago: $1,900,000
Hunters Hill: Currently: $2,088,500 2 years ago: $1,550,000
Lilyfield: Currently: $1,313,000 2 years ago: $981,500
Balmain: Currently: $1,415,500 2 years ago: $1,099,000
Willoughby Currently: $1,612,000 2 years ago: $1,247,000
Chatstwood Currently: $1,720,500 2 years ago: $1,252,500
Lindfield Currently: $1,859,500 2 years ago: $1,406,000
I'm predicting that the prestige market will start to see even more active trading during 2015. The conditions are ripe for both buyers and sellers of prestige property. As well as Chinese buyers, we're regularly assisting more Indian clients that are tapping into the market. There is a very large middle class Indian migrant market coming to Australia that are well educated and aspirational in their home buying desires.
If you are in the market to purchase a prestige or luxury home in Sydney, we would love to help you. We have an extensive network of agents and contacts to source off market opportunities that may be ideal for your needs. Call my friendly team of buyers' agents on 1300 655 615 or + 61 2 9975 3311 today to discuss your requirements or email us your buyers wishlist.
Rich Harvey is founder and Managing Director of www.propertybuyer.com.au, Australia's most awarded Buyers' Advocates. Propertybuyer helps property investors and home buyers search and negotiate the right property at the right price, every time. Visit www.propertybuyer.com.au or call 1300 655 615.
2. Seminar: Forecasts & Hotspots for Property in 2015 - Wednesday 18th March 2015
You are warmly invited to our first seminar of 2015.
We're kicking off the year with a very knowledgeable and respected author Terry Ryder, founder of hotspotting who will share his valuable insights into what markets are likely to perform well and just as importantly, which markets to avoid.
What better way to fast-track your research into the property market than to hear from someone that lives and breathes property research every day. Terry has an amazing ability to pick areas that hold significant potential for future growth.
This event is likely to book out so reserve your ticket early.
Topics covered at this special event include:
Where to now for Sydney house prices?
Is Brisbane really set to shine?
Regional vs metro markets- which is better?
What are the new factors driving capital growth and yield?
Where are the no-go zones?
Where are the 5 top locations for capital growth?
Picking a property strategy that's right for me
What elements create a hotspot?
Now I've found the suburb, how do I find the ideal property?
How to finance multiple purchases
Turning research in property $$$
Date: Wednesday 18 March 2015
Time: 6.30pm registration, 7.00pm start to 9.00 pm
Venue: SMC Conference & Function Centre, 66 Goulburn St Sydney
Cost: $19 single ticket, $29 double ticket
Telephone inquiries: 02 9975 3311
Limited seating is available so book early to reserve your spot today!
Speakers:
Terry Ryder, Founder and Director, Hotspotting.com.au
Terry Ryder has been a specialist researcher/writer on residential property for 32 years and has published four books. In 2006 he created hotspotting.com.au, which helps investors find the best places to buy. He is regularly interviewed by television, radio and print media on real estate issues.
Rich Harvey, Managing Director and founder of propertybuyer
Rich is a buyers' agent, property investor and professional economist with over 19 years experience in the property industry. He is a research expert and highly skilled in investment analysis and negotiation techniques that can deliver real savings for his clients. Rich and his team have purchased over 1900 properties for their clients. As Australia's leading Buyers Agent, Rich has won 25 major awards including the prestigious National Telstra Business award in 2007 and also named the winner "Best Buyers Agent in Australia" by the Real Estate Institute of Australia (REIA).
3. Client Stories
James & Virginia's Story
"...they are a very honest crew."
Buyer type: Investor
Location: QLD
Buyer's Brief: Competitively prices property near CBD
Our Goal
We wanted to purchase another investment property, we had little expertise or knowledge to be able to do everything ourselves. We were concerned that we may buy in the wrong area.
Our Solution
Propertybuyer made everything easy from the onset. They spoke in a language we could comprehend (not too much property jargon). After we had brought the property we felt super. We were confident that we had purchased wisely. Please trust propertybuyer and let them help you. They are a very honest crew. .
"...spoke in a language we could comprehend."
Buyer's Advocate, Kevin Mason
We located a very solid investment property that was priced super competitively in a suburb approximately 6kms from Brisbane CBD. After thorough research we found that this suburb had the undersupply of properties with a low vacancy rate and a difference of more than $100,000 less in the median value of properties than nearby suburbs, thus allowing huge potential for growth. The icing on the cake was being able to negotiate a $25,000 rebate for our client.
Bryan & Cherie's Story
"Worked hard for us, highly recommended."
Buyer type: Homebuyer
Location: Eastern Suburbs
Buyer's Brief: Home in the Eastern Suburbs of Sydney - circa $2.5m
Our Goal
Buy a house in the Eastern Suburbs in our price range and satisfying as many items on our "wish list" as possible. The prospect of doing everything ourselves felt daunting and time consuming. Our main worries were (1) that we would not have a good understanding of the market price and could pay too much and (2) we did not have enough technical knowledge to assess building reports properly. Also we were not aware of a thorough and reliable solicitor.
Our Solution
Propertybuyer provided reports on the prices of comparable properties recently sold; took us through building and pest reports so we were aware of any expenses that would be incurred after a sale. Propertybuyer also secured a good solicitor for us and we also received advice on a range of general matters. Propertybuyer also bid for us at auctions. Afterwards we felt satisfied. Our buyers' agent worked hard for us for several properties until we were successful. Propertybuyer are highly recommended. It strengthens your position as a buyer in the market place and increased your chance of success while eliminating the change of buying a "lemon".
"it strengthens your position as a buyer in the market place."
Buyer's Advocate, Kevin Mason
It was an absolute pleasure working with Bryan and Cherie and I must say I was extremely happy with the very successful result and fabulous property we were successful in securing "prior to Auction" for such a wonderful couple. To be able to purchase a prime property so close to the ocean with views in a blue chip location, completely renovated at a very fair price prior to Auction is extremely difficult in this bullish, competitive market. We had missed out on a number of properties leading up to this with bidding going way over reserves with one property going $700,000 over reserve! We strategically positioned Bryan and Cherie confidently to be in the best position with providing market appraisals, deciphering building & pest reports efficiently, having the contract efficiently reviewed and executing a signed contract to the agent quickly and efficiently. So much work goes on behind the scenes to bring about a successful outcome such as this and I appreciate the trust our clients place in us to guide them along and to be able to place them in a winning position.
5. Inspiration Corner
"Be happy with what you have whilst working for what you want."
Helen Keller
"Every morning you have two choices: continue to sleep with your dreams or wake up and chase them "
Author unknown but greatly appreciated
"Take the first step in faith. You don't have to see the whole staircase. Just take the first step."
Martin Luther King. Jr