November 2012 - Seven Ways To Get Your Timing Right



November 1, 2012 / Written by Thirst Creative
By Rich Harvey, Managing Director propertybuyer
Welcome to your November propertybuyer market update.
In this edition we will look at;
Seven Ways To Get Your Timing Right
Client Stories
Winner of the OPP Awards for Excellence
Seven Ways To Get Your Timing Right
In swimming and athletics timing is critical. Just 1/100th of a second can make all the difference between gold and bronze. In property, your timing as a home buyer or investor is also critical and this can make all the difference. Here's seven things you should consider to ensure that the timing of your purchase moves like clockwork.
1. Create your plan
Whether you are a property investor or a home buyer you need to be clear on your objectives. Less than 3% of the population have their goals written down and even less have a time frame for these goals. Be clear on what you are seeking to achieve and when you want it. Do you want a positive cash flow property, a high capital growth property or balanced investment? Do you want to move closer to work, the beach, away from the in-laws, closer to your social networks or somewhere with a stunning view? If you are buying with a partner, make sure all stakeholder's are on board with the decision making - collaborate on your preferences and be realistic with your budget!
2. Understand property cycles
Right now in November 2012, the property clock is at different points around Australia. Seek out the best suburbs that are at the bottom or rising sectors of the property clock. If you follow the herd mentality you will get average or below average results. If you think and act like a savvy investor you will out-perform the market. My picks for the current market include Brisbane, coming off a low base and spurred on by population growth and resources, and Sydney, gaining strong momentum and buoyed by prediction of growth above 5% pa due to housing shortages. We are also focusing on regional areas around the Hunter Valley and pockets of regional Queensland for positive cashflow investors. The Melbourne investor market remains aconcern with low rental and capital growth prospects particularly for inner-city units.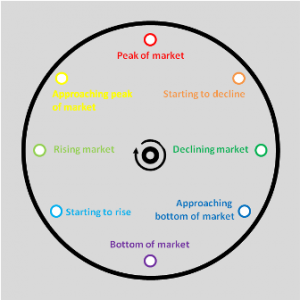 3. Finances ready
There's no point going property shopping without your finances in place. Get your finance broker on the job BEFORE you start searching (if you need a recommendation to a smart finance broker- just give us a call). Your goals and your budget will help you narrow down the most suitable areas for your research efforts.
4.Research effectively
Research is where the bulk of your time is spent. There are two basic forms of research:
(1) Finding the right area and (2) Picking the right property within that suburb. If you are an investor, you will need to use both statistical and fundamental research to narrow down your selection from the 15,000 suburbs Australia-wide. Be careful how you interpret the statistics. Median prices can mask massive variations within a suburb. Look for areas with low vacancy rates, undergoing urban renewal or experiencing solid infrastructure investment. Seek affordable areas with broad buyer and tenant appeal, growing population and diverse employment. In summary -areas with high demand and short supply. Be aware that your research is very time sensitive. Keep notes from inspections, use checklist's and ensure you look at 50+ properties in your price range.
5. Ideal months to buy
While there are always opportunities to buy well, there are some months when vendors are even more motivated to accept offers. The period in Nov/ Dec just before Christmas and pre- Easter are ideal for buying property. Vendors are often more motivated to sell this time of year as they want closure. They may have had their property exposed to the market for some time and had a few offers, but realised that in order to sell, they have to "meet the market". Some investors may wish to sell their property before December 31 as this is the date that land tax is calculated (this would actually mean you need to settle the property prior to years end).
Buyers and vendors want a resolution. Home buyers want to know where they will be living next year, and not still be sitting on the searching merry-go-round. They imagine themselves sitting around the Christmas lunch table feeling satisfied that they have purchased a new home and will be moving there in the New Year.
6. Timing your offers - the art of negotiation
Negotiation is not for the faint hearted. It's where the deals are won or lost. It's important to understand as much as possible about the vendors motivation for selling and capitalise on this. The timing of your offer is critical. Should you go in high or low? How quickly should you make a counter offer if rejected? Each negotiation is different and will depend on the circumstances. Our clients have found that using a buyers' advocate to do both the appraisal and the negotiation brings great results. Having an independent third party can make all the difference to a negotiation. We are not emotionally involved so we end up securing the property at the best possible price.
Selling agents are often more driven to close a deal before the end of the year. They may be tired of the listing and want a result or be thinking about the commission they will be paid for the sale. The agents may have quarterly or yearly targets to reach and would therefore be motivated to close a deal.
7.Closing the deal
If ever there was a more critical event in the process of buying property it is at the point of "exchange". My advice here is move quickly. Sometimes you can be in a "race to exchange" with another buyer if you have located a gem. Get your solicitor/ conveyancer engaged early to review the contract. Should you do the pest and building inspection (or strata) during a 5 day cool off or is it better done prior to a 66W? If you have "offer and acceptance" then this means nothing until the property contract is formally exchanged. There is an optimal point at around the third week in a 4 week auction campaign to make offers and secure before auction. The vendor will want to have "tested" the market, but they won't want a failed auction either.
Of course there is an even easier way to buy property and with time efficiency - and that's using one of our savvy Buyers' Advocates that will work on your side each step of the way. Using a Buyers' Agent is the key to making smarter buying decisions.
Client Stories
Here is a selection of feedback from some of our happy clients last month
Buyer type: Home Buyer
Buyer's brief: Appraisal and negotiation service for a home
Purchase price: Undisclosed (client's request)
Buyers' Advocate comment:
Skye first engaged our services four years ago, when we assisted her in locating and securing an investment property. On this occasion, Skye had unexpectedly come across a home that she was interested in purchasing, but was both unsure of the value and didn't want to deal with the selling agents. After Skye phoned me, I immediately arranged a viewing of the property that afternoon and completed a full appraisal within 48 hours, before commencing negotiations, liaising with her solicitor, reviewing the pest and building inspection and ecuring the property within a further two days. Matt Corbett
What our clients say:
This was my second property purchase with propertybuyer. I can honestly say that without the help of propertybuyer I don't think I would have been successful in securing my properties. I am eternally grateful. Skye M (Finance)
Winner of the OPP Awards for Excellence 2012...propertybuyer
We are thrilled to announce that we were the 2012 Gold medal winners at the Overseas Property Professionals awards for Excellence in the category of "Best Supporting Service".
The Overseas Property Professional (OPP) Awards for excellence are judged by a fifty strong panel of international and qualified judges. The OPP Awards celebrate the best developers, estate agents and associated companies working in the global cross border residential property industry.
Best Supporting Service: Gold - propertybuyer
To fast track your property plans in securing your home or investment property, please fill in your property brief here or contact Jason Low, Manager Client Relations and Strategy on 1300 655 615 or +61 2 9975 3311 to discuss your requirements.