October 2012 - Which Direction for Property Prices?



October 1, 2012 / Written by Thirst Creative
By Rich Harvey, Managing Director propertybuyer
Welcome to your October propertybuyer market update.
In this edition we will look at;
Which Direction for Property Prices?
Seminar - What's really happening in the property market?
Seminar - Your Investment Property Property Investors Forum
1. Which Direction for Property Prices?
With interest rates on the way down, the footy finals behind us and a warmer summer predicted, it looks like real estate is back on the agenda around the dinner table. There has been much more positive news in the last month.
RP data Rismark reported a 1.4% jump in Australian capital city home values for September which is the largest increase in monthly rises over the last 18 months. The strong performance of the housing market since the beginning of June has reversed the falls recorded earlier in the year, putting dwelling values 0.8% higher over the first 9 months of the year. The chart below gives the individual performance of each capital city since the start of 2012.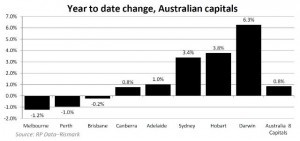 The strong resilience of the property market can be attributed to a number of factors:
Lower interest rates
Continued economic growth (trending around 3% pa)
Low building approvals resulting in continuing under supply of property
Low unemployment
Inflation within the target 2% to 3% band
In the last few weeks, the Financial Review ran two articles suggesting property prices could rise 10% to 15% as a result of interest rate cuts making home ownership more affordable. The house price to income ratio has been declining in the last two years meaning that the percentage of household income going toward mortgage payments has reduced.
Paul Braddick, head of property research at ANZ suggests that "house prices in most capital cities seem to be finding a floor", while Louis Christopher of SQM Research expects the RBA cash rate to decline to 3% by mid next year, resulting in house price increases of between 5% to 9% in Sydney and 2% to 5% in Melbourne.
APM's Senior Economist Andrew Wilson has said that house prices will generally move forward in 2013 as confidence and capacity returns to the marketplace. Wilson suggests that Sydney, Perth, Darwin and Canberra remain the best prospects for mid range annual growth of around 5%. Brisbane also appeals with growth from a low base.
"Growth will be a factor of population growth, housing shortages and rising incomes from a resilient economic performance by most capitals. Capital growth is re-emerging in most markets. The danger remains an economic downturn and fragile confidence driven by persistent negativity. Signs however remain good for medium term prosperity. The Melbourne investor market remains a concern with low rental and capital growth prospects particularly for inner-city units" said Wilson
Interest rates are almost back to the lowest point since the GFC or the "emergency lows" of 3% that the RBA talked about. The current interest rate environment is making it increasingly attractive to borrow for property investment and housing upgrades.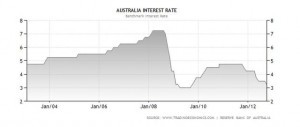 Where are we heading?
The October interest rate cut will help restore consumer confidence and economists are predicting at least one more cut to come before the year end.
In our own business we are starting to see increasing enquiries from home buyers' trading up and investors looking to get ahead of the next curve.
New housing grants for first home buyers of $15,000 for both NSW and QLD from 1 October will help stimulate construction for the lower end of the market. There is also a $5,000 building boost for investors purchasing brand new housing in NSW.
Some of the leading indicators we are seeing in the property market include:
Higher auction clearance rates; especially around the east and inner west parts of Sydney where demand is high and supply low. Sydney auction clearance rates have been trending at 60%+ rates.
Larger numbers through open for inspections. This is partly seasonal and partly in response to lower rates.
Improved loan affordability. Some fixed rates three year rates are as low as 5.55% pa.
Vendors pricing their properties at more realistic levels to meet the market. This has translated into less days on market and lower vendor discounting.
Quality apartments in the $400k to $600k and quality houses up to $1m range are trading more quickly and with multiple offers.
The middle market segments are still patchy while the upper end of the market is still quite sluggish (but a great time to buy!).
In summary, we are likely to see a gradual recovery and stabilisation rather than a quick upturn in our property markets. It's hard to pick the bottom of the market, but we are seeing clear signs of renewed confidence and buying conditions ripe for investors to achieve strong yields and future capital growth if they select the right strategy, the right area and the right property.
2. Seminar - What's Really Happening in the Property Market?
We all know that real estate agents work for the vendor, but who works for the buyer?
Rich Harvey together with the Partners of Allan Hall Chartered Accountants, invite you to an exclusive presentation.
Date: Tuesday 16th October 2012
Time: 6.00 to 7.00pm (followed by light refreshments)
Location: Allan Hall Business Advisors
Suite 2, 117 Old Pittwater Road, Brookvale
RSVP: Teresa Coutinho at teresacoutinho@allanhall.com.au
Tickets: No charge
If you are interested in property investment or considering buying or upgrading your home, you must attend!
Local Northern Beaches update
Snapshot on Sydney and Australia wide
How to buy property in SMSF's
What direction will property prices go?
How to pick property winners
Properties suitable to buy in SMSF
RSVP: Teresa Coutinho at teresacoutinho@allanhall.com.au
3. Seminar - Your Investment Property Magazine's Property Investors Forum 2012
Rich Harvey will be speaking again at this year's Your Investment Property Magazine, Property Investors Forum.
Rich's topic: Australia's Next Boom Suburbs - How to pick the winners
Quick ways to find areas that are about to surge
How to fast track your property research using free stat's
How to conduct effective statistical and fundamental research
How to avoid analysis paralysis
Come and learn how we can help you buy the right property, every time!
Standard Ticket information:
Early-Bird pricing (register before 5th Oct) $195 inc gst
Standard pricing (register after 5th Oct) $295 inc gst
propertybuyer's special ticket offer - only $99! Buy tickets here.
Promo code to use: IFM5\Tel-KS
Date: Saturday 23rd February, 2013
Time: registration opens 8.00am - 4.45pm (includes lunch & refreshments)
Location: Rydges Hotel, Melbourne
To fast track your property plans in securing your home or investment property, please fill in your property brief here or contact Jason Low, Manager Client Relations and Strategy on 1300 655 615 or +61 2 9975 3311 to discuss your requirements.