September 2012 - Consumer Sentiment on the Improve



September 1, 2012 / Written by Thirst Creative
By Rich Harvey, Managing Director propertybuyer
Welcome to your September propertybuyer market update.
In this edition we will look at;
Consumer Sentiment on the Improve
Client Stories
Melbourne Property Show
1. Consumer Sentiment on the Improve
Recently released data on consumer sentiment shows that confidence amongst Australian's is improving however, the index remains at levels which are unlikely to result in a significant recovery in the housing market.
Westpac and the Melbourne Institute recently released the July results of their monthly survey of consumer sentiment. The consumer sentiment index was recorded at 99.1 points for the month which indicates that consumer sentiment is close to the neutral mark where optimism and pessimism are equally weighted (ie an index reading of 100).
The consumer sentiment index continues to point to a higher level of pessimism than optimism despite the fact that there has been a significant decline in the standard variable mortgage rate over recent months (the index has remained under the 100 mark since March 2012). The recent round of interest rate cuts commenced in November 2011 and since that time average mortgage rates have fallen by a total of 95 basis points. In October 2011, the month prior to the first interest rate cut, consumer sentiment was recorded at 97.2 points. Despite 95 basis points worth of interest rate cuts since that time, sentiment is just 1.9% higher. Consumers simply aren't responding to lower interest rates in the way they have in the past.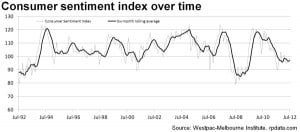 Clearly in the current economic environment of global and domestic uncertainty, a lower interest rate environment is not proving to be enough to encourage a higher level of consumer optimism. Although there has been an improvement in all components of the consumer sentiment index over recent months, respondents are particularly pessimistic about family finances over the past year and over the coming year. This result suggests that although lower interest rates should ease financial burdens on families other factors are leading to lower expectations of finances. You could speculate that it is probably related to factors such as the carbon tax, political concerns both domestically and internationally, concerns of a Chinese economic slowdown and ongoing concerns about key European economies.
We also know that unlike conditions prior to the Global Financial Crisis (GFC) the behaviour of consumers has changed significantly. For starters, households are saving a lot more than they were previously. The household savings ratio was in steady decline since the mid 1970's and in 2003/04 households were actually spending more than they were earning (ie savings was negative). The household savings ratio has rapidly risen and has been above 8% since December 2008. Private sector thirst for credit, both housing and non-housing has also dried up. Total private sector credit growth was recorded at 4.0% over the year to May 2012 compared to typical annual growth over the past 20 years of 9.6%. Annual growth in housing credit is currently at a historic low of 5.1% over the year to May 2012 compared to typical annual growth of 13.4% over the past 20 years. Other indicators such as growth in spending on credit cards, housing finance commitments, retail trade and dwelling approvals are also reflective of limited demand from consumers to spend and a renewed focus on saving and debt reduction.
The lacklustre response to the significant easing of variable mortgage rates has repercussions for the housing market. Despite such a significant easing in mortgage rates, capital city home values have fallen by a further -2.2% since October 2011. It is important to note that values did increase by 1.0% in June and, based on the daily movements in the RP Data-Rismark Home Value Index, have now been trending higher over the past six weeks. As the graph shows, over recent years consumer sentiment has been an important element of the performance of growth (or declines) in home values and as a result a sustained improvement in home values is likely to be dependent on a sustained improvement in consumer sentiment.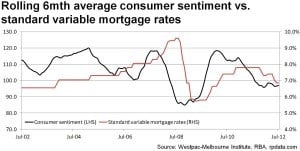 Sales transaction data lags our value data however, volumes have also shown little response to-date to a lower mortgage rate environment. As the graph shows consumer sentiment and sales volumes have recorded quite a strong correlation in recent years. A sustained recovery in consumer sentiment is therefore likely to result in an improvement in residential sales activity.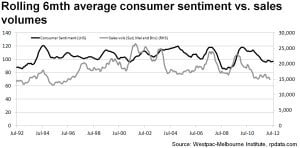 Overall, cuts to mortgage rates take some time to filter through to the market however, capital city home values have now been increasing over the past six weeks. Sales volumes data which does lag is yet to show signs of a recovery however, the amount of stock available for sale is slowly easing and we may well see further improvement in sales activity in the spring which is typically a busier time for the housing market. The key ingredient to an improvement in the housing market is likely to be an ongoing and sustained improvement in consumer sentiment, particularly a willingness to spend on high commitment purchases. This is likely to take some time given the high level of caution being shown by consumers and the ongoing global economic uncertainty.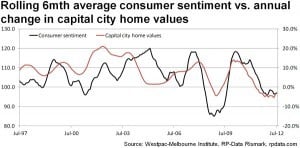 Article supplied by rpdata.
Rich's Spring Comment:
We expect the spring property market to show further signs of stability. I believe interest rates are likely to drop a further 0.25% by November to help stimulate the sectors in the economy that are lagging. Increased first home buyer grants for new properties will also commence on 1st October to help drive demand at the lower end of the market. There have been a few strong sales at the top end and the prestige market which still provides a plethora of opportunities for astute buyers. Overall, property prices are likely to track upwards in line with increases in money supply and wages. Affordability will be the constraining factor as always. In the short term I expect to see renewed signs of growth in the spring market and rental yields are also improving. One of the best times to buy properties is at or close to the bottom of the market.
Rich Harvey
2. Client Stories
Here's a selection of feedback from some of our clients last month:
Property Type: Home Buyer
Buyers' Brief: Auction bidding for a 3 bedroom unit in Mosman
Purchase Price: $797,000
Saving: $50,000 +
Buyers' Agent comment:
Diane engaged our services to bid at auction on her behalf as she knew a number of other interested purchasers who would be bidding against her and she wanted to eliminated stress and have anonymity. The bidding started at $750,000 and increased by $5,000 increments before stalling around $780,000. When the under-bidders, a young couple, stopped at $796,000 after shortening their increments to $1,000 - I countered quickly and secured the property at $797,000. For a 3 bedroom, 2 bathroom unit with views in the heart of Mosman, this was a fantastic result. To say Diane was 'over the moon' would be an understatement. It was one of the happiest clients I have seen and the look on some of the others bidders faces when they knew Diane had secured the property, was priceless.
What our clients say:
"Last week Matt Corbett assisted me in my purchase at auction of an apartment in Mosman. I am most grateful for his help to secure the property at an excellent price. From the first phone call from Matt I felt I was in the hands of an experienced professional. He gave me lots of time on the first phone call and spent time with me face to face before the auction to discuss the details and at the auction itself I could stand back and leave it all to him. It was such a good decision of mine to engage Matt and I would recommend him most highly."
3. Melbourne Property Show
We will be presenting and exhibiting at the Home Buyer and Property Investor Show Melbourne from Friday 5th October to Sunday 7th October and Rich will be a keynote speaker again! Click the below image for free tickets.
Knowledge is power when it comes to buying a home or investment property and you can discover the latest trends in the property market at the show. The show is designed to help you navigate your way to smarter property buying decisions.
Rich's topics & presentation times:
Friday 5th 3.30 - 4pm: "How to buy the right property, at the right price, everytime"
Saturday 6th 3.30 - 4pm: "How to buy the right property, at the right price, everytime"
Sunday 7th 3.30 - 4pm: "Advanced property strategies: How to take your portfolio to the next level"
Come and drop by our stand and meet the team (stand # 216)!
Click here and head to the ticketing section of the event website to download your FREE Expo ticket (saving $18)!
To fast track your property plans in securing your home or investment property, please fill in your property brief here or contact Jason Low, Manager Client Relations and Strategy on 1300 655 615 or +61 2 9975 3311 to discuss your requirements.