Would you buy a house you've never seen? - May 2018



May 23, 2018 / Written by Rich Harvey
By Rich Harvey, CEO & Founder propertybuyer
The last six months has been a whirlwind for me. As some of you may know, I have been involved in a new property TV series called "Buying Blind" as the expert Buyers Agent helping six couples find and buy their dream home. I work alongside Shaynna Blaze (Interior designer) and Marshal Keen (Builder).
What's it all about?
The premise of Buying Blind is that each of the couple's hand over their entire life savings to me to find and purchase a house, but they don't get to see it until AFTER I have bought it and Shaynna and Marshal have transformed it into their dream home.
The couples range from first-time home buyers to young families challenged by the soaring property market in Australia. Some couples had basically given up the search because it was just too hard to crack the market, or they had put it on the back burner because they didn't have enough time or motivation to keep going.
With that responsibility, I must be absolutely sure of their budget, location and property preferences the minute they sign the Power of Attorney (as I have the authority to sign the contract of sale). As these couples are, Buying Blind, I'm unable to get feedback from the buyers on the various properties shortlisted for them – I will have to make the decision in isolation.
Each of the buyers must grapple with giving up control of the process. They must let go in order to gain.
What I love about the show:
I love the incredible trust these couples put in me and the other experts to find, buy, and renovate their next family home.
I love the way that Shaynna and Marshal approach these renovations to transform the houses into homes.
I love being a part of each couples' exciting journey to secure their next home and set them on the course for the next stage of their lives.
Will the buyers like the houses?
Well you will just have to tune-in and find out what really happens and their unpredictable reactions…
The show premieres on Nine soon – so stay tuned and I will let you know the date!
And watch out for more behind-the-scenes photos and updates.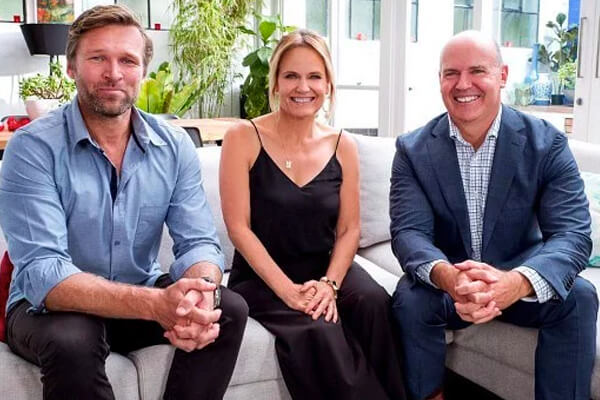 The three Experts on Buying Blind: (L-R) Marshal Keen, Shaynna Blaze, Rich Harvey
If you'd like a helping hand identifying which suburbs will suit your lifestyle needs, or help finding your next home, please contact my friendly team of Buyers Agents who would be glad to lend a hand. Tell us your property brief or call us on 1300 655 615 today.