Melbourne's Best Buys in 2021 - April 2021



April 20, 2021 / Written by Rich Harvey
By Rich Harvey, CEO & Founder, propertybuyer.com.au
The city of Melbourne is a lot of things – stylish, footy obsessed, loves a good tram, takes coffee very seriously and has one of the most erratic climates on earth.
Let's add another one to the list. Resilient.
Say what you like about the Victorian capital, but its locals sure are good at getting back up when they're knocked down. Or as was the case in 2020, locked down.
The city was without doubt the worst-hit in Australia from the COVID-19 pandemic, enduring several months of shutdown, which had devastating effects across the board, property included.
My, how things have changed in a truly short space of time.


Melbourne is in the midst of a property boom, with demand through the roof and prices rising sharply. It's an exciting time.


Nationally, home values rose in March at their fastest pace in more than three decades, surging by 2.8 per cent in the month. Quarterly, they're up an astonishing 5.8 per cent.
The gains were across the board, with each capital recording an increase, led – no surprises – by Sydney, up 3.7 per cent in March. But Melbourne wasn't too far behind, seeing a very healthy 2.4 per cent rise.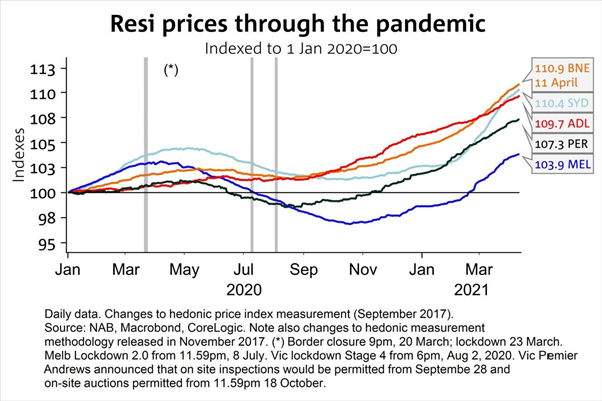 I think that's pretty incredible, if you think that not too long ago the Victorian capital was in a state of total shutdown for several months. People were locked inside, businesses shuttered, the CBD was a ghost town and the economy ground to a halt.
But it's like Melbournians are making up for lost time and enjoying the good times while they're here.
Although, all indicators are that those good times aren't going anywhere too soon. ANZ forecasts 16 per cent growth over the course of 2021, which is in a similar ballpark to economists' outlooks from CBA and Westpac.
Assuming that every part of the city will benefit from a market frenzy is dangerous. There are some that won't experience the same uplift because they lack the solid fundamentals to sustain growth.


But there are a handful of stand-out suburbs that I have my eye on at the moment, as they boast very good prospects for future growth.
Thornbury, seven kilometres to the north of the CBD, with a median house price of $1.25 million and median unit price of $620,000, is eclectic in more ways than one.
It's trendy and hip, with that distinct inner-northern Melbourne vibe and an array of pubs and restaurants. At the same time, it's also popular among young families and professional couples thanks to its proximity to the city, exceptional public transport and abundance of lush parks.
It has something for everyone, and with its immigrant settler roots still going strong, it's a colourful and vibrant part of the city to live in. But there's still plenty of room to grow, with the wave of urban renewal ongoing.
At the moment, it's young professionals that are driving the bulk of demand. Hotter suburbs like Fitzroy and Northcote are rapidly pricing them out, so they're looking for the next best thing – and it's Thornbury.

Preston is the very next suburb up, and while it shares a lot of those hip characteristics, it has a slightly slower pace and more of a community vibe.
The median house price is $1.07 million, and the median unit price is $580,000, which makes it a favourite among first homebuyers. That's especially the case right now, as prices and competition reach fever pitch in more popular pockets closer to the city.
You'll still find bustling cafes and arty boutiques, but they're in amongst old school markets and fresh produce shops run by first generation Australians.
The housing mix here is very diverse, from classic period homes through to brand new apartment and townhouse developments. It's the latter that is getting the attention of first timers.
Those at the lower end of the price scale are flocking to new build one- and two-bedroom apartments, while debutants with a slightly bigger budget are liking the newly built duplexes and villas that are popping up.

Another suburb popular with cashed up young buyers is Collingwood, three kilometres northwest from the CBD, which is one of the most vibrant and cool parts of the city.
It's been in demand for a long while, but now that cashed up would-be buyers are freed from the shackles of lock down, they're out to acquire their dream pads in an area that has everything they could possibly want.
Pop-up performance spaces. Heaving bars. The hottest restaurants. Designer clothing. Thrift shops. High-priced tattoo bars. A-lister hair salons. Collingwood is a hipster's playground.
The median house price here is $1.1 million and the median unit price is $656,000. When it comes to units, an influx of supply from projects that broke ground before we knew what COVID was have just come online. There are some decent buys.
To be able to get a one-bedroom with a car park in a new build, in a trendy suburb, for around the $400,000 mark would astound Sydneysiders, for example.
For those in the market for something more high-end, Collingwood is home to a number of boutique and bespoke developments that offer luxury living. There are also some stunning town houses and cottages that attract those with a bigger budget.

Elwood, eight kilometres south of the CBD, is in hot demand right now because of a major trend that developed among many Melbournians during lock down.
An intense desire to get out of the city for good.
While it's not far from the hustle and bustle, it might as well be a small beach town a million miles away, thanks to its relaxed seaside vibe. Life here is relaxed and peaceful – just what the doctor ordered for those lock down-fatigued city slickers.
The median house price is $2.1 million, and the median unit price is $650,000. It's quite a range, so you get a mix of lower end of the scale young professionals going for affordable, older-style apartments with room to add value, and cashed-up young professionals or families with money to put down on a pricey house.
There's a demographic change underway here, with older residents increasingly packing up and selling off to downsize elsewhere. There's a growing opportunity to snap up homes that need a bit of TLC but offer good long-term growth prospects.
But in general, Elwood is a fantastic spot and offers a lot of appeal with its sea, city proximity, stunningly pretty streetscape and village charm.

And finally, the suburb of Altona, 13 kilometres to the southwest of the city, is another pocket popular with first-time buyers and young families on a budget.
The median house price here is $930,000 and the median unit price is $690,000. That price for a detached home is generating a lot of interest among young families who want a bit of space to grow.
Sure, Altona has had a bit of a slightly rough reputation in the past, but it's changed a lot in recent years and will continue to do so. The search for affordable real estate will drive renewal and change.
There's a lot of outdoor space to enjoy, including the expansive beachfront stretch. Altona also has a wonderful community feel, with lots of local groups that contribute to everything from wetlands conservation to sports recreation.
As they say, the rapid emergence of a café culture is a sign of gentrification… and you can see it here. There's also an uptick in development activity, with older houses on decent-sized blocks started to be knocked down and replaced with townhouses or villas.
One thing that must be addressed… the seaweed. The smell of it can get overpowering at times if large amounts of it wash up and it has nowhere to go. Council needs to make a better attempt at revitalising the storm water system.
When markets are booming and competition is tight, it's important that you work with a qualified, independent and experienced buyer's agent so you don't make a costly mistake.
A buyers' agent can work with you to identify your needs, wants, goals and budget, and then find suburbs that fit the bill. Then, they can hunt within those areas to seek out potential deals for you – including those that never make it to the open market.
After that, they negotiate on your behalf with the vendor's agent to get the deal done, saving you time, stress and potentially a pretty penny by not overpaying.
To have one of our friendly Buyers' Agent's contact you, click here to:
or
call us on 1300 655 615 today.