Why Waiting Makes No Financial Sense This Year - April 2021



April 8, 2021 / Written by Rich Harvey
By Rich Harvey, CEO & Founder, propertybuyer.com.au
This time last year, many feared the worst for Australia's property markets as the pandemic set in and the world entered lockdown, changing our lives as we knew them.
What a difference 12 months can make – when it comes to real estate, in any case.
After a brief drop, median house prices across Australia began to rebound in the final few months of 2020. Now, they're above their pre-COVID levels. In Sydney, meant to be the hardest hit by price crashes, prices are at their highest ever level.
And there's more to come. A staggering forecast released by ANZ at the end of March tips prices across the capital cities to soar by 17 per cent this year.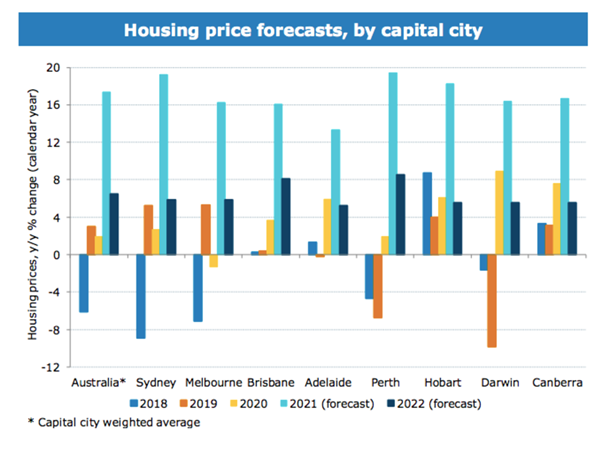 Those would-be buyers who are still feeling a little nervous or have adopted a wait-and-see approach risk paying more – probably in the range of almost six figures – or having to wait years to build up a bigger deposit.
Some may miss out all together and never regain that ground.

This is how much your real estate indecisiveness or inaction could be costing you in Sydney, Melbourne and Brisbane.
Let's say you were looking to buy in the Harbour City but decided to wait until January next year, when there's a bit more certainty in the world or you've got more of your ducks in a row.
It goes without saying that the median house price isn't truly representative of individual circumstances, specific suburb dynamics or whether you're buying detached or attached.
So, let's use CoreLogic's indicative dwelling value, and focus on the mid-range figure, to be as reflective as possible for these scenarios In Sydney, that number is $895,000 as of the end of February.
ANZ's projection of for Sydney prices to rise 7.5 per cent over the course of 2021. Should you wait until January to buy, that's an extra $62,000 you could be forking out.
In Melbourne, based on a seven per cent increase of the mid-range indicative dwelling value of $717,000, that's $50,000 more in January than right now.
And in Brisbane, the projected 9.5 per cent surge in prices in the next year would add almost $51,000 to the $535,000 indicative dwelling value.
Those aren't small figures. They're even bigger if you're looking at higher price's properties in blue chip locations.
And if you think the ANZ's outlook is overly optimistic, other lenders are equally or only marginally less bullish in their forecasts for what lies ahead. So too are leading economists.
The upward trend is clear, as this graph plotting prices over the entirety of 2020 and for the first few months of this year.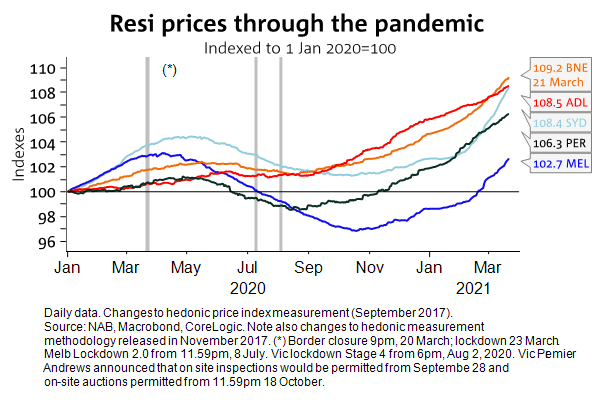 Those forecasts are pretty spectacular, but when you consider the number of growth-inducing factors that have combined, it's not hard to see why such phenomenal growth is predicted.
Whether it's the economic bullet we largely dodged, more and more elements of our old normal returning or the rollout of the COVID-19 vaccine, confidence is back among both consumers and businesses.
We're feeling pretty good again. We're out spending. We're making big life decisions and feeling pretty comfortable about it.
Sure, we can't travel overseas, but we can get married, have kids, start a business, see our own backyards, be ambitious at work, and yes, buy a new home.
Record low interest rates are also helping. The cost of credit right now is extremely cheap, allowing people to borrow more and pay less for it. And the Reserve Bank has made it very clear those rates won't be rising any time soon.
Banks are also quite keen to lend that money. After a few years of over-regulation, followed by the damning Banking Royal Commission and a market correction, lenders are eager to boost their businesses and get money out the door.
Thanks to COVID, the government's focus is firmly on job creation and economic growth. They're determined to ensure the engine keeps roaring, and that will flow through to all parts of the community – wealth, investment and security.

Economists don't think this next boom will be brief but will continue into 2022 and beyond. What could waiting to buy cost you?
There's a financial cost to be worn by waiting, as I outlined above with the ANZ outlook for growth in 2021.
But there's also an opportunity cost involved.
What are you potentially missing out on by not being active in the market right now? Are there homes that could be perfect for you and your family that others are snapping up? Is your suburb or choice being priced out of your budget?
That cost isn't just having an impact now, either. If you face paying an extra $60,000 or $70,000 by waiting until next year, how long would that take you to save? Two years?
That's a few years of living in limbo, renting and paying someone else's mortgage or being stuck in the place you're upgrading on. That's two years of living cheaply to scrape together as much as you can. That's an extended period of missing out.
It's clear that getting into the market sooner rather than later makes financial sense. But as the rapid price growth indicates, it's extremely competitive out there right now.
Enlist the services of a qualified, experienced, knowledgeable and well-connected buyers' agent to help you figure out your needs, wants and budget, and find a range of properties that fit the bill. They also have access to off-market deals that don't make it to the internet or front page of a real estate, and therefore have much less competitive price pressure.
They can then negotiate on your behalf, removing the stress, angst and risk of overpaying due to emotion, to get you the best price with the least amount of fuss.
To have one of our friendly Buyers' Agent's contact you, click here to:
or
call us on 1300 655 615 today.