Navigating interest rate increases - November 2023



November 15, 2023 / Written by Pete Wargent
By Guest Blogger, Pete Wargent,
Next Level Wealth
12-year highs for rates
We've just seen the Reserve Bank of Australia increase interest rates for the 13th time in this cycle taking the cash rate target to 4.35 per cent.

This is the highest the rate has been in a dozen years, so is this a major tipping point for mortgage holders that will finally curtail spending and get people to tighten their belts? In short, yes, it probably is!

It's already been happening to some extent, retail volumes being down from their highs; and remember there always tends to be a lag with monetary policy, with interest rate hikes taking some time to flow through the system.

Inflation has been too high in Australia, but just over the past 3 months of available data it appears that price changes have calmed right down.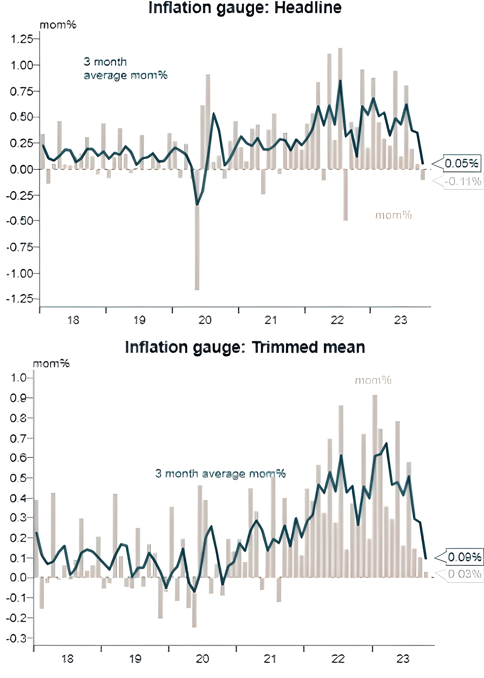 Source: Dr. Alex Joiner, IFM Investors
A welcome recent 20 per cent drop in crude oil prices should also help to bring petrol prices at the bowser down a little as we head into the new year.

A couple of the major banks reported their latest results this month and showed that even now there's still quite a fair volume of fixed rate mortgages due to reset to higher mortgage rates over the next 3 to 6 months…and that's even before considering impact of the latest interest rate hike.

Canstar estimates that the average monthly mortgage repayment in New South Wales has increased by around $2,000 since this interest rate hiking cycle began.

As household savings are run down, consumers will begin to make more cutbacks on discretionary spending.

The Reserve Bank of Australia has a difficult balancing act to undertake here and doesn't want to hike interest rates so far that a sharp slowdown or recession is the outcome.


Understanding the numbers
While individual circumstances differ, borrowing capacities have decreased by around 30 per cent since interest rates started to rise, and this is introducing affordability constraints for many buyers in the marketplace.

First homebuyers in particular, are struggling to get on the ladder without parental help, and with many investors fearful of construction company insolvencies, lending for the construction or purchase of new homes has dropped to two-decade lows.

So, with record high immigration this year, we are clearly heading for a significant shortage of housing ahead.

Over the short term, economists still expect housing prices to increase over 2024, but at a slower pace than we have seen this year, which makes sense given the moves in interest rates.

Over the next few years, there will be a serious shortage of dwellings in the capital cities, especially in the larger cities where apartment construction is projected to fall way short of the demand.

Turning our attention globally, interest rates are expected to fall in 2024 in the US, UK, the Eurozone, Canada, New Zealand, Mexico, and elsewhere.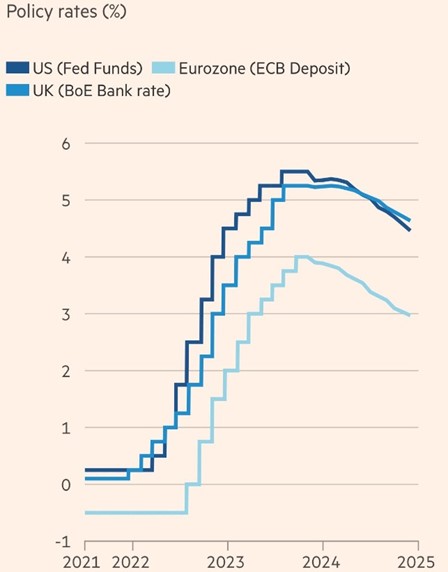 Australia may yet prove to be not too far behind in this regard, and historically when interest rates do fall, they've tended to be cut quick and hard.


Impacts on the housing market
How will interest rate increase will affect the Australian property market today, and what will property buyers need to do in response to the interest rate increase?

There will an additional level of caution among buyers and sellers, with the latest interest rate hike being delivered after a 4-month pause.

For prospective buyers, firstly you'll need to work out how much you can comfortably afford to borrow, ideally by working through some numbers with a mortgage broker.

And you'll need to be very well organised and prepared, since for sale listings levels have remained tight, and in some parts of the country competition from other buyers remains fierce.

All-time low vacancy rates are surging rents are causing many housing market participants to want to bite the bullet and look to buy.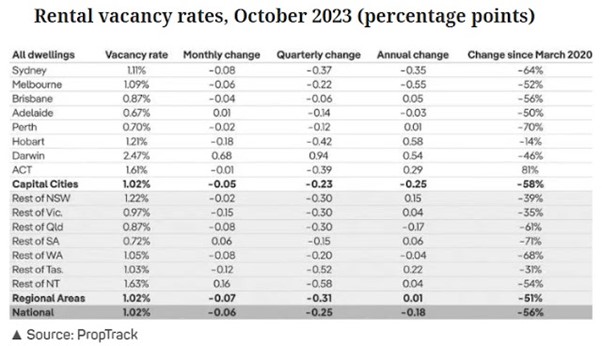 Buying property in a rising rate environment
Finally, some tips for buying a property in a rising interest rate environment.

Importantly, always make sure you factor in the potential for further interest rate hikes.

Although financial markets think we are at or close to the top of the interest rate cycle in Australia, we have been surprised before and inflation could prove to be stickier than expected.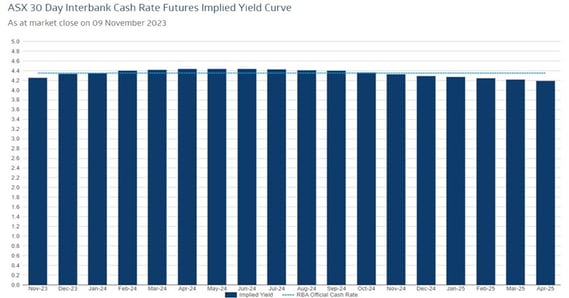 Source: ASX
As for the best types of properties to buy in a rising interest rate environment?

There will be lots of competition for investment grade or family-friendly apartments (high-rise tower blocks have been far less in favour in recent years) as borrowing capacities have declined and the stock shortage grows.

Buyer demand will often be intensely focused on the 'finished article' properties which don't need major decoration or renovations, while there has been far less demand for development sites, with more and more real estate developers pulling up stumps for this cycle.

For this reason, if you can find a property which you can sit on for a few years with potential to add value in the future, perhaps in the next cycle, you may well be able to find a bargain and you'll be likely to do well.

Overall, it's likely to a challenging time for buyers in the capital cities, with many vendors intrepid about listing their property for sale for fear of not finding a new home to move to.

Despite all the interest rate hikes, demand has rocketed due to record levels of immigration, and is still outstripping supply. So, buyers and sellers can take confidence that there is good opportunity to move ahead with their home buying and investing plans.
To have one of our friendly Buyers' Advocate's contact you, click here to:
or
call us on 1300 655 615 today.