Pre-Christmas Buying Strategies - November Market Update



October 31, 2021 / Written by Rich Harvey
By Rich Harvey, CEO & Founder, propertybuyer
Written by: Rich Harvey, CEO & Founder
propertybuyer.com.au
Click here to watch Rich's Video of the November Market Update: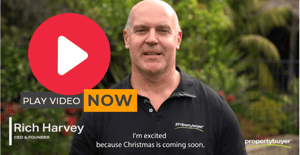 With less than eight weeks till Christmas Day there's still time to buy your next property and move in! There are many interesting trends happening in our property markets around the country - but the underlying theme is that prices are still trending upwards - but just not at the same breakneck speed rate as last quarter.
Overall demand is still outpacing supply….and the good news for buyers is that listings are starting to make headway. But don't expect a sudden price drop - there will simply be a deceleration of price increases. There has been a surge of listing activity as each state comes out of lockdown and buyers and sellers are more prepared to interact without severe restrictions.
Overall dwelling prices (houses and units) have increased 25% in Sydney and 23% in Brisbane year to date. Melbourne is still playing catch up after the most severe lockdown restrictions. See the latest quarterly and yearly changes below: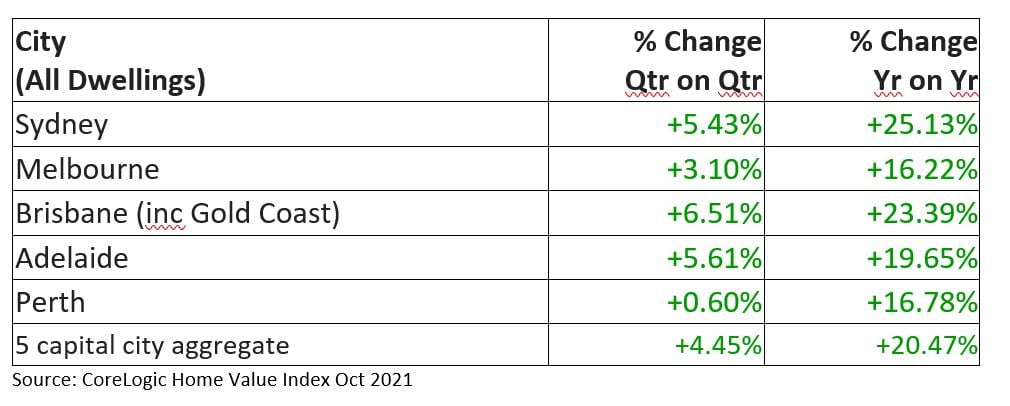 NAB estimated the housing market would end the year with prices rising 22.7%, and then a rise of 4% in 2022. Westpac expects to see total prices rises of 27% by years end, then more moderate rate of 6% in 2022. See Westpac's forecast below: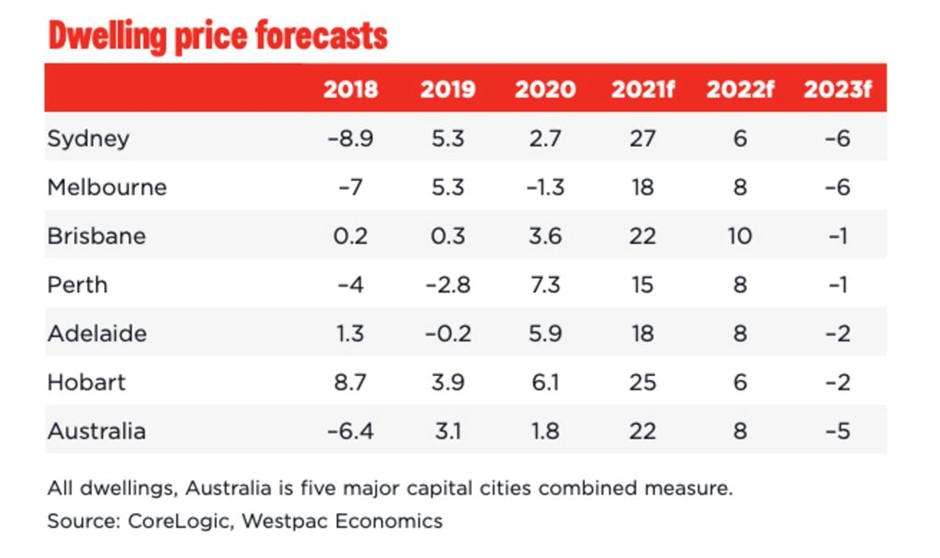 Stock levels are rising…..but they are not rising fast enough to satisfy demand in the detached housing market. Corelogic has identified that compared with the pre-COVID five-year average, new house listings are still trending -5.5% lower, but unit listings are trending 11.2% higher.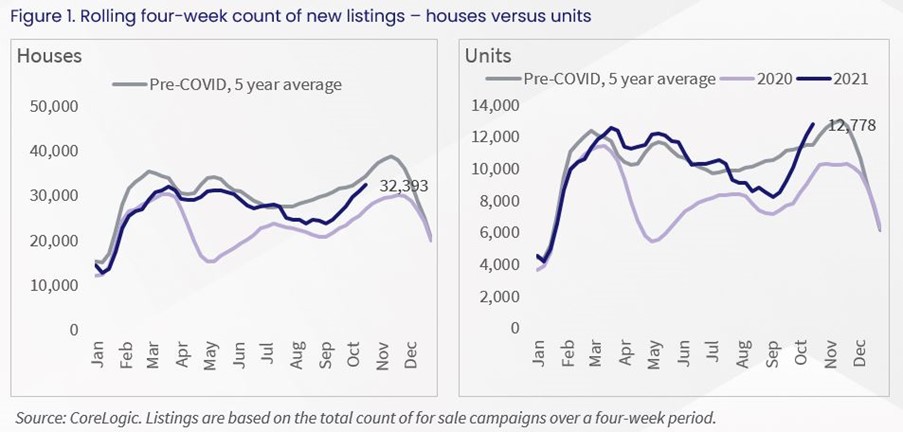 My team in Melbourne, Sydney and Brisbane is observing that listing numbers are increasing but the demand in prime areas is still very high and competitive buying conditions are delivering rising prices in most suburbs – especially at auction where some buyers have FOMO.
The latest auction clearance results for October below show that the market is very hot, with all the major city record in excess of 80% clearance rate – except Sydney last weekend.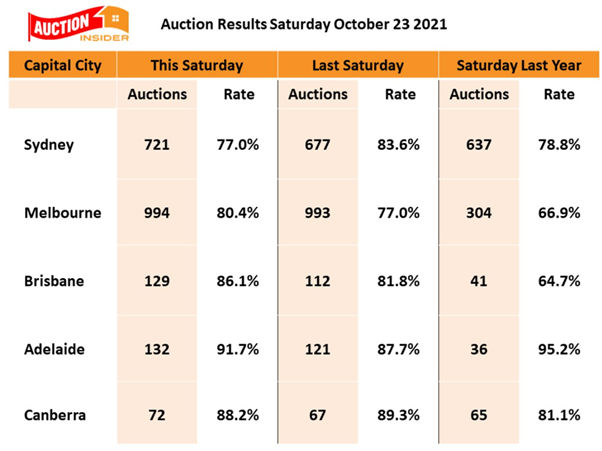 The speed at which properties have been selling (ie days on market – see chart below) has been quite astonishing and has left many potential buyers out in the cold shaking their head, wondering how they'll ever secure a property in a boom market.
We are seeing very bullish buyer behaviour at auctions with large and robust bids being made early in the opening minutes. Plenty of new suburb records are being set on a weekly basis.
In the Sydney market, the Northern Beaches continues to be the most sought after in the country as buyers chase limited stock in prime lifestyle areas and houses selling in just 18.5 days! House prices in the Northern Beaches rose a staggering 37.5% over the past 12 months according CoreLogic figures to a new median value of $2,281,675. As a local resident of the Northern beaches myself I have witnessed firsthand the depth of buyer demand for high quality beachfront property and standard family homes.
The Central Coast has seen a 32% increase in prices and new median value of $893,561. While in the prestigious Eastern Suburbs, where houses sell in just 19 days, the median value of dwellings reached $1,728, 832 which is a 26% increase year to date.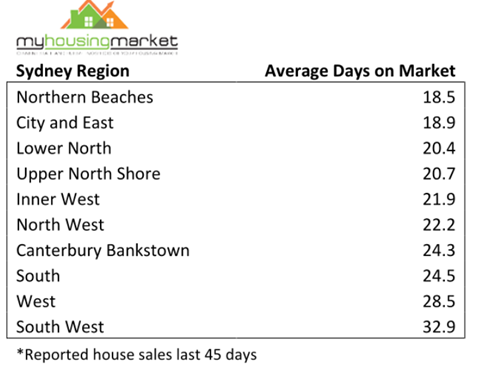 So, what is a potential buyer to make of all of this?
Wait it out, hope prices will crash? Jump in with all guns blazing?
Like with any large purchase, creating a brief and having a plan and strategy are essential seeds for success. The economic forces of supply and demand in the property market will continue to show prices rising for at least another 18 months. Even if we get a correction sometime in 2023 when interest rates start to rise, it will be a very modest one. More expats will return once international flights resume, students will come back, overseas buyers will also come in and rental markets will also start to rise again.
My advice is make the trend your friend and ride the wave of growth. Find suburbs that you can afford, get that finance approval going, speak to your finance broker. Don't keep chasing the market. Find a property that is a steppingstone to something better down the track. You are far better off being in the market rather than having cash in the bank. Buying before Christmas is a great time to secure a deal as vendors are typically far more motivated to get a result and know the outcome before the holiday period really kicks in.
My team of buyers' agents has had excellent success in the past month securing many family homes in the Inner West, The Shire, Newcastle, North Shore, Northern Beaches, Eastern suburbs and Melbourne and Brisbane too. Many properties we buy are strictly off market opportunities. I personally assisted a client that signed up last week on Wednesday, inspected the off-market house in the Forest area, arranged pest and building inspection and exchanged unconditionally the next day at $2.625m. The clients were delighted and amazed they finally achieved their dream.
If you are looking to buy and seeking to take advantage of a rising market and like to get specialist help, please reach out for an initial discussion about your brief with my friendly team today.
Click here to:
or call 1300 655 615