Are We Headed For A Rental Crisis? - November 2021



November 11, 2021 / Written by Rich Harvey
By Guest Blogger, Pete Wargent,
Next Level Wealth
Tighter rental markets
Conditions for rents have been quite uneven around Australia through the pandemic.

Rents initially fell in Sydney and Melbourne, especially for inner-city apartments, due to the lack of immigration, tourism, and international students, as well as the general 'race for space' – a rush to the regions.

On the other hand, the smaller capital cities and especially many regional markets have experienced faster growth in rents.
Some rental markets, such as the Sunshine Coast are suffering from a chronic shortage of rental stock, and rents have steepled higher.
Advertised rents are now rising sharply, at a double-digit pace which is the fastest in a decade-and-a-half.
Despite weak population growth, internal migration and the rush to the regions has put a lot of pressure on the rental market.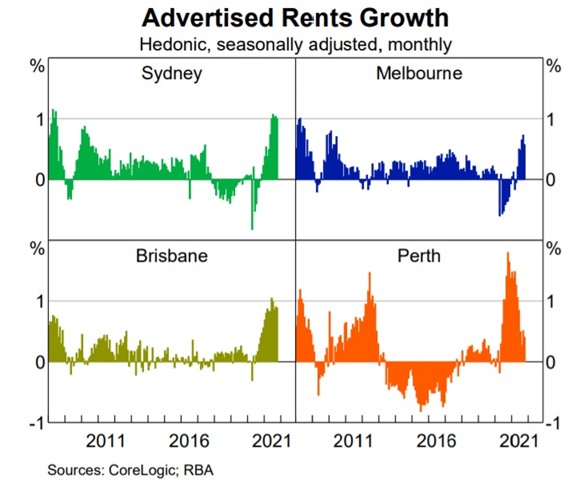 Over the past year some 231,000 dwelling approvals were recorded, which taken at face value appears to be an exceptionally high number given the lack of immigration in 2020 and 2021.
Approvals, but not commencements
However, many of these dwelling approvals have not seen construction commenced, as tradies and affordable materials have become so hard to come by.
That's been especially true in Melbourne and Victoria, and also notably for higher-density developments in Sydney.
The volume of high-rise units approved but not yet commenced in Sydney is running very high at close to double historical norms, according to HIA estimates.
This may be due to developers pushing through a surge of approvals ahead of changes to the national construction code in 2022.
It's also likely because there aren't the non-resident buyers around these days – especially from China - to secure the sufficient pre-sales to get new developments off the ground.
In any event, the rate of new unit supply is not going to be as high as it's been in recent years, and in time this will tighten the rental market.
Indeed the pipeline for higher-density projects has been in decline for about half a decade now.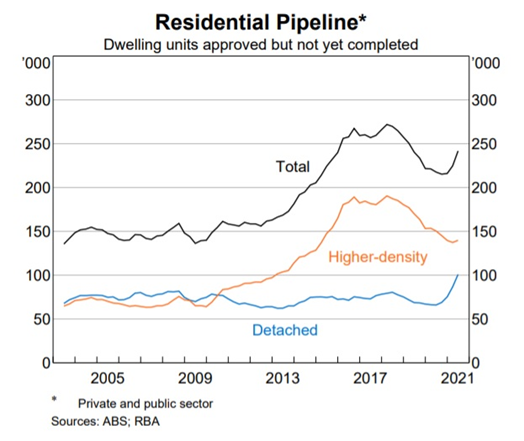 Rents on the move
With the skills shortage now intensifying firms are having to increase salary packages by 20 to 40 per cent in many cases, and the government is moving quickly to bring back foreign workers and international students as soon as this is practicable (and politically acceptable).
As Australia opens up and gets back to normality, new migrants will come in and the international students will return – when combined with the expected inflow of expats and tourists, rental price growth can be expected to continue.
As the first homebuyer stimulus package washes through, and as mortgage rates begin to rise, there will be a huge surge in the pool of renters over the next five years.
If regulators look to cool growth in lending to investors again, there could be a chronic rental shortage across many markets, and increasingly desperate queues outside open homes for lease.
To have one of the friendly Propertybuyer Buyers' Agents to contact
you in regards to buying property :
or
call us on 1300 655 615 today.