Prestige Property Brisbane: Breaking Records In The River City - January 2022



January 11, 2022 / Written by Rich Harvey
By Rich Harvey, CEO & Founder, propertybuyer.com.au
The Brisbane market is in the midst of a once-in-a-generation property boom. Prices are soaring, demand is outpacing supply and the market is rocketing along.
Property booms tend to follow a few key trends and one of the first signs is when a rising prestige property market leads the way. Volumes pick up and prices edge higher when luxe listings sell like hot cakes.
In Queensland's southeast corner, the prestige market would typically begin at around $3-million-plus, but as prices continue to increase, we'll see that benchmark grow.
Factors driving demand
In 2020 the property market was characterised by the flight to regional centres as employees who could work remotely moved to satellite centres. These locations gave them a bit more bang for their real estate buck, and offered an escape from the lengthy, ongoing lockdowns.
Glen Sainsbury, Principal of Propertybuyer Brisbane, said 2022 is expected to continue to thrive in the Prestige market, as further opportunities are sought from buyers from southern states and many local Brisbane executives and business owners are looking to upgrade their position and or improve their lifestyles.
ABS data shows this trend was significant. A net 43,000 Australians moved to regional areas from capital cities in 2020, the largest net inflow to the regions since data began in 2001. Regional Queensland had the biggest net inflow, with 17,000, of all the states.
The trend of interstate immigration would continue in 2021, although movers needed some tenacity, with border closures hindering the free flow of potential new Queenslanders.
However, as we close out 2021, a trend has emerged. Wealthy interstate buyers have eyed off Queensland's handling of the COVID crisis and sought to make the move north, relocating to a place where ongoing, interminable lockdowns are not a regular occurrence.
This wave of premium-property purchasing southerners has been supplemented by the international expat, who is cashed up and looking to return to native shores.
The final group leading the charge for premium listings, is the local buyer who, unable to travel overseas, is now looking to upgrade their home.
Properties that are the hot ticket items are those that are 'pandemic-proof', or that offer space that these work-from-home and study-from-home families need. These are properties that have separate his-and-hers' offices, areas for kids to study and enough living space for families to escape each other while still living together.
Suburbs that soar
Looking at property value growth data below, there are nine suburbs that have delivered eye-watering annual growth of 30 per cent or more. These prestige suburbs are scattered liberally across all four points of the compass, a combination of inner-city and rural-outlook areas. Some are north of the river, some are south, and a few are in inner-west areas. Some have river views while others take in the city, and yet others overlook scenic leafy hills and valleys.
What is clear is that not only have they delivered reliable, annual capital gains, but over the decade they have also produced the goods, delivering consistent, strong price increases.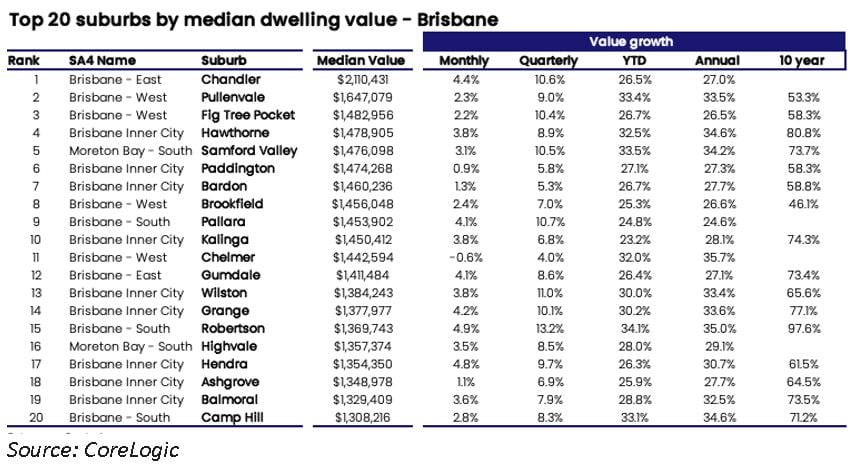 Rental market impact
Nationally, many rental markets are experiencing high vacancy rates. Supply is evaporating as investors offload to realise strong capital growth, selling to a cashed-up market of homebuyers. As a result of the shortage, rents are skyrocketing.
According to Domain, Brisbane's median rents have risen 12.5 per cent over the past 12 months alone, to reach $450 per week.
The luxury rental market is not insulated from this impact. As property owners seek to capitalise on unprecedented demand levels, we are seeing supply levels shrink.
The next wave
One thing is clear – as international borders reopen and governments at a state and federal level embark upon a new 'living with COVID' strategy, we are going to see these buyers grow in number.
DFAT figures released in June 2021 reveals that there are 38,000 Australians waiting to return home.
With new strains emerging regularly, creating a level of uncertainty around the way international governments will manage the ongoing pandemic, it is likely that Australians will continue to come home, seeking a familiar and safer environment.
Demand for luxe listings in Brisbane will rise and unless supply begins to catch up, this market will see continued value growth.
To have one of our friendly Brisbane Buyers' Agent's contact you, click here to:
or
call us on 1300 655 615 today.