Property Predictions for 2022 - January Market Update



January 1, 2022 / Written by Rich Harvey
By Rich Harvey, CEO & Founder, propertybuyer
Written by: Rich Harvey, CEO & Founder
propertybuyer.com.au
Click here to watch Rich's Video of the January Market Update: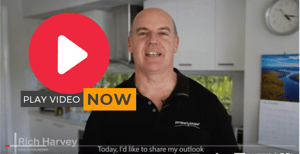 The property market in 2021 saw outstanding growth in most capital cities and particularly lifestyle regional areas. I recall attending my first auction in late January 2021 representing a client to purchase a home in St Ives and was astounded to discover I was competing with 21 registered bidders. It became quickly obvious once the bidding started that the price was going to end up well above my appraisal and what was previously considered fair market value. The property sold for $400,000 over reserve and this became a regular occurrence at many auctions.
During 2021 I classified the property market as going from warm to white hot, then red hot and then finishing the year with an enduring orange glow. One of the most unusual factors about 2021 was that due to frequent lockdowns, vendors were reluctant to list their properties openly on the market. This led to around a 30% decline in regular listing volumes while at the same time demand had increased over 25%. The natural economic consequence of this situation was that prices accelerated rapidly!

Looking ahead to 2022, I see the property market continuing to grow but at a much slower rate. See my predictions below. Peak price growth is now well behind us and the frenetic intensity that we saw last year should dissipate as the year progress. High quality premium (A-grade) property will continue to be in strong demand and prices will remain resilient - particularly in the prestige sector where there is always an ongoing lack of supply. In the middle price segments ($1m to $3m) we should see a significant rise in the volume of listings which will give upgraders and homebuyers much greater choice for transitioning into their next home. Lower grade properties on busy roads, next to industrial parks or located in inferior areas will struggle to achieve meaningful price growth in 2022.

Rich's 2022 Property Predictions: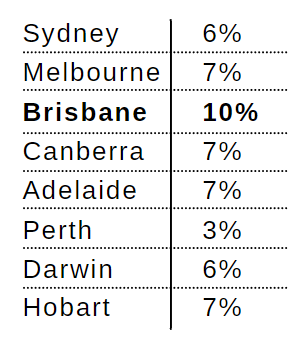 But remember there is not ONE property market - there are over 15,000 suburbs in Australia and each suburb, city and region is driven by many important local factors. So, while this update outlines general sentiment, it is important to research local market drivers.
Let's look at what the major banks have predicted for the market in 2022.
CBA is predicting price growth of between 3% to 9% across the various capital cities.
Westpac is more bullish and suggesting growth of 6% to 10%.
ANZ economists Felicity Emmett and Adelaide Timbrell predict price growth of 3% to 9% (similar to CBA).
The most conservative forecast comes from NAB which predicts 4% to 6% growth in 2022.
It is interesting to note all the banks are predicting a correction in the market in 2023 in anticipation of interest rate rises. However, I believe the dramatic declines suggested by CBA are extremely overstated. House prices are "sticky downwards" or in economic terms less inelastic – because homeowners would rather hang on to their home during a downturn than sell and realise a loss. It has been proven in economic theory and practice that people value losses more than gains!
CBA Forecast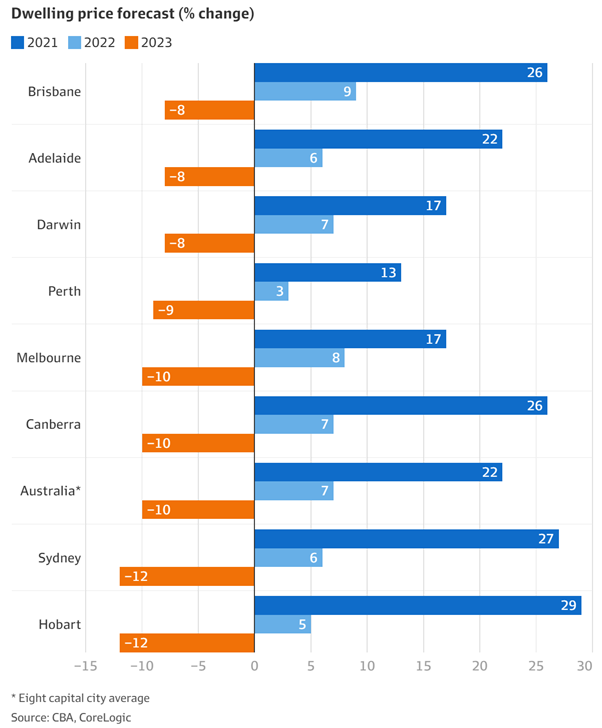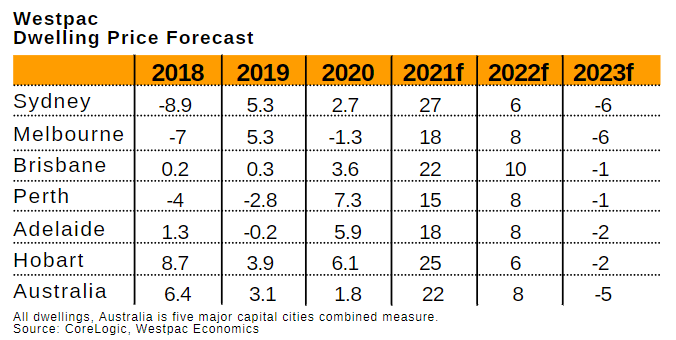 ANZ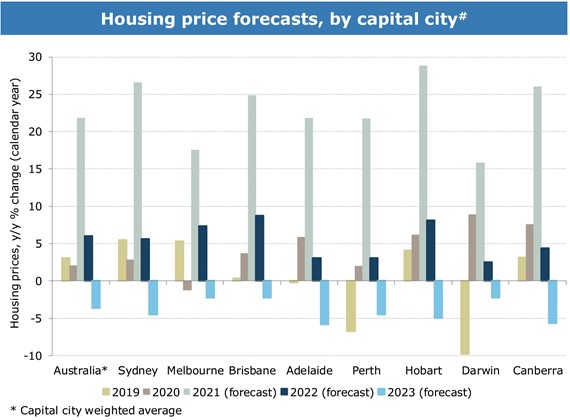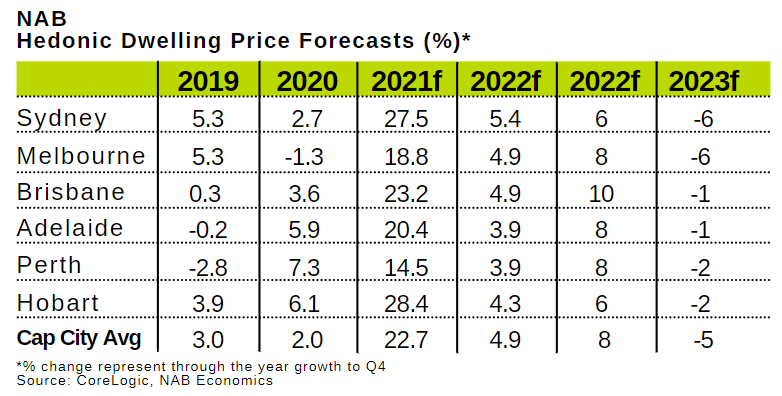 SQM Forecast
One of the most accurate forecasters I know is Louis Christopher from SQM Research, who provides a range of scenarios for future property price movements depending on changes in interest rates, government stimulus and APRA interventions.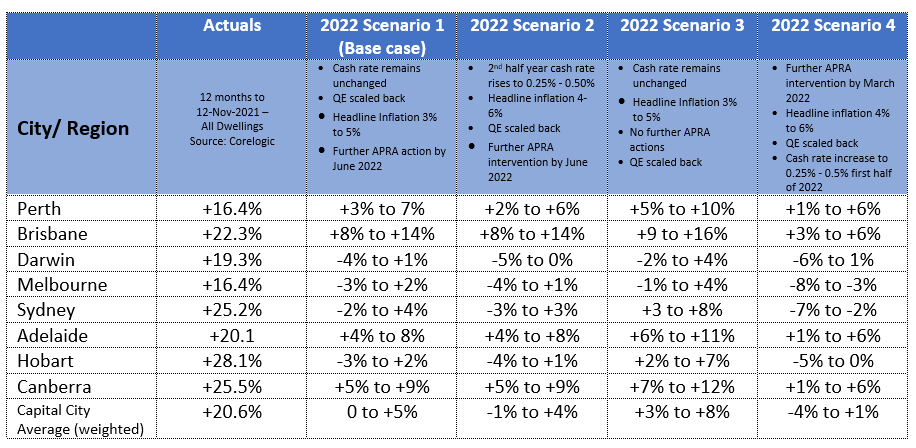 Dr. Andrew Wilson, Chief Economist of My Housing Market, provides a scaled forecast for both houses and units for each capital city below: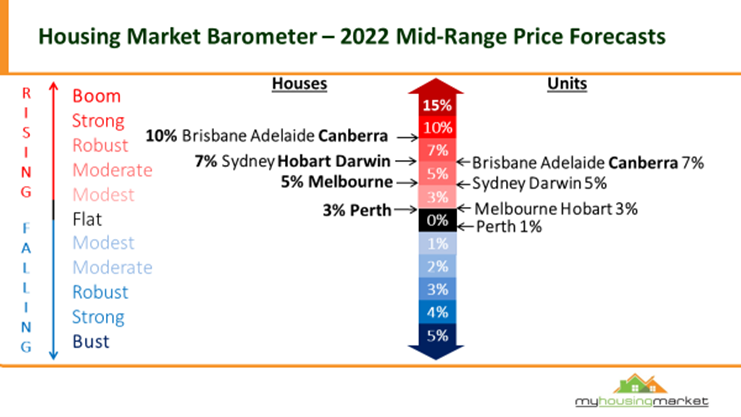 Dr Wilson recently commented that CBA's predictions of a potential 10% price fall in 2023 due to rising interest rates were simply "Ridiculous". I conducted a recent webinar with Dr Wilson on this very topic and he noted that since 1987, capital city home prices fell very modestly in 2008, 2011 and 2018 – down 4.0%, 4.1% and 5.1%. The price declines in 2018 were as a result of APRA restricting bank credit, particularly for investors. The RBA has repeatedly said that for interest rates to rise, wages growth AND inflation would need to be a sustained level well over 3%. This would require an unprecedented surge in wages growth in coming months – which is very unlikely.
What is most likely is that we will see a resumption of full international border re-openings in early 2022 which will bring a flood of 200,000 migrants to fill the gap in job vacancies. Higher migration levels will then place strong pressure on property prices and rental demand in our markets which are still undersupplied in most areas.
Three key factors that will strongly influence the market in 2022 are simply:
1. The price of credit (interest rates) and
2. Availability of credit
3. Consumer sentiment
If APRA step in and crimp investor lending too harshly, then we could see a dramatic pull back in property demand. An exodus of investors from the market would see rental prices skyrocket as we are simply not building enough properties to satisfy future demand.
Why I'm still buying.
Despite stellar price growth last year, I am still highly motivated to buy more investment property in the current market as we are heading into a future period where there is likely to be a rental crisis. I take a long-term perspective on the market. Buying when you have the capacity to buy makes good sense rather than trying to perfectly time your entry like an Olympic diver. I like to let capital growth do the heavy lifting over time. There is a huge opportunity cost of just waiting for the ideal market conditions. Buying a quality property asset in an established suburb with good fundamental drivers, and acting when you can afford to, and holding for the long term is what really gets results.
If you are looking to get your property plans on track in 2022, then please give us a call on 1300 655 615 or click here to send us your wishlist to start a conversation with our friendly team of buyers agents.
Click here to:
or call 1300 655 615