Prestige Property Sydney: How Luxe Listings Define The Market - December 2021



December 25, 2021 / Written by Rich Harvey
By Guest Blogger, Pete Wargent,
Next Level Wealth
As 2021 draws to a close, a look back at the year that was will surely include the extraordinary fortunes found in the real estate market of Melbourne's blue-chip suburbs. While activity has been subdued for much of the year, when lockdowns ended the sales began.
It seems that the Victorian capital's well-to-do have decided that if they're going to sit through the world's longest lockdown, they would do it in stylish surrounds, triggering a flurry of multi-million-dollar house sales that broke records for price and turnover volume.
Toorak, long regarded as the bluest of blue-chip suburbs, jumped more than 12 per cent when its median price landed on $5.1 million in the 12 months to the September quarter. Doubtless a key contributor to this lift was Chemist Warehouse mogul Sam Gance's purchase of a Lansell Road home that set him back $43 million, according to a recent Domain report.
Amanda Jones, principal of Propertybuyer Melbourne, said the demand for luxe property has been exceptional. She also revealed that some of the old-money real estate has hit the market of late. According to Amanda, many owners are looking to cash in on the hot run with a view to moving further down the coast or even interstate. And there's a lot of new money making their mark as buyers – celebrities, heads of business, tech types. They see these marque estates being made available for sale, and they're stepping up to put in sizeable offers.

Factors behind the frenzy
A key factor has been supply – houses that rarely come to market are landing in the front window as owners sell up and move interstate (most likely to Queensland which has recorded a significant net gain in interstate population growth figure, according to the ABS, against NSW and Vic's net fall).
In addition to the cashed-up locals who, upon being denied an overseas trip this year opted to upgrade, returning expats have bought up big. These opportunists are moving fast and bringing a big bag of money to take advantage of the windfalls. Many of these transactions are happening behind closed doors, with off-market sales likely to be the biggest proportion of the trades in this market segment.
Finally, the third group of buyers tapping into the Melbourne market is the growing number of international buyers who are trickling in, with more likely to land here when borders reopen properly. (This will potentially be great news for Melbourne's inner city apartment market, which has taken a significant hit since borders closed.)

High-end gains
In the luxe property segment, while lockdowns dented the turnover rate, it didn't stop it altogether as the upper echelons found ways to inspect privately, remotely or by third party proxy. With steadily rising sales volumes delivering strong value growth in the high end of the market, it's likely we'll start to see the more affordable mid-range of the market fire up as a result.
A look across the top 20 suburbs and many of the usual suspects make the list. What's striking is the rate of growth – particularly on the Mornington Peninsula. Portsea's 41.4 per cent annual gain, and. Sorrento's 44.0 per cent increase are astonishing.
Melbourne's inner south also delivered stunning annual growth, with Brighton East, Hampton, Beaumaris and Brighton all clamouring for attention with 22 to 25 per cent growth for property owners.
In fact, a gaze across the list shows half of the top 20 experienced median price increases of 20 per cent or more over the past 12 months. When you're talking property at the two and three million price points, this reflects an increase of half a million dollars in value in 2021.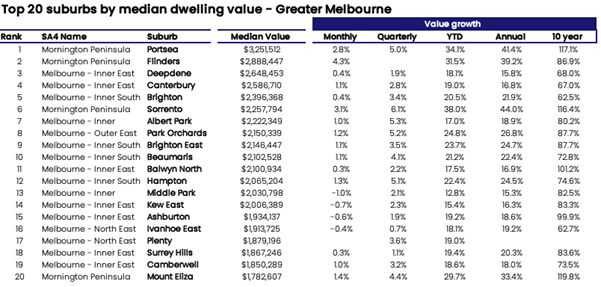 Looking forward, it's likely that with the new 'living with COVID' strategy being adopted at a state and federal level, auctions will ramp up again. Melbourne, typically, is the auction capital of Australia and once we return to pre-pandemic levels at gatherings (albeit with check-ins and masks potentially mandated) we'll see price surges again.

Rental markets
The rental market in Melbourne suffered a significant impact when COVID forced international residents to return home.
By December 2020 vacancies were at a record high of 4.7 per cent, according to SQM. By November 2021 the rate had fallen to 3.2 per cent, which is a weak market, offering tenants good bargaining opportunities. Rents will likely continue to correct a little, until the market reaches equilibrium.
The luxury market has followed a similar trajectory, with a spike in vacancies from 2020, into early 2021. However, as international returnees arrive, including expats and non-Australians, they will need to find accommodation in the rental market. This will likely help the vacancy rate trend further downwards.

My top tip for 2022
My takeaway is this. For those considering a purchase in Melbourne's prestige market, 2022 is likely to start with a bang and it is expected that the trend of off-market sales will continue. If you plan on buying in this sector, it will pay to have the inside running. Relying on a buyers' agent to source and secure deals – particularly off market – will be essential. Buyers need to be ready to pounce when opportunity knocks, or risk missing out on their dream property.


To have one of the friendly Propertybuyer Buyers' Agents to contact
you in regards to buying property :
or
call us on 1300 655 615 today.