Prestige Property Sydney: How Luxe Listings Define The Market - December 2021



December 30, 2021 / Written by Rich Harvey
By Rich Harvey, CEO & Founder, propertybuyer.com.au
Sydney's prestige property market is booming and is on track to outperform other international luxury markets, delivering whopper price growth of 10 per cent for 2021, according to the AFR reporting on Knight Frank research.
Two things are clear for those seeking to jump into this market – be quick and carry a big cheque.
Demand is outstripping supply significantly and the shifting sands of this market mean that while $3 million used to buy you a nice, comfortable property, say, a couple of years ago, it now delivers a more run-of-the-mill property in a good neighbourhood.
In today's market you need at least $5 million to get into the luxe end, and if you're eyeing off the eastern suburbs, which includes high-octane suburbs such as Bronte and Clovelly, it's more likely that $10 million is your entry point.
A truism in property is that once the luxury market starts firing, it doesn't take long before the rest of the market follows suit. This sector is often the market leader.

Demand drivers
Specialist buyers' agent Munro Donen at Propertybuyer East said stock levels at this premium end are thin, while buyer numbers are high – and most of them are cashed up. Local business owners, crypto investors, tech entrepreneurs and alike are doing nicely and are keen to purchase their dream homes.
Munro said there are even older country-based retirees looking to retire to luxury inner-Sydney apartments.
Knight Frank's Michelle Ciesielski said the bulk of the surge was delivered courtesy of local upgraders unable to travel internationally, choosing to spend their dollars on premium property instead. Ciesielski said off-market sales were skyrocketing thanks to buyers moving fast on luxe listings.
There is also a section of the market being fuelled by expats returning home to the relative safety of Australian shores. These cashed-up premium property purchasers are snapping up local offerings, which are comparatively good value when compared to overseas markets. Bang for buck is unrivalled in Australia, even in the blue-chip tier.
Australia's flash pads are ticking all the right boxes for our wealthier buyers – COVID-friendly properties with space for working and studying at home and spending extended periods of recreational time without family members feeling crowded out of their personal space.
Limited new-home construction, largely due to COVID lockdowns in the harbour city, is exacerbating value growth as demand puts upward pressure on price.

Premium suburb growth
Looking at the suburbs where growth has been strongest in the table below, and there was a mix of waterfront and inner-city suburbs. The standout, however, is the nine out of 20 suburbs from North Sydney and Hornsby region, delivering unbeatable value for the premium property bargain hunter. Larger blocks, leafy neighbourhoods and unshackled by daily commutes into the CBD, these buyers are looking for more bang for buck.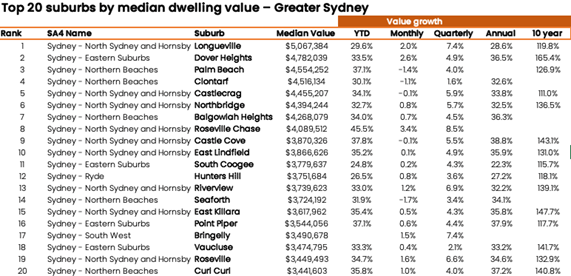 Rental market impact
The impact of COVID on the Sydney rental market led to a spike in vacancies and vacancy rates, as borders closed, and the international market disappeared from view. Some areas, such as Sydney's prestige eastern suburbs, in May 2020, saw a spike in vacancies above 5 per cent.
This is in stark contrast to rental markets in cities such as Brisbane, where southerners fled to escape COVID and associated lockdowns. Brisbane vacancy rates dipped to just 1.3 per cent, where it remains, as the double crunch of investors selling properties to take advantage of strong price growth and southerners head north, takes hold.
However, the Sydney market has gradually regained equilibrium. Over the course of this year, vacancies have trended downwards in a steady trajectory. Beginning the year on 3.6 per cent, which is a weak market, the year ended on 2.4 per cent, which is classed as good, headed towards tight. If this trend continues through 2022, which it likely will as international borders reopen, we'll see upward pressure on prices very quickly.
The luxury rental market has generally followed a similar trajectory to the general market. When, in late 2020, it was feared that overseas workers returning home would push up the vacancy rates, instead the market was supported by returning expat Aussies.
This trend pushed up demand, and, as a result, kept rental prices steady.

New wave
Pressure on the luxury market will only continue as international borders reopen. Local upgraders will face the competition of cashed up expats returning home to the relative safety of Aussie shores.
As federal and state governments adopt a 'living with COVID' strategy in the face of Omicron, we'll likely see property market activity ramp up again. Auctions will be back in full force and Sydneysiders have long loved a property auction, so this is likely where price growth will likely gain the most traction.
Munro Donan said while buyer numbers do seem to have dropped slightly of late, the calibre of buyer has not. On the other side of the equation, opportunistic sellers shooting for unrealistic prices will find it hard going, but that breed is becoming rarer.

The upshot is we expect luxe property prices to continue strengthening as one of the world's great cities emerges from its COVID years.
To have one of our friendly Buyers' Agent's contact you, click here to:
or
call us on 1300 655 615 today.