Property Predictions and the 'W' Factor in 2021 - January Market Update



December 31, 2020 / Written by Rich Harvey
By Rich Harvey, CEO & Founder, propertybuyer
Written by: Rich Harvey, CEO & Founder
propertybuyer.com.au
Click here to watch Rich's Video of the January Market Update: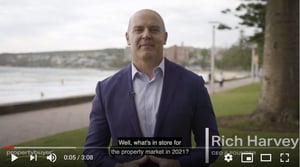 We witnessed a significant change in buyer sentiment from early Spring as most areas came out of lock down (except for Melbourne). Then we saw a rapid acceleration of demand in November and early December – right up to Christmas with auction clearance rates back at boom levels in the low 80% range. Consumer sentiment is very closely tied to property prices. We expect this renewed confidence to continue strongly throughout 2021 due to pent-up demand from home buyers, upsizers, downsizers, and others wanting better quality homes and a home office space.
Nationally, property prices rose 4% in 2020, despite the negative impact of COVID-19 once again demonstrating the remarkable resilience of property. Sydney prices rose 6.1% over the past year.
Likely Market Drivers (things to watch…)
Expats Return: Large numbers of returning cashed-up expats from overseas will strongly influence the Sydney market. We have already helped many expats negotiate a rapidly changing market. The expat demand factor has largely replaced the gap left by foreign buyers in past years.
Rock Bottom Interest Rates: Access to cheap loans will drive property demand but there is usually a lag effect before property prices increase. The RBA have suggested rates are likely to stay on hold at least another 3 years. It is a good time to leverage safely.
Above Average growth: Capital growth rates have been below the long-term average of 7% over the past 5 years due to strong credit controls, threat of removal of negative gearing and Covid-19. The law of mean reversion would suggest the property market is likely to have a period of above growth trend in the short-term.
Investor Resurgence: We expect to see larger numbers of savvy property investors re-entering the property market chasing capital gains and yield which is likely to rise well above pre Covid-19 levels.
Economic Recovery: The cessation of the job keeper Q2 2021 is likely to have a muted effect on the property market. Some commentators are suggesting there will be large volumes of mortgage defaults, but the evidence is very scant. The massive $200 billion stimulus injected into the economy has provided a strong cushioning effect and I do not expect to see a large rise in mortgage delinquency.
Lending Laws: The final factor to watch is the review of responsible lending laws - due in March 2021. There's likely to be considerable debate in the Senate about the passage of this legislation, but it's important that it gets through to enable the free flowing of credit to those who need it most.
Property Sectors and Locations to Watch
What to Expect in 2021
We expect to see price rises of 7% to 11% depending on suburb location and localised demand and supply. One of the most accurate property forecasters, Louis Christopher from SQM Research, has outlined his predictions below: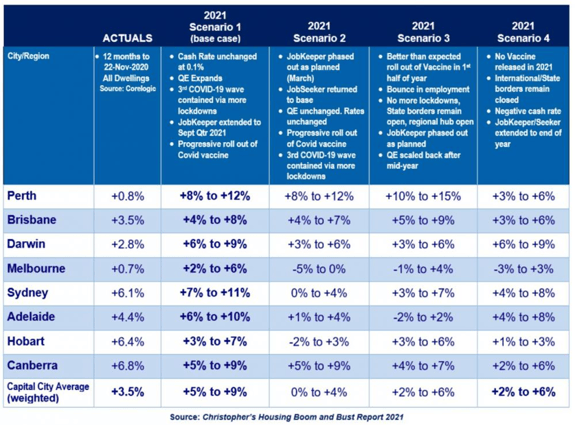 Property buyers should also consider the "W" factor – this is not the wow factor, it is the "WOBBLE" factor – otherwise known as the "X factor", the outlier, the unintended consequence, those things from left field we can't predict that put the economy off track. We've had trade wars, pandemics, oil crises, the GFC and many more things that created wobbles in the economy. But don't let the wobbles throw your property plans off track. The media loves to sensationalise the impact of these wobbles. Savvy buyers think far more about the LONG-TERM. They consider what the world will look like post-covid and after the wobbles have passed.
Future Trends
Here's three trends that I think will continue to have a lasting impact on the property market:
Buying close to the CBD to reduce the commuting time is not as important.

Workers are now choosing locations to get the best of lifestyle and work-life balance. Prices in locations further away from CBD are rising rapidly due to higher amenity values.
Home buyers

are now closely scrutinising floor plans to assess space for a home office. Hence, preference is given to homes with extra floor space.
Make the trend your friend. To ride the next property wave in 2021, please give us a call to discuss your next property move. We can help you design a specific strategy that will suit your individual situation.
Please get in touch with our friendly team of buyers' agents as we would love to have a conversation about your next move. Send us your wishlist or call us on 1300 655 615.