Property Predictions for 2020 - December Market Update



December 2, 2019 / Written by Rich Harvey
By Rich Harvey, CEO & Founder propertybuyer
Written by: Rich Harvey, CEO & Founder
propertybuyer.com.au
Click here to watch Rich's Market Update (Video):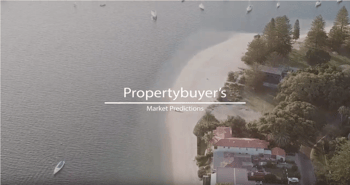 If you have been attending any auctions in prime suburbs the past few months you should have witnessed very competitive and spirited bidding. The shortage of listings even this late in the Spring season has seen auction clearance rates in the 75% to 80% range consistently in both Sydney and Melbourne. Some buyers that have missed out in previous auctions are now prepared to go well above their previous limits - these are what I call "wounded bull bidders" – they've been hurt by previous auctions and now charge headlong into the next auction for fear of missing the market without regard to intrinsic market value.
If you are sitting on the sidelines waiting for the market to fall again, then unfortunately I have bad news for you. We are now past the bottom of the market and we are well and truly into the next property cycle.
Sydney and Melbourne to lead the charge.
A number of leading experts have recently released their outlook for the year ahead. One of the most historically accurate forecasters is Louis Christopher from SQM Research. In his latest boom and bust report he outlines the likely price changes based on scenarios of different interest rates or APRA further restricting lending practices.
Most notably Sydney is predicted to see gains of 10% to 14% in 2020, while Melbourne will see gains of 11% to 15%. Further details are revealed below.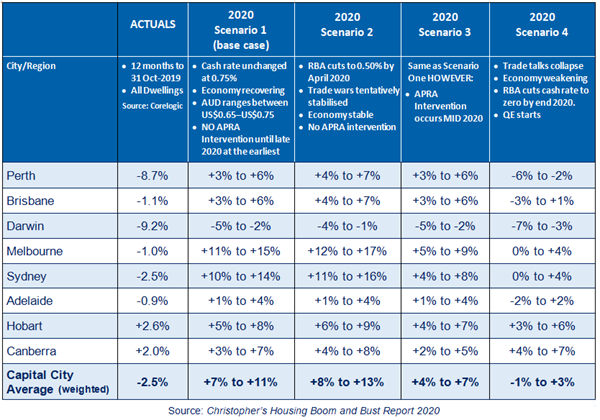 The banks have a more conservative view of the extent of price rises over the coming year with NAB forecasting prices to rise 7.4% in both Sydney and Melbourne, while CBA have revised their forecasts upward to suggest Sydney will rise 7% and Melbourne 8% over 2020.
When will we exceed 2017 Peak Prices?
One of the most interesting bits of analysis I have reviewed is Corelogic's estimate of how long it will take until we reach and then exceed the prices that were seen during the 2017 boom. Tam Lawless from Corelogic estimates that if values continue to rise by an average a rise of just under 1% per month, it would take approximately 6 months for housing values to return to their historic high.
The table below shows the number of months it will take to reach peak pricing in various regions - and this is also reflective of local demand for high value suburbs. Some areas are just one to three months from hitting new record highs! In summary, Sydney's housing market could be back on track to full recovery by April 2020 and Melbourne by January 2020!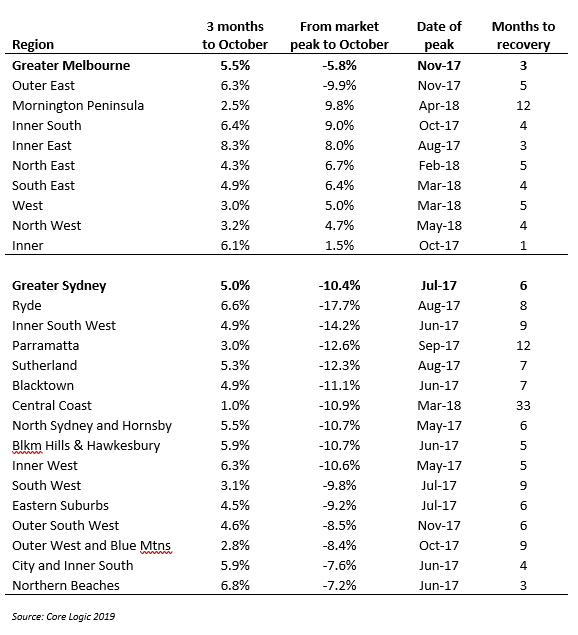 QBE and BIS Oxford Economics are predicting Brisbane to have strong price growth of 20% over the next 3 years where a decade of modest price increases has meant the market is in the most affordable position. We would recommend staying away from apartments in Brisbane but consider well positioned houses close to good amenities and transport links.
Migration numbers will play a critical role
I believe that fundamental population growth may absorb pockets of oversupply faster than expected. BIS Oxford indicate that net overseas migration is forecast to average a net inflow of 243,000 per annum in the three years to 2021/22 and this is expected to translate to underlying demand for an additional 204,000 dwellings per annum.
At the same time, new dwelling building approvals fell by 19% in 2018/19 and dwelling completions are subsequently forecast to fall to 163,500 dwellings by 2020/21, which is well below underlying demand. This could mean some oversupplied markets will tip back into undersupply by 2021/22 creating the potential for a recovery in prices.
Here's my predictions for 2020:
Prices will rise by at least 10%. As shown above with the expert forecast's buyer demand will continue to attract competitive buying for quality properties in good suburbs. The depth of buyer demand we see at the coal face of open homes and auctions tells me the market is definitely moving ahead in 2020.


Listings will continue to be sluggish until middle of 2020. It often takes 6 months or more for interest rate cuts (and there could be one more) to work their way through the economy. It also takes vendors quite some time to catch on that the market is moving and eventually list their property.


Buyers will look further afield as they are priced out of prime suburbs. If you are priced out of your preferred suburbs look to fringe and surrounding areas that may be more affordable. But make sure the transport connections will work for you.


First home buyers will increase significantly. With the start of the first home buyer deposit scheme enabling buyers to only have 5% deposits (with mortgage insurance for the remaining 15% covered), the lower end of the market will attract higher numbers of buyers. Watch out if buying brand new properties in large greenfield estates – ensure that you don't over-extend your borrowing capacity and buying in areas where land supply may be too abundant.


Medium density housing will be in high demand. Downsizers and "right-sizers" (if there is such a word) will dramatically increase in numbers. Many owners that are frustrated with their current living conditions will want to find something more convenient, more modern and with less maintenance and surface areas to clean!


Christmas season is a great time to buy. While others are distracted by Christmas shopping and holiday preparations, savvy buyers are still out there looking. As buyers' agents we do a lot of off market transactions at this time of year. Some our best buying is done in December and January as vendors are motivated to sell.
Whatever your personal situation, don't lose hope of getting into the property market, upgrading or finding your dream home. If you serious about getting your property plans on track for 2020 then give us a call to get clarity about your buying plans and engage us to help you find the ideal property.
I would also like to take this opportunity to wish you all a very enjoyable, safe and Happy Christmas!
Until next year.
If you'd like professional support finding your next home or investment property please give us call today on 1300 655 615 or email us your wishlist to start a conversation about your preferences.
or click below to: