Property Prices On The Move Again - December Market Update



November 30, 2020 / Written by Rich Harvey
By Rich Harvey, CEO & Founder, propertybuyer
Written by: Rich Harvey, CEO & Founder
propertybuyer.com.au
Click here to watch Rich's Video of the December Market Update: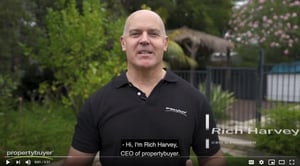 What an amazing turnaround we have seen over the spring season in the property market! When COVID-19 hit in March 2020 and people went into lock down, along with their spending habits, we saw a rapid decline consumer confidence. I wrote during March and April, that the best time to buy was during the "peak panic" that was brought on by COVID-19. Our clients that listened to our advice have done extremely well and bought below market value at a time when people were worried the economy was going to crash.
The property market has proven itself extremely resilient in Australia this year. The four major banks all predicted rather dramatic declines in property prices, which have not eventuated.
CBA were predicting a worst-case scenario of up to a 32% decline in property prices
NAB was predicting a 10% to 15% decline and unemployment to reach 11.7%.
ANZ predicted around 10% to 11% fall.
Each of the bank's economists have now completely reversed their bearish predictions on the market.
NAB have now said "we expect rises of around 5% over 2021 and 6% over 2022."

ANZ are predicting a 9% rise in house prices

Even the ultra-conservative HSBC are saying prices will rise up to 4% next year.

CBA have said "Our forecast is for solid price growth in the second half of 2021 as the economic recovery gains traction and incredibly low interest rates once again become the dominant influence on dwelling prices."
We now have a situation where property prices are rebounding even faster than expected as consumer confidence is returning, summer holidays are coming and expectations of the distribution of an effective vaccine sometime next year. While our international borders are likely to remain closed for some time, interstate borders and now open which will greatly accelerate our economic recovery.
The rapid recovery in property prices can be partly explained by the lower than usual number of property listings, the pent up demand for property as people come out of lock down and look to accelerate the achievement of their dreams, and what I call the "feathering of the nest" demand. Since we've all spent more time in our homes and less time in the office, we are wanting to improve the amenity we have at home and also create space where we can work at home effectively.
For many people this has meant that their current home is no longer suitable, and they can't just do a renovation to fix the problem. They need to find a better property which has all the features they want to upgrade their lifestyle and accommodate working from home.
Ultra-low interest rates (the lowest we've ever seen on record) are continuing to drive the cost of borrowing down, which in turn drives asset prices higher. I expect to see banks getting more competitive with their offers to borrowers and the potential changes in responsible lending laws should also help lubricate the lending market.
The latest data from CoreLogic is showing that property prices are now rising in all capital cities. The hedonic daily index is showing that Sydney house prices have risen 4% over the past year, Brisbane price 3.2% and Adelaide one point 5.1 %. While Melbourne is still down 0.5% for the year, it has actually shown a 0.7% increase over the past month and is playing catch after being in lock down for an extended season.
See the charts below for a quick summary of each capital city: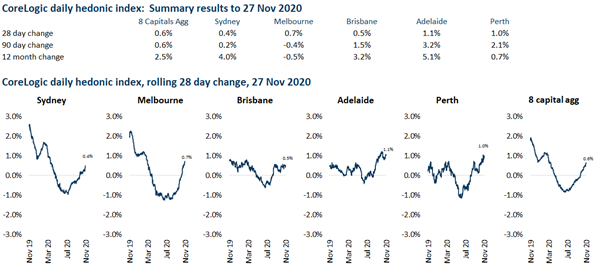 SQM Research is showing that asking prices have jumped significantly in Sydney over the last month up 2.2% last month and up 5.1% over 12 months.
If you're wondering what is going to happen with property prices in the future, go and visit a couple of auctions in your local area to get a sense of the current demand. We have seen much greater numbers of bidders and also greater intensity in the bidding process and hence prices going higher than expected.
If you are looking to get your next home or investment property I sincerely hope you don't suffer from that dreaded disease of "paralysis of analysis" or the opposite disease "fear of missing out" (FOMO). When buying a property, you need to have a level head, keep your emotions in check, and do thorough research so you are fully armed with all the facts to make a sensible decision. You also need to be aware of the general direction of the market and understand that the train is leaving the station and not to leave your run too late.
If you'd like help in navigating an ever-changing property market, please give my friendly team of buyers' agents a call. We'd be delighted to help you secure your next property and give you the confidence of buying well.
Please get in touch with our friendly team of buyers' agents as we would love to have a conversation about your next move. Send us your wishlist or call us on 1300 655 615.
Or click below to:
and tell us what you are looking for.