Reaching Your Property Goals in 2023 - February Market Update



February 1, 2023 / Written by Rich Harvey
By Rich Harvey, CEO & Founder, propertybuyer
Written by: Rich Harvey, CEO & Founder
propertybuyer.com.au
Click here to watch Rich's Video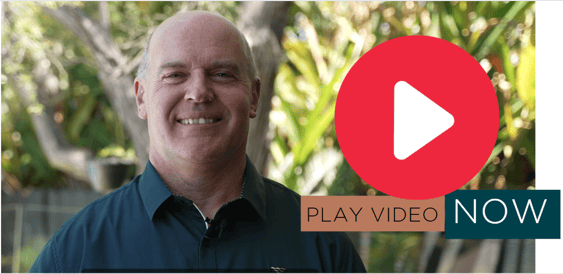 Are you one of those people that sets New Year's resolutions at the beginning of each year, and then feels guilty or frustrated a month later, realising that not much has changed? Rather than setting fickle short-term resolutions, I have found it is much more effective to have clear goals and convictions to live by for the long term.
Goal setting should be an enjoyable and inspiring process - not something that you dread or avoid. It should help motivate and guide your actions every day. Procrastination is the thief of time and inhibits your road to success. My convictions (deep-seated inner beliefs) help guide my daily thoughts and behaviours to achieve my goals. In summary – goals articulate my targets, while convictions keep me on track.
But no person is an island. We can't achieve goals purely on our own. We need mentors and trustworthy people around us to believe in us and encourage us to reach our full potential. Watching the Australian Open last week, it is obvious that all the top players have a great team around them (coach, nutritionist, physio etc). They hit up to 10,000 balls a week to stay on top of their game – but the ones that come out on top also have the mental tenacity to withstand tough opponents and debilitating self-doubt.
How does this all relate to property and wealth creation?
Let's look at a challenged segment of the population. Did you know that around 62% of the population in Australia are on the aged pension which only amounts to $936 per fortnight ($24,336 pa) for a single person.
The latest census showed an average retirement age of 55.4 years, and on average, women retire sooner than men. However, most people aged over 45+ said they expected to retire at 65.5 years – which is much later than the current average retirement age. The average amount held in superannuation for men aged 50-54 is $322,400 and for women is $210,700 (according to Australian Super) – this is not enough to retire on.
Australian women can expect to live till age 85 and men till age 81 (ABS, 2021). So, depending on what age you retire, this means you could need your retirement savings to last up to 30 years.
So why I am discussing all these statistics? Quite simply – if you procrastinate on your property and wealth generation goals, you will also become one of these statistics. You can either live by design or default….and I recommend you set some goals to achieve more things by design.
How to get started
The first thing you need is a compelling reason to invest – you need an internal driver. Is it to provide for your family, have a comfortable retirement, become a philanthropist, become a millionaire, or travel the world? You need an underlying motivation.
Next step is getting a team of experts around you – mortgage broker, tax accountant, financial planner, solicitor, quantity surveyor, building inspector and others. We have a great team of alliance partners we can recommend to suit your individual circumstances.
Speaking to you mortgage broker is an essential first step to fully understand your financial situation and borrowing capacity. Once you know your borrowing budget, you'll be in a far better position to set realistic property goals to build a portfolio. Save for that deposit, but if you only have limited savings, there are other ways to fast-track the deposit…second job, budget harder, ask the bank of mum and dad for a limited equity guarantee, or consider a higher loan to value (LVR) ratio if you have the financial means.
In setting your individual property goals, my best advice is to start with the end in mind – ie consider what passive income (retirement income) is going to satisfy you. Then it is a mechanical process of buying enough properties with the right capital growth and yield parameters to achieve the goal over a specified time period. That's where we can help.
For example, let's say you want $120,000 pa in passive property investment income. Taking an average yield of 4.5%, you will need to own approx. $2.7m of property (unencumbered – without a loan). How can you end up with $2.7m net property assets? Simply by starting the process of buying the first one ….. and keep going by recycling your equity. So many investors slow down or give up after one or two properties. You will eventually need to buy at least $5.4m of property over say 15 to 20 years. And then when you are ready to retire or slow down from work, you can sell off some the original properties to pay down your debt.
The magic of compound growth does a lot of the heavy lifting. Once you get your initial equity invested, it is amazing how strong the growth becomes after 10 or 20 years of holding the asset. Never panic sell because of negative media headlines. In setting any financial goals it pays to get professional financial planning advice to ensure you are making the best decision.
Here's the results of holding onto a $500k investment property which achieves an average growth of 7% pa over 40 years.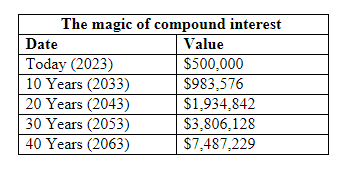 To put things further into perspective, let's examine the changes in median house prices over the past 40 years across Sydney, Melbourne and Brisbane.

These numbers really speak for themselves. Holding a property asset for the long term delivers excellent capital growth. While there has not been a precise doubling of value every 10 years, there has been substantial growth. There will still be good money to be made from investing in both capital cities and larger regional areas. The trick is picking the growth suburbs with the highest demand drivers which we analyse every day.
While there will be plenty of media conjecture about the next interest rate rise in February, don't let short term issues deter you from setting sound property goals for 2023.
If you'd like help setting goals and a property strategy, please reach out to my team of professional buyers advocates today to start a conversation today. Call us on 1300 655 615 or click here to make contact.
Click here to get in touch with the Propertybuyer team:
or call 1300 655 615