What China's Re-opening Means For Australian Property - January 2023



January 23, 2023 / Written by Rich Harvey
By Guest Blogger, Pete Wargent,
Next Level Wealth
Border closures
The past three years has seen our international borders with China effectively shuttered along with many long-term trading export markets shut off.
While commodity exports have remained strong – coal, iron ore, and gas, for example - tourism and international education exports have been severely curtailed in Australia for several years.
However, with the Chinese economy struggling, and the Chinese population and housing market in a potentially painful decline, authorities now seem set on re-igniting the engines of economic growth once more.
Indeed, Deputy President Liu He has told the World Economic Forum that China is now "open for business" - however that is to be interpreted.
The COVID zero policy appears to have been abandoned for now, and we've seen from historic episodes that when China chooses to stimulate its economy the impacts can be very significant.
Tourism reboot
Tourism and migration into Australia were crushed through the pandemic, and this has negatively impacted many businesses in the sector and related industries.
It's very early days, but we're starting to see tourism arrivals into the country again now.
Alongside New Zealand, China had been a key export market for Aussie tourism – in terms of both the number of arrivals and dollars spent – right up until the border closures.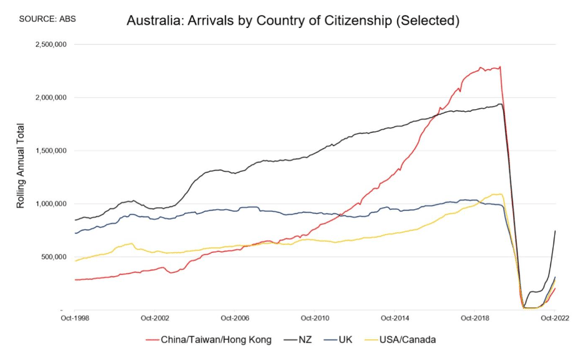 Trying to predict almost anything in recent years has been a fool's errand, but my gut feel is that while Chinese tourism will of course begin to lift from near zero, it may be a long while before we see really meaningful numbers beginning to build up again.
Chinese real estate investment
Will we see the return of multitudes of Chinese investors?
Probably not in the numbers seen up until 2016, is the short answer.
For a number of years the volume of real estate capital from investors on the Chinese mainland was only heading up, up, and up.
But then Australia introduced significant stamp duty surcharges on residential purchases, which effectively stymied the developer gravy train, and the political relationship between Australia and China has also cooled somewhat since.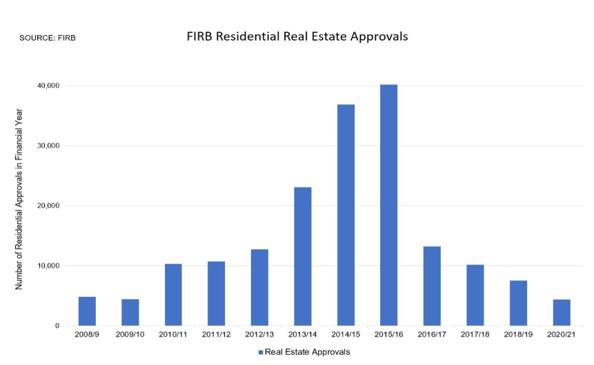 Generally speaking Chinese investment was very useful in getting apartment developments off the ground in areas that were previously not feasible, so the stamp duty surcharges have effectively limited the supply of new apartments.
While some Aussies like to buy new apartments - including downsizers and investors in their self-managed superannuation funds - many have also been burned by paying too much for the shiny new stock.
This has forced developers to lift their game and deliver more attractive new housing options.
Rental market squeeze
Going forward, which locations and suburbs around Australia are most likely to benefit and be impacted?
In the first instance China's reopening will be evidenced in tightening rental markets, particular in Sydney and Melbourne and around the key University hubs.
The Department of Home Affairs has been working its way through an enormous backlog in visas to be processed, while student visa applications have ballooned to a record high of around 50,000 per month.
While most Chinese investors can only by new property with FIRB approval, the return of tens of thousands of international students and tourists will likely re-open up some other pathways for Chinese capital to be invested in Australian property.
The 2021 Census shows that there are now some 1.4 million Australians of Chinese heritage, and this number is only set to grow over the decades ahead.
The Chinese investment juggernaut will therefore be a huge force to be reckoned with in the future.
There are some risks to China's reopening too.
For example, the rising demand for commodities could result in a spike in prices, and spark inflationary forces again.
Overall, however, the return to normality will be a welcome relief for Australia, as supply chains right themselves and international travellers are allowed to move around the world again.
The wrap: reopening surge
China's reopening is potentially huge news for Australia.
Financial markets have been concerned that the China reopening could be an inflationary force, as Chinese demand for LNG and other commodities is now likely to surge, which could push gas prices higher in Europe.
Thankfully the weather in Europe has been relatively mild over the past month, which has helped to keep power and energy prices under control.
On the other hand, China's shutting down of low-cost production was one of the many supply shocks which drove up global inflation in the first place.
Theoretically, then, the resumption of production and ongoing easing of supply bottlenecks could be a disinflationary force, as the supply of i-Phones and electric goods supply resumes.
For Australia's domestic economy, the prospect of the return of Chinese international students, tourists, and permanent migrants is potentially momentous.
As noted, relationships with China have soured somewhat over recent years.
However, China is still Australia's number one trading partner, while the election of the ALP combined with the diplomatic skills of Senator Penny Wong will probably go some way to repairing the relationship.
It's bit a tough few years for Aussie Universities and the tourism sector, but there's light at the end of the tunnel now.
Bring it on!
To have one of the friendly Propertybuyer Buyers' Agents to contact
you in regards to buying property :
or
call on 1300 655 615 today.