How to renovate your kitchen for maximum value



September 20, 2016 / Written by Rich Harvey
By Rich Harvey, CEO, propertybuyer.com.au
When you're adding value to an investment property in Sydney, cutting corners can be financially ruinous. And that's never more apparent than when you take on the kitchen. It's one of the first parts of the home people look at, one of the most important factors in finding tenants or adding value, and a place where it can be painfully obvious that someone's done a poor job.
Cheap fittings, run-down appliances or easily scratched surfaces are just some telltale signs of a rush kitchen reno. But what do they look like when they're done right?
Fixing up the floors
When you overhaul a kitchen, make sure to take a good long look at the floors. Remember - you don't necessarily have to work with tiles, even if they're high quality. Something different could provide an appealing aesthetic, and add great value.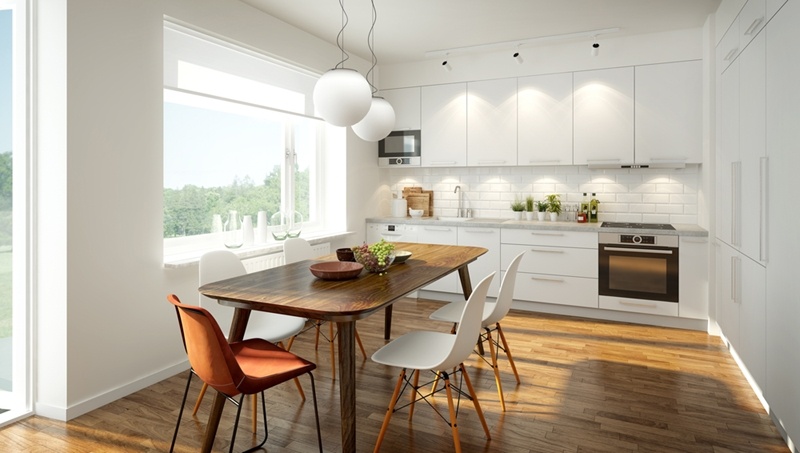 Some commercial flooring options will be great for residential use - weigh up some more out-there options and see what;s going to look good and be sturdy.
Understand trends - but don't necessarily follow them
While designing an investment property renovation to fit a current trend is a good idea at the time, it could date quickly - such is the nature of trends. At the moment, glass is out and tiled splashbacks are in - but for how long?
One trend that is always going to add value and appeal is ensuring your kitchen can also be a social hub. A breakfast bench, clean lines, combinations of wood and laminate drawers or cupboards could all be trendy, long-lasting and useful for opening up a space.
Try American oak for some of your shelving, if you want to pick something different and alluring!
Find appliances to suit the residents
When kitting out your kitchen reno with appliances, think about who will be living there. If multiple couples or a large family will move in, you might need to get an oven larger than the standard 60cm - and change your layout to suit.
Similarly, you may need to install gas lines and significantly change a kitchen if you want a gas cooktop, rather than an induction one.
That being said, you don't need to buy the most expensive appliances on the market. Look for showroom products or items at the end of the line, that will perform their function excellently, look great and save you money. Overcapitalisation can be the death of many great investment properties.
Light up the room
A dark kitchen isn't going to attract tenants or buyers.
A dark kitchen isn't going to attract tenants or buyers when it comes time to sell - make sure you address this in your kitchen overhaul. Pendant lights and track lights can be a very stylish way of achieving this, and mixing / matching the right shades throughout the kitchen will also help.
Think brass, rose gold or coloured taps and finishes, and lights in places that let you see at the back of cupboards and give you clear view of the sink.
Work with the right people
A quick look over NSW Fair Trading's recent media releases shows a wide range of issues with builders and renovators - people failing to deliver on promised work. Make sure you work with licensed tradespeople, get the right quotes, and take your time. Investment property is supposed to make you money - you don't want your hard work undone by shoddy renovation work.
Exciting news, propertybuyer has been announced a finalist in the YIP Readers Choice Awards! Lets make it 2 years in a row!

— Rich Harvey (@richharvey) September 16, 2016
As for finding the right property in the first place, that's where you can use a buyers' agent. At Propertybuyer, we are Australia's most awarded buyers' agents and can help you find Sydney real estate that perfectly matches your investment strategy.