The value of Aussie property through the eyes of foreigners



September 23, 2015 / Written by Thirst Creative
By Rich Harvey, CEO, propertybuyer.com.au
While Sydney property has had extraordinary growth over the last three years (52.5 per cent according to RP Data), putting it out of reach of many Australians, it is still relatively affordable for many foreigners. In the last three years, the Australian dollar has dropped in value by 34 per cent when compared to the United States dollar, reducing the cost of Australian property to overseas buyers.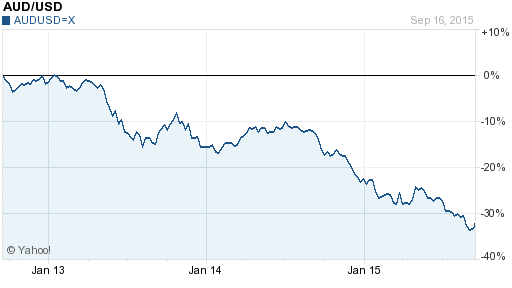 Westpac Chief Economist Bill Evans forecasts the dollar to be at 72c at the end of the year while NAB believes the AUD/USD exchange rate will reach 70c by years end and bottom at 68c in the first quarter of next year. No one can always pick the market though and if you try to wait until the exchange rate reaches its trough, you may end up acting too late and forfeiting the potential capital gain during that period as well!
RP Data says that compared to May 2012, Sydney home values have only increased by 13% in US dollar terms. Similarly, the increase over the same period in Chinese Yuan, South Korean Won, Hong Kong dollars or Singaporean dollars has only been 10%, 6.8%, 12.8% and 18.2% respectively.

This helps to explain why foreign investment, particularly from Asia, has been increasing lately and this is only going to continue. We have noticed an increase in inquiry from both expats and foreign buyers seeking assistance for our buyers' agent services. We are able to provide these buyers with local market knowledge and source many off market properties. Most importantly, we protect especially Chinese buyers from overpaying and making an emotionally charged decision.
Of that new foreign investment, the majority has been channeled into real estate. Australian real estate is particularly attractive to foreigners because it is seen as a safe haven due to Australia's developed economy and history of relatively stable real estate prices. As the below chart shows, the number of proposals to the Foreign Investment Review Board (FIRB) by foreigners to purchase Australian real estate has grown exponentially over recent years, while non-real estate applications have only grown marginally.
In particular, the number of approved proposals to purchase new dwellings has skyrocketed in recent years while proposals to purchase existing dwellings have also grown strongly, however it should be noted that these numbers are not equal to the number of properties actually bought as purchases do not always proceed (for example and investor may be unsuccessful at auction) and investors sometimes seek multiple approvals for multiple properties at once but only intend to purchase one. Putting this fact aside, the 14,591 approved proposals to purchase new Australian residential real estate in 2013-14 made up 9.43% of dwelling completions for the same year, in comparison to only 2.69% for the 2010-11 year.
The value of FIRB applications has also grown strongly in recent years, and in particular the value of applications to purchase real estate. The FIRB noted that in the 2013 - 2014 financial year, approved proposals to invest in Australian real estate made up almost half ($74.59b out of a total of $167.39b) of proposals for all sectors. Out of the $74.59b, $34.72b was for residential property which included $7.72b for individual purchases of new dwellings, $1.74b for vacant land and $7.17b for existing property. The above approvals purchase residential property in 2013-14 made up 13.4% of the $258 billion of residential property sales in Australia based on data from the ABS.
Recently the prestige market has strengthened by leaps and bounds and many vendors that have been waiting for an opportune time to sell have decided to list their properties. Meanwhile, many other properties that had been listed for long periods of time in suburbs such as Vaucluse in Sydney have recently found a buyer. This will show up as even stronger numbers when the 2014-15 figures are released and will continue into the 2015-16 year.
Of the above approvals, China is the main country of origin, with more than double the value of approvals to purchase Australian real estate than the second most popular country – the United States. Approved proposals from China alone made up $5.77 billion or 2.8% of the total residential sales volume in 2013-14 based on KPMG estimates and NAB Quarterly Australian Residential Property Surveys. The surveys also show demand by all foreign buyers fluctuating between 12.5 per cent and 10.2 per cent for new properties and 8 per cent and 7.2 per cent for established properties during the same financial year.
However, as the below graphs illustrate, the high value of Chinese applications is mainly due to the sheer number of applications rather than the high value of each application. In 2013-14, there were 14,716 approved proposals to purchase Australian real estate from China compared to only 350 from the USA.
Chinese applications are likely to continue to grow strongly though. Bloomberg says locals and foreigners are pulling their money out of China at the fastest pace in at least a decade as its economy has started to slow down and transition to consumer led demand. The Yuan has been devalued as a result, supporting a further exodus of capital. Royal Bank of Scotland's chief China economist Louis Kuijs estimates that $300b flowed out of China in the six months to March 2015.
We regularly assist Chinese clients and have a full time Chinese speaking buyers' agent. We helped a high net worth client last week purchase a $14m waterfront home in Mosman. The client was seeking to purchase a family residence and also maintain anonymity – and we also managed to save them over $1m off the vendors' expectations and our appraisal.
To contain the growth in foreign investment, some additional fees and taxes have been introduced. The FIRB will introduce a fee to process applications from 1 December 2015. The fee will $5,000 for residential properties under $1 million and $10,000 for properties over $1 million, increasing by $10,000 for every $1 million thereafter. Different fees apply to commercial property and business acquisitions, as set out below.
New penalties for not complying with FIRB rules will apply from 1 December 2015 and be enforced by the Australian Taxation Office (ATO). Criminal penalties will be increased to a maximum of $135,000 or three years imprisonment for individuals and $675,000 for companies. An infringement notice regime and civil penalties will also be introduced. For example, non-residents that illegally purchase an existing residential property may be required to pay the greater of 25% of the purchase price, 25% of the market value of the property or the capital gain made on divestment of the property. If you have breached the FIRB rules for residential real estate purchases but voluntarily disclose the information to the FIRB before 30 November 2015, you may:
Be given 12 months to divest, rather than a shorter period; and
Not be referred for criminal prosecution.
Due to the high concentration of FIRB applications to purchase properties in Victoria (see below charts), the Victorian Government has enacted legislation to introduce a stamp duty surcharge of 3% to residential property acquired by foreign purchases after 30 June 2015. A land tax surcharge of 0.5% for 'absentee owners' is also applicable from 1 January onwards.
These surcharges and fees are likely to have an initial small impact on application numbers but will then be incorporated into the total costs of buying a property in Australia. Applications will then resume their growth as long as Australia's economy continues to be viewed as a safe haven for investing money and our economy doesn't head into recession.
Summary
Sydney property prices up 50% but $AUD down 34% over last 3 years
Aussie property still considered good value to overseas buyers
The surge of FIRB applications is likely to moderate in response to market slowing and capital controls, but still remain strong for many years to come.
The prestige market is likely to see significant capital gains in the next 5 years
Ideal time for Expats and Foreign buyers to take advantage of market conditions.
If you are looking to purchase your next property, please call my friendly team of Buyers Agents today on 1300 655 615 or email your wishlist to discuss your requirements. We will provide you with independent advice, expert local knowledge and manage the search and negotiation process for you.