Spring Property Market - Bloom or Gloom? - September Market Update



September 1, 2020 / Written by Rich Harvey
By Rich Harvey, CEO & Founder propertybuyer
Written by: Rich Harvey, CEO & Founder
propertybuyer.com.au
Click here to watch Rich's Video of the September Market Update: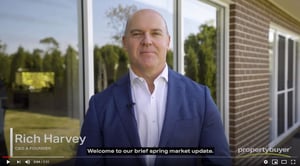 The property market has shown remarkable resilience since the onset of COVID-19.
Property prices have only dropped 2.1% in Sydney over the last quarter and 3.5% in Melbourne. In fact, during the month of August, Sydney was only down 0.5% and Melbourne down 1.2%. This is despite the very dire media headlines predicting 20% and 30% price falls.
Buyer and vendor-sentiment has been mostly negative over this covid period. But with the onset of spring we are starting to see green shoots of positive activity coming forward.
In the prestige market, demand has never been stronger for high quality and luxury homes. Without being able to travel overseas, home buyers have looked to feather their own nest and create the best possible environment at home. The limited supply of luxury properties is also driving prices up.
The mid-range market has been performing quite consistently. There is high demand for upsizers and upgraders wanting a better-quality home with all the mod cons and room for the "home office." The lack of stock over the winter period has been a major frustration for buyers seeking to find their next home. Buyers have also been very cautious about the market, not wanting to overstep the mark thinking that prices may fall further. Sellers have been worried about listing their property on market when watching negative news about the economy and our temporary recession.
Concerns over the impact of the current recession, potential job losses and international events are weighing heavily on the mind of many buyers. This is also been reflected in the number of people attending open homes. While there's been a reasonable number of people attending, the trend has been downward in some areas.
Buyers and sellers need to appreciate that there is not "ONE" property market in aggregate. The overall market is made up of individual suburbs, each with its own unique characteristics, property types and amenities which determine value.
The spring selling season traditionally brings the buyers out of the woodwork in larger numbers. Even in years where there has been election campaigns, recessions, major natural disasters or financial crises, the spring selling season always sees a significant rise in the volume of buyers and sellers transacting.
Many vendors have been holding off to find a better time to sell after the covid impact has settled down and they will find that Spring may well bring that opportunity. At some point, vendors need to sell due to life circumstances of job changes, growing kids, divorce, bereavement or they are just sick of the noisy neighbours and want a change!
Auction clearance rates in Sydney were 71% last weekend which indicates a very healthy market. There is a lot of latent demand in the property market. That is, buyers watching and waiting and ready to pull the trigger when the right property comes across their path. We have been transacting a larger than normal proportion of "off-market" properties in the past 6 months due to Covid.
Something that all buyers should consider is right now is how current buying conditions compare to 2 years ago. We have some of the best buying conditions on record right now:
Near zero interest rates

Low competition

Softer prices

Ability to dictate terms
No one has a perfect crystal ball to tell you exactly how the property market will emerge on the other side of Covid and the short-term recession that we are having, but I predict from past experience, and from studying economics for many years, that the rebound will be strong and reasonably swift once consumer sentiment starts to rise, a vaccine is in place and employment gets back to more normalised levels.
Here's my five tips to make the most of the spring market.
1. Focus your Energy – Spend some time up front writing down exactly what you want. Create a succinct "Buyers Brief" outlining your target suburbs and essential criteria.
2. Have your finance pre-approved. With bank lending much tougher than previous years, it's essential to have your deposit ready and finance approval in place so you can make confident offers to beat other buyers.
3. Hit the Streets – Get out from behind the computer screen and start inspecting available properties. Way too may images are photo shopped and seeing something in real life gives a far better perspective.
4. Future proof – Think about your future housing needs and how your family will need to adapt and grown in the available space.
5. Stick to your budget. Before going to auction, write down your limit and stay within it! Don't stray from what you can afford or make an emotional decision on auction day.
Please get in touch with our friendly team of buyers' agents as we would love to have a conversation about your next move. Send us your wishlist or call us on 1300 655 615.
Or click below to:
and tell us what you are looking for.