The Second Wave of Buyers - Expats and Overseas Buyers - April Market Update



April 1, 2021 / Written by Rich Harvey
By Rich Harvey, CEO & Founder, propertybuyer
Written by: Rich Harvey, CEO & Founder
propertybuyer.com.au
Click here to watch Rich's Video of the April Market Update: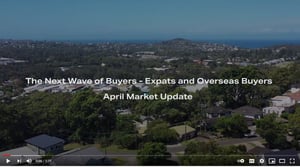 While the weather may be starting to cool, the property market is heating up rapidly! And if you think this market is hot, just wait till the next wave of buyers starts to come through! I don't want to scare you with unrealistic predictions, but we are seeing ongoing trends occurring in the property market on a daily basis and with our ear to the ground and speaking with multiple sales agents, we are in an ideal position to provide insightful comments to help you understand the latest market dynamics.

There are around 400,000 expats that have returned home to Australian shores since March 2020 and approximately 40,000 more yet to return home. A large proportion of these expats are very likely to remain in Australia even once the Covid-19 pandemic diminishes. Some recent surveys have indicated that around 30% of expats will remain home permanently. That could mean an additional 120,000 families to accommodate.

Expats are a very dominant force in the property market. They are extremely well educated, highly skilled, often coming with excess cash reserves (with currency exchange in their favour) and are highly motivated to buy high quality properties in prestigious suburbs. They have the benefit of observing the property market from a world-wide perspective, not just from a local perspective. They understand and appreciate that Australian real estate is some of the highest quality in the world. Where else can you buy at home that overlooks a world class harbour, top quality beaches, or is located adjacent to expansive bushland reserves and yet within 15 to 30 minutes of the CBD?

Expats have very discerning tastes and are quite specific about what they want in their home when they return. They typically want larger size bedrooms, a home office space (sometimes two separate spaces), large entertaining areas indoor and outdoor, spacious bathrooms and ensuites, open plan kitchen dining areas, at least two car spaces, and a good quality construction. They will often want a view, or at least proximity to local amenities and parks, or beach or harbourfront.

The budget of expats can vary widely from just getting into the local market at around $850k, to the mid-tier family buyer in the $2m to $3.5m range, to the prestige expat buyer from $4m to $10m+. Each buyer type has specific preferences that we cater for in the search. Some want extensive privacy, some like being close the action, others prefer quietness while others want a palace. A large majority of properties we present to clients in the upper range are "off market" opportunities that are never advertised.

The other wave of buyers that we predict are coming (and have been absent for a few years) are overseas buyers. Even the excessive property taxes levied on foreign buyers will not deter the high demand from Chinese, Malaysian, Indian, Singaporean and European high net worth buyers.

When our international borders re-open, we can expect to see a surge in rental demand from overseas arrivals looking for rental property. Savvy investors that buy at the start of this boom will do very well in buying in locations that will satisfy this demand.

Wealthy overseas buyers from economically depressed countries that Covid has ravaged will be highly motivated to seek the safe shores of Australian real estate as a means to safeguard their wealth, secure another trophy home or as a means of diversifying their portfolio or protect their family.

A recent study by Knight Frank in the 2021 "Wealth Report" revealed that house prices were rising because of the pandemic not despite it. Specifically, the report noted "Our assessment of the world's leading prime residential markets confirms that average price growth accelerated over the past 12 months. While Auckland led the pack with an 18% uptick, reflecting New Zealand's sure-footed handling of Covid-19, even those markets hard hit by the pandemic are seeing growth. Low mortgage rates, a search for space, privacy and changing commuting patterns are helping push prices higher."

The Wealth report also highlighted that 26% of UHNWIs (Ultra High Net Worth Individuals) are planning to buy a new home in 2021, with the biggest driver the desire to upgrade their main residences. The report also indicated strong growth in demand for rural and coastal properties, with access to open space the most highly desired feature as well as areas next to mountains, lakes and beaches.

In summary, the boom is just getting started. The current wave of domestic demand by locals will continue. I recommend learning to surf and catch the next wave of growth that is coming from expats and overseas buyers. Some market commentators are way to simplistic in saying the current boom is only driven by cheap money (low interest rates).

The market momentum will continue well into 2022 as our Australian economy rebounds faster than expected and the massive stimulus measures work their way through the economy. The pent-up demand and savings as we come out of covid is seeing buyer quickly activate buying decisions and getting on with lifestyle and investment choices.

The impact of the "second wave" of expat and overseas buyers will continue to drive the overall market forward. For the average buyer the message is clear – prices will continue to rise.
If you are in the market to buy your next property, reach out today to arrange a free strategy chat with my team to get an advantage in this hot market.
Please get in touch with our friendly team of buyers' agents as we would love to have a conversation about your next move. Send us your wishlist or call us on 1300 655 615.