Waiting To Buy Is Costing You Money - September 2020



September 22, 2020 / Written by Rich Harvey
By Rich Harvey, CEO & Founder, propertybuyer.com.au
Watch Rich Harvey's video to see why
Waiting To Buy is Costing You Money: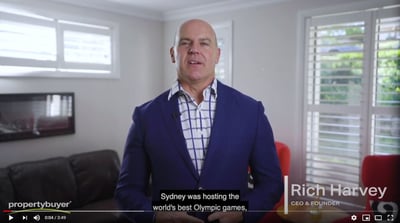 It doesn't feel like that long ago, but Sydney some twenty odd years back might as well have been a different planet.
The city was revelling in the success of hosting the world's best Olympic Games, which sparked a flurry of development activity, infrastructure and urban renewal, and helped give the Harbour capital a new lease on life.
A whopping 1.1 million fewer people called the place home too, so the roads were a lot less busy and the trains and buses packed with fewer commuters.
Facebook didn't exist. Nor did Twitter. In fact, we used our mobile phones – which definitely weren't smart – for making telephone calls… and that's about it.
And the median house price in the sought-after uber trendy beachside enclave of Bondi was a mere $860,000. That's a modest $2 million cheaper that it is today.
If you could travel back in time to a point to tell your younger self that now is the time to buy property in Sydney, it probably would've been around then. The two decades that have passed have seen a population explosion, resulting in a chronic shortage of housing that can never be quenched, and soaring demand that propelled prices into the stratosphere.
The best time to buy in Sydney was 20 years ago. But the second-best time is right now.
If you've been in the real estate market in Sydney over the past couple of years, casting your mind back about 20 years can be a depressing exercise.
At the beginning of the new Century, you could get a house in Cronulla, the jewel of the Sutherland Shire, for about $921,000 compared to the $2.2 million it'll set you back now.
In Paddington, the poshest part of the post inner-east, the median price was about $850,000… while today it's $2.3 million. To the north, you might get a house in Hornsby for $458,000 while today you'll pay closer to $1.2 million.
Pockets of the city that some would've turned their nose up at 20 years back have experienced similar extraordinary growth. Take Parramatta, which is now the second CBD and at the epicentre of growth and expansion. The median house price was $451,000 while it's now more than double that.
Or even further west, Penrith had a median of $254,000 while now it's $640,000. There are countless other examples – like Chatswood, which then was $823,000 and is now $2.2 million, or Edgecliff, which went from a median of $921,000 to $1.9 million.
But that was a one-off… right? We'll never see enormous growth that again… surely?
It's easy to lose perspective in the passage of time. Life is so different now to 20 years ago, even though it's easy to forget it, and it doesn't really feel like that long ago.
The same goes with property. You might look at some of the more prestigious suburbs among the ones I've called out and conclude that they've done their dash. They're so expensive and they've grown so much that surely their time in the blaring sun is over.
Cast your minds back 20 years to the blue chip, tightly held and high-end suburb of Manly. It was one of Sydney's most expensive pockets for real estate and people thought that surely – surely – it couldn't get much hotter.
The median then? About $993,000. And now? It's a neat $3 million.
Let's also not forget the conversations we were having back then: "Sydney prices are out of control!" someone at a backyard barbeque or dinner party was certain to have said.
"Who would pay that much money for a house in Cronulla? And they'll never make that money back in a place like Parramatta!"
The exact same shock and awe about the cost of property that you've heard for the past few years, and will continue hearing, was commonplace then too. Just because those median prices look astonishingly good now, doesn't mean they did back then!
The opportunity cost of doing nothing is enormous, and that hasn't changed. If anything, it's gotten more urgent.
It's easy to procrastinate in property at the best of times.
You're too busy to take on the task of finding your first place, your next place or an investment. Prices are going up, they're going down or they're not going anywhere, and that makes you nervous. Maybe if you wait affordability will improve.
Or, as has been the case this year, the world is an unsettling and uncertain place, and it seems like a good idea to sit on your hands until things calm down.
And so, you wait. And wait. And you miss out on the chance to get in the market as well as the capital growth prospects that come with compound growth over the long term.
That same compound growth over two decades that those who bought in Bondi, Paddington, Cronulla, Parramatta and even Penrith have enjoyed since then.
Sure, we might be in the midst of coronavirus and dealing with its myriad consequences, but over that two-decade period of enormous growth were world-shaking terror attacks, economy changing political reforms, wars, social upheaval, a few global financial crises and population fluctuations.
Mixed in with that unprecedented uncertainty were major investments in infrastructure, total transformations of suburbs and city shaping development.
The same drivers of growth and prosperity are in place right now – and at significantly greater levels.
The New South Wales Government has committed more than $55 billion to a string of big-ticket items that will make life easier, more convenient, more pleasant and ripe for transformation.
There's the $22 billion Sydney Metro project, which will see 66 kilometres of standalone tracks connect the northern stretches to the CBD, the southwest and the west, with 31 stations, by 2024.
There's the $5.3 billion Badgerys Creek Airport project, which is due to begin construction in 2022, providing the west with its own domestic and international terminals catering to 10 million annual passengers when it opens in 2026.
There's the rapidly progressing $3 billion Parramatta Square initiative, one of Australia's largest urban renewal projects, which will transform the second CBD's central precinct with commercial, residential and retail.
Westconnex is roaring along. So too is the final stage of the Barangaroo development. And there's much excitement about the announced plans for the mammoth Central Station renewal.
In less than half the 20-year period that saw Sydney median property prices explode, the city's population is projected to hit nine million. That's a hell of a lot more people needing somewhere to live and nowhere near enough dwellings to put them in.
If 20 years ago was the best time to buy, I'm convinced now is the second-best. Don't lose money by waiting any longer. Take advantage of the present and contact us to talk about plans you can make today that will have your future-self feeling exceptionally grateful for your foresight and wisdom.
To have a friendly Buyers' Agent contact you, click here to:
or
call us on 1300 655 615 today.