What The Federal Budget Means For Property In 2021 - October 2020



October 14, 2020 / Written by Rich Harvey
By Guest Blogger, Pete Wargent,
Next Level Wealth - www.gonextlevelwealth.com.au
Record deficit
Well, so much for the looming surplus!
The Coalition government had been making quite a big deal about its sober fiscal responsibility and bringing the Budget 'back to black'.
But this year hasn't gone according to plan in many respects, and the Budget balance was little different.
With the onset of the COVID-19 virus and restrictions, curfews, and border closures to contend with the government has stepped in with an enormous package of stimulus measures.
This year the budget deficit is forecast to surpass a record $213 billion as the government tips in massive stimulus to reset the economy for growth in 2021.
This is good news for the economy, and the unemployment rate is now expected to drift back down towards a less alarming than previously feared 6 per cent over the next couple of years.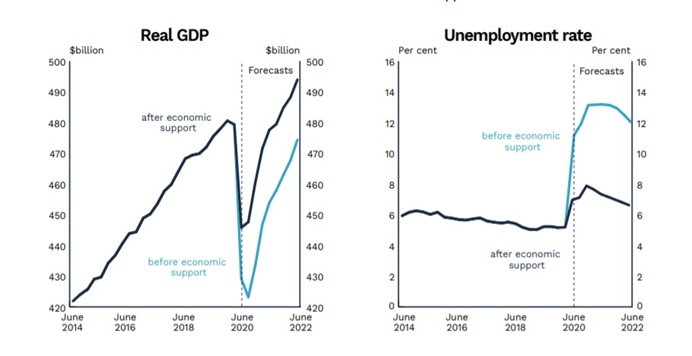 Source: Australian Treasury
Net debt is now forecast to peak at $966 billion in 2024, or essentially $1 trillion in round numbers.
Lest anyone is worried about government debt and the related interest repayments, gross debt is now projected to stabilise at a relatively manageable 55 per cent of GDP, following the forthcoming surge.
And bond markets aren't remotely fazed.
In fact, Australia's government can borrow for 10 years at under 1 per cent, or even for 15 years at under 1.2 per cent.
More support for first homebuyers
The Budget projects deficits for years to come, which isn't a bad thing for property, reflecting the government keeping more money circulating in the economy.
We already know that interest rates are likely to fall further in November, and moreover are expected to remain near record lows for several years.
There weren't too many specific measures released in the Budget relating to property, but the government is clearly very keen to see first homebuyers purchasing their first homes and then furnishing them.
A further 10,000 places will be made available via the First Home Loan Deposit Scheme (FHLDS) for borrowers with only a 5 per cent deposit available.
Tax relief increased borrowing capacity
The other major point of note from the Federal Budget was the staged income tax relief for individuals.
For those interested in property, this effectively increases incomes and likely puts another $30,000 or perhaps $40,000 onto the borrowing capacity of many borrowers.
For dual income households the difference to borrowing capacity could be $60,000 to $80,000, although the impact will be less notable for those carrying an existing debt burden (especially if it's interest-only mortgage debt).
Combined with the proposed wind-back of responsible lending obligations there is a clear signal that the credit pendulum is now swinging towards looser settings, following half a decade of incrementally tightening measures.
Expect property prices to follow north in 2021 driven by the marginal new borrower, even as some incumbent borrowers navigate the end of their mortgage holidays.
To have one of the friendly Propertybuyer Buyers' Agents to
contact you in regards to buying property :
or
call us on 1300 655 615 today.