What's Happening With Aussie Expats and Property? - June 2022



July 1, 2022 / Written by Rich Harvey
By Guest Blogger, Pete Wargent,
Next Level Wealth
The Aussie diaspora
Before the onset of COVID, the estimated Australian diaspora was sitting at around one million persons (or thereabouts – there is no official reporting policy on these statistics!).
While the number naturally fluctuates over time, generally just a few per cent of the Australian population lives overseas, one of the lowest proportions worldwide.
Why is that?
Firstly, it's a long way to travel overseas for Aussies, and therefore expensive!
And secondly when all things are considered, Australia is a very attractive place to live.
In fact, about ¾ of Australians who say they are planning to leave permanently do end up returning to Australia at some point.
The most popular destination by far for Australians heading overseas to live is the United Kingdom, with London being an especially common choice.
The other main destinations, of course, are the United States and New Zealand.
Boomerang departures
Since the Covid-19 pandemic wreaked havoc, large numbers of expats have returned to Australia, for a range of reasons.
Many feared that travel disruptions could see them stranded overseas, and indeed most Aussie expats couldn't easily return home for the best part of two years.
But since the quarantine restrictions began to be removed there has been a surge of 107,420 long-term residents returning over the six months to April 2022, which is about ⅓ above the pre-COVID trend.
Figure 1 – Long-term residents returning to Australia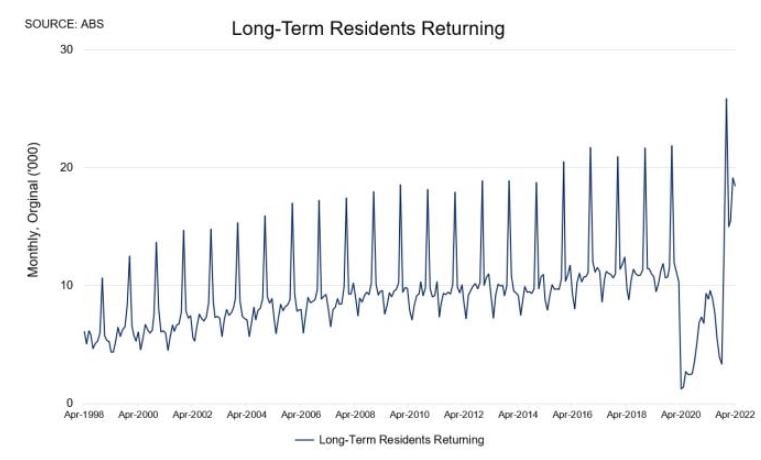 This is likely to add pressure to already tight rental markets.
Heading overseas?
For now, at least, long-term resident departures remain below pre-COVID levels.
That could be due to the ongoing uncertainty, with COVID travel and other restrictions continuing in some parts of the world, including Singapore and Hong Kong, among other countries.
It may also be because of the sheer breadth of opportunities presenting themselves in Australia right now.
The unemployment rate is tracking at the lowest level in half a century, and there are around 425,000 job vacancies – by far the highest ever figure – and with the labour market so tight, incomes are now rising.
Figure 2 – Unemployment rate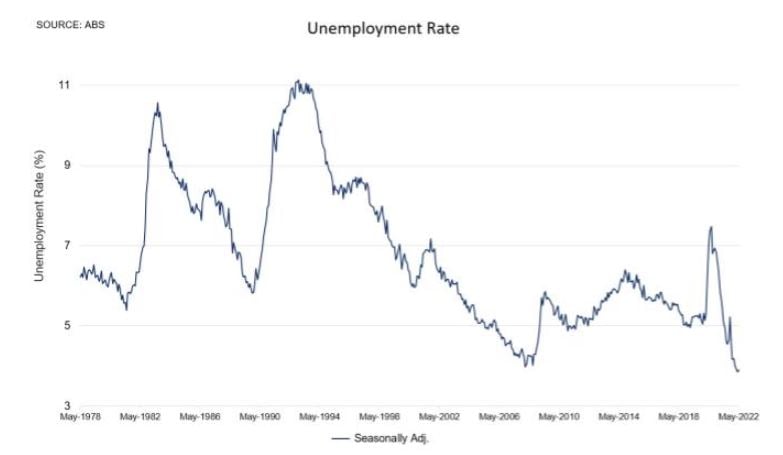 Of course, living costs have also been increasing in Australia – particularly for food, fuel, energy, and power – so it's not all been plain sailing, by any means.
But employment opportunities, professional development, and higher earning power are three of the key cited reasons for expats heading overseas (study, travel, and marriage are some of the others), so the current chronic skills shortage will likely keep more Aussies at home.
The outlook, and housing market implications
Long-term visitors and permanent arrivals into Australia are quickly returning towards the levels they were at before pandemic hit.
But for now, short-term arrivals such as tourist numbers are way down on where they once were.
Australia also lost around ½ a million temporary visa holders through the pandemic, while tourists and international students and from China have largely failed to return to these shores.
It's been impossible to predict trends over the past couple of years, but there may well be some Aussies with itchy feet who are looking to get overseas again in the second half of 2022, which may lead to something of a brain drain.
On the other side of the ledger, though, there has been a huge push from business and other lobby group to accelerate visa processing to tackle skills shortages, and it's likely that population growth will be heading back towards 1 ½ per cent by the end of 2023, or somewhere in the range of 350,000 (or even 400,000) per annum.
With building approvals falling and apartment projects stalling, it looks to be a certainty that the rental market will be exceptionally tight over the coming years.
Property factors for expats to consider when return
What are some special factors that expats need to consider when buying property from overseas?
Firstly, there has been a shift in demand over the past couple of years, in a proverbial 'race for space.'
More buyers are choosing houses in suburbia or in regional centres, especially coastal locations.
Secondly, construction and renovation costs have soared over the past year, so it probably makes sense to look for properties that are liveable in their current condition, and park any renovation plans until some kind of normality has returned to
Thirdly, there has been some severe flooding in New South Wales and Queensland this year, so make sure you undertake thorough due diligence with regards to any legacy issues and environmental risks.
And fourthly, there are some potential tax legislation changes afoot in some states, as well as some stimulus packages, so make sure you are across all of these before you commit to a purchase and take some professional advice if you aren't sure.
In fact, the point of professional advice always stands, and do consider using an independent professional buyer's agent to assist with any purchase from overseas!
To have one of the friendly Propertybuyer Buyers' Agents to contact
you in regards to buying property :
or
call on 1300 655 615 today.