When Will Interest Rates Really Start to Rise Again? - March 2021



March 30, 2021 / Written by Rich Harvey
By Guest Blogger, Pete Wargent,
Next Level Wealth
Record low rates

It's been an unprecedented period for property lending in Australia.

Not only has the Reserve Bank of Australia (RBA) dropped the overnight cash rate to 0.10 per cent, but the RBA also put in place a Term Funding Facility for banks to access cheap funding, and lately has been undertaking measures to hold the 3-year government bond yield down to around 0.10 per cent.

Without getting too technical Australian mortgage borrowing trends are different from the U.S.

We don't fix mortgages for long period of 15 or 30 years, and the main influences on mortgage rates in Australia are 3-year floating rates and the overnight cash rate.

Thus, while the all the stimulus and the economic recovery has seen mortgage rates bottoming out and beginning to rise in the U.S., there is no reason yet for this to happen in Australia.

In fact, lenders are competing quite hard for market share, to the extent that mortgage rates on new loans are still trending lower.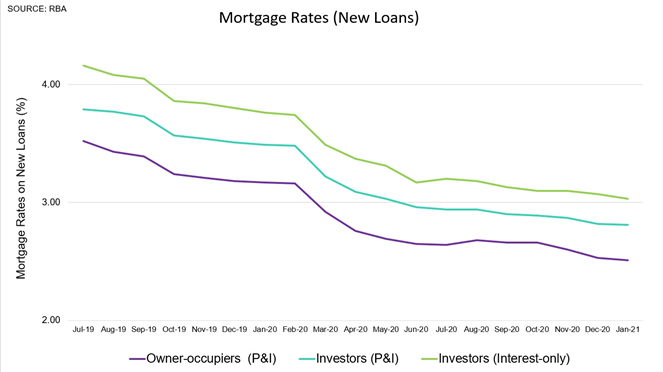 With mortgages available from around 2-3 per cent now, if you have an existing mortgage it might be worth speaking to your mortgage broker to see whether you can refinance to a better deal!

What happens next?

If the past 12 months has taught us anything it should be that forecasting short-term market movements is a fool's errand.

After all, who would've predicted that a tanker could block the vast Suez Canal, choking up the world's oil supply?

These once-in-a-lifetime events seem to happen fairly often, don't you think?

In any event, the RBA has made it clear over and over again that the cash rate is going nowhere until at least 2024, when the bank expects to see full employment and inflation sustainably back to target, and futures markets have duly taken note.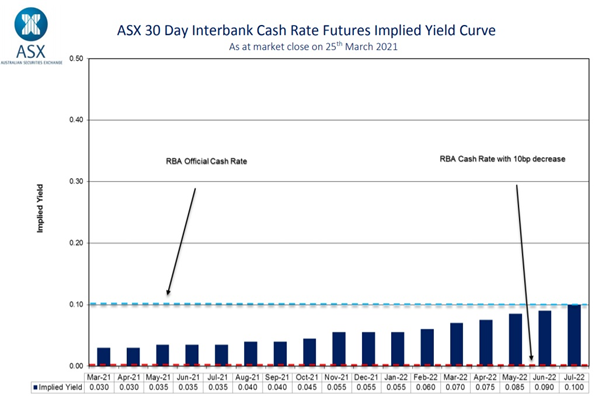 The big picture

That's why it generally pays to take a bigger picture or longer-term view.

Over the very, very long term, the Bank of England has highlighted that interest rates have been trending lower for 700 years!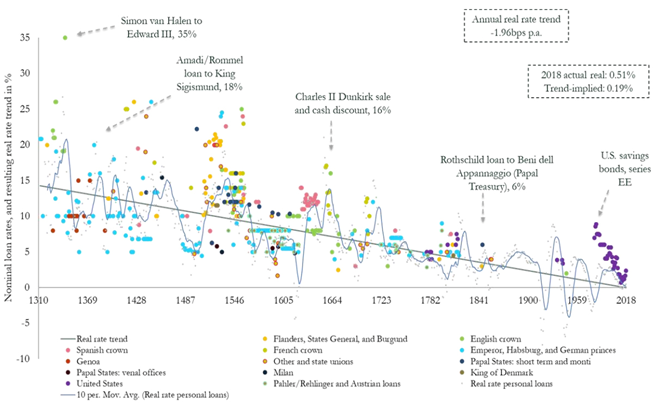 The more observant or cautious reader would recognise, though, that within that long, sweeping downtrend, there have been periods where interest rates moved higher.

In Australia we last saw a meaningful move upwards during the mining boom years, and in the early 1990s there were some very painful upwards moves in mortgage rates.

For that reason, it makes sense to budget for interest rates 200 basis points or 2 per cent higher than the rate you are currently paying.

For the record, I don't see that as very likely any time soon, but it's a good conservative position to take (and indeed lenders are now compelled to assess loan serviceability using such buffers built in).

Economic recovery and the property outlook

As previously noted, Australia's 10-year bond yield has no bearing on mortgage rates, so you can safely ignore much of the media commentary on the topic.

But the recent rebound in bond yields from record low does say something about the positive trajectory of Australia's economic recovery.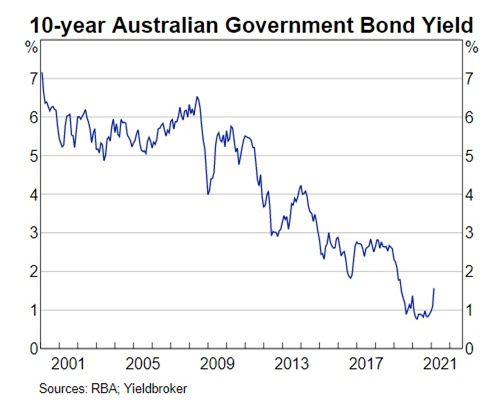 My best guess is that mortgage rates will continue to snake lower for a while as lenders compete for market share, before eventually bottoming out, and perhaps moving a bit higher by next year.

Much can change, of course, but it's a sensible base case position to take for property buyers.

As for the impact of low rates on prices, interest serviceability is at the easiest level in nearly 45 years, so I'd expect to see housing prices lifting by 20 to 30 per cent by 2024, although of course some locations and property types will fare better than others.
To have one of the friendly Propertybuyer Buyers' Agents to
contact you in regards to buying property :
or
call us on 1300 655 615 today.