Why Has Property Demand Remained So High? - October 2020



October 30, 2020 / Written by Rich Harvey
By Rich Harvey, CEO & Founder, propertybuyer.com.au
I've said it before and I'll say it again, real estate markets haven't behaved how most commentators thought they would during the coronavirus pandemic.
We were supposed to see a mass exodus of buyers and a collapse in prices unlike anything we've seen before, causing prices to crash in a way that would take years, if not decades to recover from. And some of the predictions made sense, given the unprecedented shutdown of the economy and society.
But those forecast never eventuated. While listings have plummeted, as most vendors sit on their hands and adopt a wait-and-see approach, would-be buyers are still out in force. That's kept prices stable – and on the rise in some markets.
Just have a look at what's been happening over the course of this very strange year.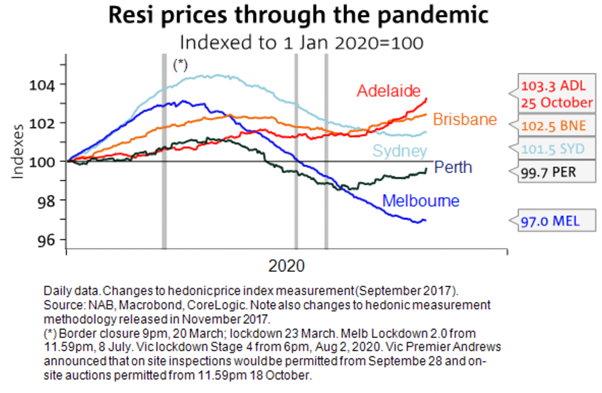 Just look at those upward movements in the chart above. You can obviously see the start of the pandemic sent shockwaves around the country from March, with Melbourne taking the brunt of the hit and more volatile markets like Perth also contracting sharply.
However, as you can see, it didn't last long. Over the past few months, things have rebounded quite nicely.
Preliminary data for October shows that activity in Sydney and Melbourne is continuing to trend up, albeit more modestly in the Victorian capital due to the challenges posed by the city's lockdown. But the fact that listings and sales are on the rise in a location that's virtually shut down goes to show the resilience of property.
This chart mapping sales volumes at a national level illustrates the trend. The initial shock sparked by the pandemic was short-lived.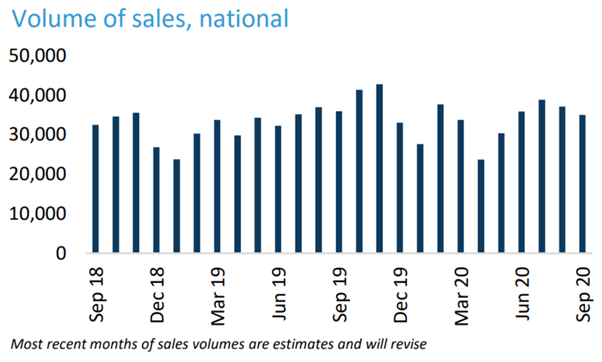 While some of those who predicted the worst might be surprised about what's unfolded, I'm not shocked that demand has remained so high.
For one, property isn't an instantaneous trade. The sale and purchase of real estate takes place over the span of months, not seconds like the stock market. This makes it a more resilient investment vehicle, and history has proven this time and time again.
When you reflect on data during periods of great social, political or economic upheaval, you see these same trends. Be it the tech crash, the Global Financial Crisis, the Bali bombings, the September 11 terrorist attacks, the change of government in 2007, the leadership turmoil in the years that followed and even the coronavirus pandemic, there's often a short-term shock followed by a period of sustained recovery.
The same pattern is taking place here. Sentiment collapsed when the pandemic began to take hold, but buyers emerged soon after. Even in Melbourne, where getting back out and about has been extremely difficult, a number of people are still eager to buy.
A big reason why is that property isn't just a tradable asset. It's not a share of a company – there's more than just dollars involved. There are dreams and aspirations, emotion, long-term future goals, family considerations and, of course, the need for shelter.
Of course, as I've mentioned numerous times on this blog, another factor at play is that real estate is a long-term game. Few, if any people buy a home or an investment and expect to flip it in a matter of months to make a huge profit. Those small number who do are usually disappointed, even in a boom. Instead, the majority of buyers expect to hold their asset, be it a family home or an addition to their portfolio, for at least one cycle.
And a cycle is anywhere between eight and twelve years, depending on the market.
Capital gains over that period of time justify making a purchase decision when things are a little uncertain or when there's increased competition. It's why you'll see some people at a particularly frenzied auction give way to their competitive sides and pay more to secure the perfect home.
All of this is good news for those who like property prices to remain stable and continue growing, but perhaps not so stellar news for those hoping to buy.
Those in the market at the moment are faced with a low number of listings, reducing the choice they have when shopping around. If you've browsed real estate websites and gone to Saturday open for inspections recently, you'll know what I mean. It's pretty slim pickings.
At the same time, the number of would-be buyers out there is strong. If you do happen upon something that fits your list of needs and wants, you'll probably have to bid strongly for it given the level of competition for quality property.
So, what do you do to both find a good prospective deal and secure it without having to pay a small fortune to knock out your rivals?
A buyers' agent is your secret weapon in a climate like this. They have access to a network of agents to secure off-market deals that never hit those real estate websites. They're hidden gems that you won't hear about if you're going it alone. This removes your competition; lowers the premium you'll have to pay and reduces a lot of the stress and wasted time.
Buyers' agents can also get the inside word on those listings that do make it to the open market because of their connections in the industry. Don't forget, a buyers' agent lives and breathes property. They're on the ground every single day.
On top of this, they provide excellent due diligence. They know how markets work, what factors are likely to influence supply and demand, both now and into the future, and what dwelling types and features are necessary to improve your prospects of strong long-term capital growth.
And by managing the entire search and negotiation process on your behalf, they can help ensure you don't pay too much out of desperation or frustration.
To have one of our friendly Buyers' Agent contact you, click here to:
or
call us on 1300 655 615 today.