Why I'm still buying during the shutdown - April 2020



April 22, 2020 / Written by Rich Harvey
By Rich Harvey, CEO & Founder, propertybuyer.com.au
Watch Rich Harvey's video of Why I'm Still Buying During the Shutdown now: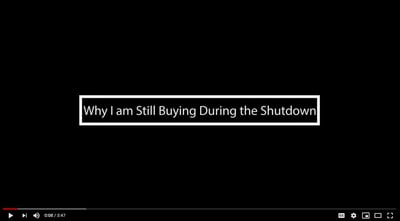 There's a tried and tested wisdom when it comes to property investment that is especially relevant during these challenging and confusing times.
To paraphrase that old adage - when everyone else is fearful, be brave.
It's an approach I'm adopting as Australia remains in lockdown due to the coronavirus – and especially as nervousness begins to creep into housing markets across Australia.
But why do I choose to forge ahead when others are cowering?
Because I believe now is a perfect time to buy rather than shut up shop and hibernate.
There are anecdotal reports from the ground in many locations that would-be buyers have gone into hiding and the number of active listings is starting to dwindle.
This is pretty understandable. Forecasts of economic uncertainty and a rise in unemployment have people feeling nervous about whether they should move ahead with a property purchase at the moment.
If that's your way of thinking right now, I believe you're doing yourself out of some pretty compelling opportunities.
Here's why.
Keep your eye on the prize
Successful property investing has little to do with the here and now.
Quick capital gains are risky, regardless of what's happening in the world, and are rarely a sign of a savvy investment deal so much as they are of sheer luck.
Take highly speculative mining towns or quick-flip deals. Sure, some people do well on short-term investments, but the downsides are more likely than the upside.
Focusing on a long-term investment strategy is always safer and more lucrative, and buying right now is no different.
Let's take a look at what's happening in many scenarios.
For several months now, markets like Sydney and Melbourne have been running hot, with strengthening auction clearance rates, prices above guide and an increase in eager and impatient buyers.
This has seen median house prices rise after two years of softening. The recovery was in full swing before coronavirus began to have an impact in Australia.
Now, we're hearing that buyers are staying away – out of fear as well as social distancing measures – and vendors are either not selling or taking a bit of a hit on price. It's not an ideal scenario if you're trying to sell.
But why is that a bad thing if you're looking to buy?
An ideal buyer's market
As I said at the beginning of this blog, buying when the rest of the market is fearful is a fantastic position to be in.
You face much less competition right now than you would've a few months ago, when Saturday auctions were jam-packed with people, many of whom were willing to throw large amounts of money above guide price to secure a deal.
If you weren't in the same position to splash extra to make a property yours, you probably spent most Saturdays feeling deflated and dejected. Strong competition leaves many would-be buyers out in the cold. Those conditions have eased.
If you're in a position where you're ready to buy, why wouldn't you take advantage of a more even playing field?
On top of this, while listing numbers are starting to shrink, there are a number of vendors who still need to or want to sell right now. They might've bought elsewhere. Perhaps their individual circumstances are requiring them to offload their home. Maybe it's an investor looking to free up capital or downsize their portfolio.
Whatever the situation, I've noticed in the market – especially in Sydney – a number of exceptional buying opportunities that are suddenly more within reach for my brave clients.
Good deals, reduced competition, motivated sellers… it's a buyer's dream and offers a strong negotiating position.
Solid prospects still hold strong
Don't get me wrong, not everything is a 'bargain' during a slowdown. Good opportunities aren't universal - they never are, even when markets are booming.
I wouldn't be buying in far-flung outer suburbs now, or in recently completed high-density apartment complexes in suburbs that could see an oversupply of new dwellings in the mid-term. I probably wouldn't bother with off-the-plan purchases that are far from a certainty of ever eventuating.
But in blue chip suburbs and areas that are prime for long-term capital growth, particularly up-and-coming locations in middle ring Sydney and Melbourne suburbs where gentrification is just on the horizon, are worth looking at.
Again, it comes back to focusing on a long-term strategy. Areas with excellent growth prospects offer good buying opportunities right now at a reduced price and with less competition, which is probably the absolute best time to be looking at them.
It's also the reason why using a buyers' agent with plenty of experience, a track record of meticulous due diligence and an extensive network of contacts is essential.
From a buyer's perspective, finance is extremely cheap thanks to record low interest rates and some very competitive deals on offer at the banks.
Put aside the natural instinct to feel nervous because everyone else is. Recognise the prime position you find yourself in. Make a calculated and strategic decision to secure a premium property at a lower price and with less competition.
A little way down the road, you will be one of those people that other would-be buyers look at with envy.
To have a friendly Buyers' Agents to contact you:
or
call us on 1300 655 615 today.