Why median prices shouldn't scare you - November 2019



November 13, 2019 / Written by Rich Harvey
By Rich Harvey, CEO & Founder, propertybuyer.com.au
If you're a bit of a data fiend like me, chances are you'll find yourself scrolling through the monthly median price results with fascination – especially of late.
Being able to get a snapshot of where a city and its many and varied suburbs sit is invaluable when you're a property investor. But it's sometimes less exciting when you're looking to buy.
Check out suburb profiles for those desirable areas you're keen to buy in, and the sky-high median is probably enough to have you running for the hills.
But, don't let those big numbers frighten you. Sure, areas like Paddington or Manly in Sydney, or Brighton and Richmond in Melbourne, have big median prices on account of their high demand, low supply and generous volume of prestige properties.
But below that high number are some great opportunities just waiting to be sniffed out.
Worst house (or unit), best street
An obvious way of getting into a prime suburb for a bit cheaper is to specifically target the ugly ducklings.
They're the houses and units that have seen better days. They're the kind of real estate listings that carry only a few photos, and usually outside only, or emphasis long-term development potential or the block size.
It's these real estate horrors that will turn away many owner-occupiers in blue chip suburbs. They want a beautiful home they can move straight into without much fuss. They'll pay for it accordingly.
Take Paddington in Sydney, for example. This trendy inner-eastern suburb is full of streets with immaculate, well-maintained and expertly renovated and designed terrace homes. It's simply breathtaking to spend an afternoon getting lost in this beautiful part of town.
If you've got the money, you'd have no hesitation snapping up one of the stunning homes on offer. They come with a high price tag, of course. The median house price here is $2.2 million and the median unit price is $830,000.
But if I was looking to break into a prime area with less money, I'd go for the ugliest duckling I could find. Solid, sturdy and not at risk of falling over, for sure, but absolutely run down and ripe for a renovation.
For those with a strong work ethic and clear vision, this prospect at 5 Albert Square, Paddington, NSW 2021 which sold for $1.475 million might fit the bill.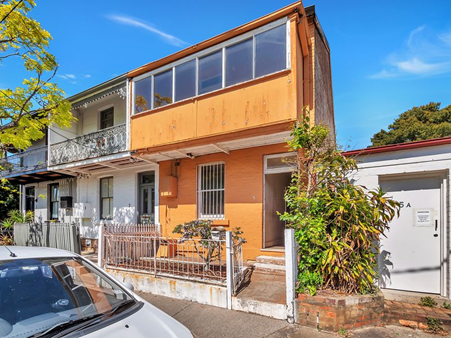 5 Albert Square – a definite Paddington 'fixer upper' (source: realestate.com.au)
A deceased estate in original condition, with one of those bastardised enclosed balconies upstairs, painted in the most offensive shade of orange possible. Inside, the walls are a mess, the floor is seven different types of wood, the kitchen is a few old cabinets and the toilet is out back.
But beyond that horrendous first impression is a property with big bedrooms, a good floorplan and a nice courtyard, on a decent-sized block, in a quiet cul-de-sac, and in one of the most desirable parts of the suburb.
There's huge potential to buy this ugly duckling for a cheaper price, restore it to its former glory and add some serious value.
Of course, it requires an investment of time, money, blood, sweat and tears, but it could be worth it to crack one of the city's most sought-after suburbs for a fraction of the price.
Old unit with good bones
Shopping for a unit in a blue-chip suburb rather than a house is obviously a way of getting in with less money, it goes without saying.
But buying an old unit with good bones but no flashy trimmings, rather than something slick and modern in a new build, will give you buck plenty of bang.
Here's a great one-bedroom unit with a car space that's in very good condition at 24/53 Pittwater Road, Manly… and it has all of the mod cons you'd expect. It's just a few streets back from the beach.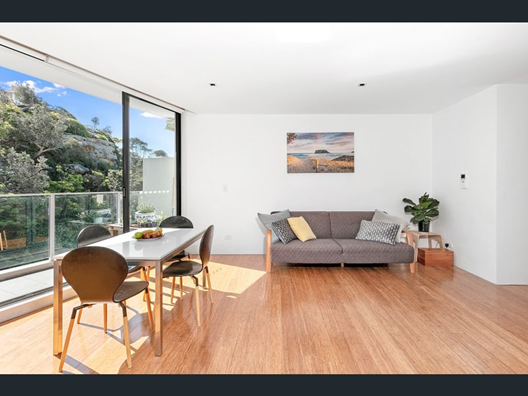 24/53 Pittwater Road, Manly, NSW 2095 (source: realestate.com.au)
It's in a nice, recently built complex with minimal maintenance. The auction guide is $1.1 million. It's the kind of unit that a young professional couple would seek out, where they can quickly unpack their boxes and then get busy becoming beach bums down the road.
Now, take a look at 913/22 Central Avenue, Manly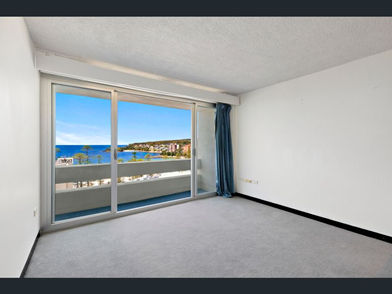 913/22 Central Avenue, Manly (source: realestate.com.au)
Put aside for one second the pictures of those spectacular ocean views, which really are quite something. Let's compare it to the first.
It's a one-bedder with a car space also, and of comparable size when you look at the floorplans. The layout is a bit better, in my view, and the complex is much older. The flat needs some cosmetic work, without doubt. Some couples who would fall in love with the first unit, might walk into this and recoil.
But in reality, it needs a tidy new kitchen, a revamped bathroom, new floors, a lick of paint and some window furnishings. It's liveable, albeit tired, but not a dump by any stretch. And yet, it's going for $890,000 – a decent cost saving on a place that's much nicer to live in but doesn't boast that remarkable view.
Of course, you'd want to do your due diligence, but that gives you an idea of the opportunities below a median if you look for a renovator's dream.
Consider a B-grade position
So, you want to buy in a sought-after suburb but not at the price the best houses in the best pockets command?
Look at the second and third-best pockets in the area, or what are often called B-grade locales, for cheaper options.
It might be a house or a unit on a slightly busier road, or one that's in the part of the suburb that's under the flight path. It might be close to a rail line and cop some commute noise.
These B-grade locals have downsides, of course. They won't be for every tenant or buyer down the track.
But if you do your homework about the suburb and its intrinsic value – both monetary and lifestyle – then you might be able to make a decision that's lower in risk. That is, the overall desirability of the area outweighs the downsides of the B-grade locale.
Work out the compromises that're acceptable to you.
Enlist an expert
Of course, the best way to sniff out the very best deals in the very best suburbs is with the help of a qualified, experienced and independent buyer's agent. They're on the ground in the best areas every single day.
They have the know-how and contacts to find opportunities to crack a blue chip, premium pocket of your dreams – and within your budget.
To have a friendly Buyers' Agents to contact you:
or
call us on 1300 655 615 today.