Why real estate is a resilient investment - June 2019



June 27, 2019 / Written by Rich Harvey
By Rich Harvey, CEO & Founder, propertybuyer.com.au
There's been plenty of talk about doom and gloom in our major property markets. Sydney was once the poster-child of property value gains, but recent reports seem to be all about the horrors of tumbling prices in our harbour city.
I think it's time to add a little perspective to the discussion.
What if I told you that, with the right strategy, you can't go wrong investing in Sydney real estate, regardless of when you buy?
What if I told you the price corrections we've seen in the past 18 months don't really matter in the long-term grand scheme of things and, irrespective of what happens in periods of price softening, it's almost impossible to lose if you're smart?
These claims may sound like incredible ramblings, but hear me out.
I'm not making some pie in the sky prediction without a foundation in fact. My approach is based on economic knowledge and sound fiscal science, forged on decades of data and historical price movement… as well as a bit of common sense.
Buying now is a good idea, despite the recent reported double-digit reversal of prices, because as a long-term vehicle, property is one of the most resilient investments you can make.
It just depends on where you invest and your overall strategy.
Location, location, location
I keep banging on about two key things – taking a long-term view of your investing and choosing the areas you invest wisely. Here's an illustration of why.
In 2010, the average house price in the suburb of Leichhardt was $855,000. Right now, it's about $1.3 million. For units, it was $540,000 in 2010 and it's now about $930,000.
In Manly, median house prices were $1.46 million in 2010 while now there's a few clicks below $3 million. Units were $770,000 about nine years ago while they're now at a median of $1.3 million.
Let's look at Surry Hills – houses were $895,000 in 2010 and are now at $1.73 million. In Bondi, $1.43 million for houses in 2010 and $632,000 for units, versus $2.5 million for houses now and $1.1 million for units.
I can hear you say, "Oh, Rich! Those are just inner-city suburbs!" They are – but let's look at Parramatta – $500,000 in 2010 and $890,000 now. Sutherland – $600,000 nine years ago versus $1.1 million now. How about Castle Hill? Median house prices in 2010 were $760,000 and now they're almost $1.4 million.
Get my point?
Total collapses don't happen everywhere
"Sydney property prices to fall by at least 50 per cent!"
That was a real headline I read on a news website back in September 2017, just as we'd started to see a rapid softening of property prices. It didn't take a genius to comprehend a period of correction was looming, so when all sorts of property pundits made predictions of big price drops, it wasn't too surprising.
But headlines like that, warning of some total collapse of markets, are ridiculous.
It's almost impossible to imagine the catastrophic confluence of economic tragedy that would cause Sydney's property market to see a reduction in prices like that.
The past 18 months in Sydney's property market haven't been spectacular, there's no denying it. Prices have slumped by double-digits in some suburbs, with low activity and nervousness playing out. It's a correctional response to the extraordinary boom we'd had for years prior.
But in the long-term, this period will be viewed as a blip on the radar. That's because smart investors should always look for an investment horizon of between 10 and 12 years at a minimum.
If you'd bought at the height of the boom in early 2017 with a plan to hold for two years and make a motza, then sure, you'd be pretty upset right about now.
But that's not a wise investment strategy in any scenario. Get rich quick schemes don't work – especially in property.
The correction in prices is not the wipe-out some doomsayers would have had you believe. It takes the market back a couple of years to where it was before the peak and the start of the softer run.
Complete a property brief now and:
It's not black and white
To see how resilient property is, it's important to look at what's happened in the past.
Tim Lawless, the economist from Core Logic, put out this table a few months ago that plots Sydney property price movements over the past 20 years. It's pretty compelling viewing.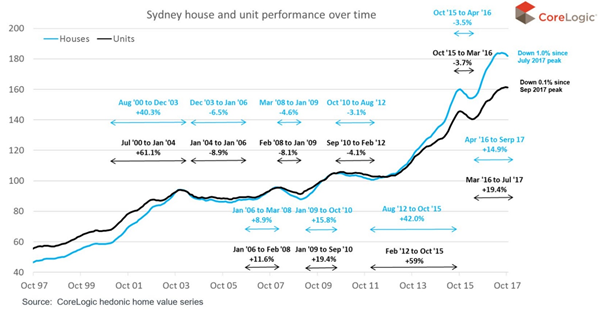 What it shows is upswings and downturns since 1997, with periods of sustained growth in the long-term interrupted by brief periods of softening. On average, factoring all of that in, prices in Sydney have grown by seven per cent each year over the past quarter of a century or so.
Of course, this is the median price for houses and units across the entire Greater Sydney area. There are exceptions to the trend – suburbs that didn't perform while the broader market was booming. They might've been outer suburbs that were not in demand or pockets that had a surge in supply that put downward pressure on prices. They might be undesirable areas that are always flat.
Markets are not black and white. There is not just one market. Sydney is made up of a multitude of mini-markets – blue chip suburbs, transient areas and outliers.
This is why it's important to choose the right area with solid fundamentals and good long-term growth prospects.
Take the past 12 months, where the overall Sydney median is down by some 11 per cent. During that time, when everyone was nervous about the state of play, house prices in Neutral Bay rose 6.7 per cent and in Mosman by 6 per cent, while units in Lindfield were up 5.6 per cent and in Potts Point by 4.1 per cent. Good areas with good prospects and good long-term fundamentals. So much so that even in a flat and uncertain market they still performed well.
Why opportunity should replace fear
Sydney property exists in a multi-faceted economy. It's driven by the broader economy itself, including growth to employment and corporate investment in particular locations. It's hinged on population rises and resident's movements. And it's all underpinned by the laws of supply and demand.
Let's look at the economy. Sure, there are some jitters at a national level, but in a city like Sydney, the fundamentals are incredibly strong. Economic growth remains consistently high and the outlook is positive.
So too is the forecast for population growth. The city is growing at an incredible rate, welcoming stacks of new residents every single year.
And on that final point – supply and demand – those people need someone to live. There's a scarcity of land and even with the softer conditions of the past 18 months, we still have a housing shortage in Sydney. This, coupled with the lower development activity since jitters began, means that the path forward will be characterised by incredibly short supply.
So, a good economy continues to tick things along. A growing population sees rising demand for housing. And scarcity of new stock combined with already short supply means the economic forces will see prices climb.
Buy right
If you're smart and make a wise decision with the help of experts, including a well-connected, independent and experienced buyer's agent, you can secure an investment in an exceptional market like Sydney right now.
And it doesn't matter how long it takes for the prices to flatten and the recovery to begin, you will not go wrong if you have a long-term view.
That's provided you invest carefully in an area that offers good fundamentals that capitalise on the economic forces at play now and into the future.
There's an old investor proverb suggesting savvy investors should be fearful when everyone else is active, and active when everyone else is fearful. There's a reason for that, and it's not speculative. It's about reading the economic conditions and seizing clear opportunities for growth.
And it's about focusing beyond the near future.
Any successful investment should be a long-term game. It doesn't matter whether it's stocks or currency or collectibles, nobody makes a motza on a short-term purchase.
There are exceptions, of course. We saw them during the ultra-speculative times of the property market, particularly in regional mining towns and the like. But they're just that – speculative. And they're not wise investments to make if you're going for a smart long play.
Let's say you'd bought a house in a good suburb of Sydney in 2008. Even with the softer conditions of the past 18 months, you'd still be considerably ahead. You would've enjoyed a rate of sustained growth and asset resilience that's not possible to achieve via any other investment vehicle.
The moral is regardless of what happens in the short-term with market movements, a city like Sydney with strong economic fundamentals and favourable supply and demand conditions will never experience a catastrophic collapse, no matter what the tin foil hat brigade like to say.
You will see the odd correction, for sure, but if you buy the right property in the right conditions, you'll come out a winner.
To have our friendly buyers agents contact you:
or
call us on 1300 655 615 today.