Why Sydney Remains Australia's Best Property Investment Option - September 2020



September 9, 2020 / Written by Rich Harvey
By Rich Harvey, CEO & Founder, propertybuyer.com.au
It's a brave person who dares to predict where Australia might be by the time this bizarre and chaotic year is over with and we ring in 2021.
Coronavirus has turned the world on its head and things we once took for granted, from going on holiday to throwing a birthday party, now seem almost foreign. Plus, we hear about economic, social and health crises on a loop all day, every day.
When it comes to big life decisions like buying a new home or investing in real estate, it's understandable to feel nervous about what the future holds.
Beneath the doom and gloom are green shoots of resilience, recovery and hope, especially for Sydney's real estate sector. In fact, I believe it remains the best property investment option in Australia – and this is a position that will only firm in the coming months.
The bigger picture
Coronavirus has taken a toll on most parts of everyday life, from employment and socialisation to politics and the ability to move around.
And yet, its biggest impact on Sydney property so far has been a sharp reduction in the number of listings on the market.
Sellers feel uncertain and so they're sitting on their hands. Dwellings that might've otherwise sold are being turned into rentals – as are all of those now-empty Airbnb properties – and so rent prices are down and vacancies are up.
This removes the incentive for would-be first homebuyers to crack into the market, as does their jitters about the economy. But I believe this will be temporary.
Auction clearance rates remain high. Interest from prospective property buyers is strong in sought-after suburbs, according to real estate listing websites. The opportunity to buy with reduced competition and from motivated vendors is pretty enticing.
Even with a modest downward trend due to the pandemic, the mid-term outlook for Sydney property remains strong. History has proven the market's resilience time and time again.
Just look at this graph plotting annual median price increases.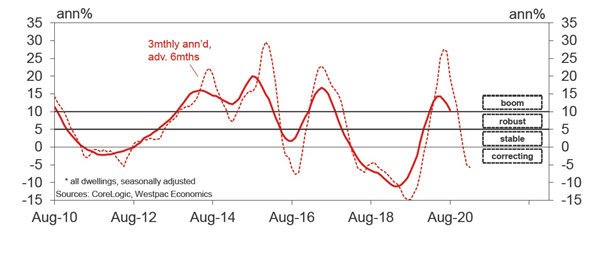 What about the economy?
Australia is in its first recession in almost 30 years and the economic data released in early September is grim. Quarterly growth has retracted at the worst rate ever recorded and annual growth declines haven't been this bad since World War II.
But there are some positive signs. Economists are cautiously optimistic that this recession will be deep but brief, with forecasts of a steady bounce back.
When you look beyond the headline figures and dig into at what's really happened around employment, there's a surprisingly positive story to tell. After lock downs and other restrictions were eased across Australia, 45 per cent of the jobs lost during COVID-19 were regained. That's a swift turnaround in a short period of time. Victoria's reversal of fortunes is cause for concern, but health authorities look to be getting on top of the outbreak there.
In Sydney, the economic story is also a little rosier, with the government taking an aggressive tact on the recovery phase.
A massive jobs creation scheme is underway, fueled by a mammoth multi-billion infrastructure program fast-tracking programs to get them shovel ready as soon as possible. This will mean jobs, activity and flow-on spending.
The New South Wales economy has been the powerhouse of Australia for years and proven itself to be historically resilient and robust. It's diverse, tried and tested, and there's a determination at all levels of government to keep it that way.
Sydney has a lot going for it
From the stunning beaches, world-famous Harbour, pristine and picturesque national parks, trendy urban locales, vibrant multicultural hubs and the mountains, Sydney is one of the world's most desirable cities.
In fact, it's currently ranked the third most liveable cities in the world.
Sure, overseas migration is on hold while our borders are closed and air travel is temporarily a thing of the past. And the internal border restrictions make movement a little difficult, but the long-term fundamentals for population growth are strong.
Before coronavirus, people were flocking to Sydney from all around Australia and the world. It's growing rapidly and even in boom construction times, the pace of new dwelling development just isn't strong enough to keep up with demand.
There are countless suburbs and regions in Greater Sydney that are drastically under supplied. The city's most in-demand suburbs are also some of its most tightly held.
And growth pockets to the west and south are seeing hordes of new people fuel the development of new communities. Just imagine what Parramatta and Penrith will look like in a decade. Or the patch taking in Kogarah and Hurstville.
Sydney is home to a fantastic diversity of dwelling types to suit every kind of resident and investor, from grand homes to family estates, city apartments, village-style town-homes and terraces, modern high-rises and boutique mid-rise developments. That means no matter your price point or financial resources, there is usually a property fit for your personal purpose.
Choosing well remains the key
Sydney isn't one single property market, but rather a collection of multiple micro markets that each have their own unique identity, drivers and outlooks.
And not all property is created equal, with certain dwelling types appealing to different segments of the market in individual areas.
In boom times or periods of uncertainty, one thing never changes. Buying well is your best protector against whatever is happening here and now and gives you the best chance of securing long-term value growth.
Enlisting the services of an independent, experienced, qualified and well-connected buyers' agent can give you the inside advantage. They can help you find the best property in the best area for the best price that fits your goals and aspirations and negotiate on your behalf.
To have a friendly Buyers' Agent contact you, click here to:
or
call us on 1300 655 615 today.