Test blog post number two



May 24, 2023 / Written by Rich Harvey
This is what you need to know about gentrification and property...
Gentrified and gentrifying suburbs
Everyone loves to back a winner, and particularly when it comes to investing in property.
And everyone would love to identify a suburb that is set to take off, getting in ahead of the crowd to enjoy strong capital growth.
So, what is gentrification, and how does it affect property prices in a suburb?
Gentrification is normally understood to be a new class of people moving into a location, leading to the area becoming more popular or 'trendy.'
A suburb which was once looked down upon or out of favour, thus becomes more highly sought after.
Gentrifying suburbs are often areas initially with plenty of light industry, lower socio-demographic suburbs, or locations where working class or blue-collar jobs dominate the demographic.
These suburbs then transform over time, as bargain hunting creatives and then aspirational young professionals move in.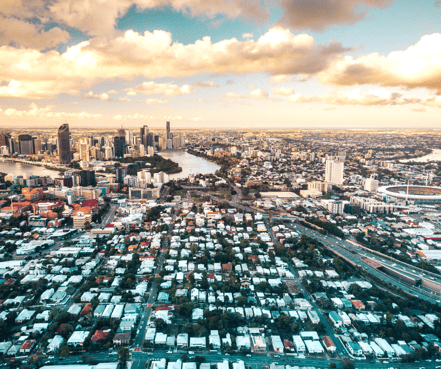 Suburb research and analysis
The legendary 'Property Professor' Peter Koulizos conducted extensive research into what makes a suburb likely to gentrify.
He found that the suburbs tend to have a number of historic buildings (i.e. not simply a proliferation of industrial sheds!), and are usually located either close to the city, or close to the water.
Think of many of the already gentrified suburbs you know of, and you will find that this research does indeed check out!
Erskineville, Newtown, Enmore, Marrickville, Alexandria, Paddington, or Redfern are all close to the city in Sydney, for example.
There are seemingly hipsters everywhere you look in such suburbs these days!
When I first came to Sydney back in the 1990s, my cricketing mates still had a phrase they used - "Balmain tap dancing - which as far as I understood it was an old slang phrase for people getting a good shoeing in a rough pub (though I would willingly stand to be corrected!).
In any case, the residents of Balmain these days are far more likely to engage in actual tap dancing or the arts, the suburb long since having gentrified enormously, with a beautiful main strip offering craft beers, cakes, and character on practically every corner.
In Brisbane, suburbs like West End or New Farm would fit the bill as gentrified suburbs, being close to the water and the city, while in Melbourne, Richmond and St Kilda have of course gentrified significantly over the years.
I lived in New Farm in Brisbane for a good few years myself, famous for having a cafe on every corner, with easy ferry or cycleway access to the city.
With the $5 million homes and multi-million-dollar apartments these days it can be hard to imagine that New Farm was once a rough and rundown locale, before the Italian migrants moved in and upgraded the suburb in characteristic style.
Gentrification indicators
What are the signs that a suburb is undergoing gentrification?
Much of what we perceive to be gentrification is visual: more homes being renovated, smarter cars in the driveways, less litter, new murals, cafes, or coffee shops, trendy bars and restaurants popping up in the area, or former warehouses being converted in swanky new apartments.
As the demographics change, the locals will increasingly be seen to be exercising in the parks and green space, jogging enthusiastically in the streets, or cycling to the coffee shop in the all the latest gear…and, famously, drinking soy lattes!
There may be a new gym or two open in the suburb, and vegetarian eateries, or health food stores.
What are some of the data indicators to look out for?
One of the key pieces of data which tends to change is a rise in dual-income households, as aspirational young professionals move in.
There may also be an increase in artists or creatives, who traditionally tend to flock towards the more affordable inner-city areas, kick-starting the change in demographics from blue collar to middle class.
The demographics will shift over time to reflect the new arrivals to the suburb, often young graduates, professionals, entrepreneurs, or white-collar employees.
Aspirational wealth
What are the benefits of gentrification for property owners and buyers in a suburb?
Most obviously, increasing popularity and competition in gentrifying suburbs tends to push up land and property values, as professionals compete for well-located but affordable real estate.
This can be a great option for first homebuyers, who can get into a relatively cheap suburb today, with the potential to trade up the ladder as their incomes and home values increase.
Investors can potentially enjoy capital growth, rising rents, and the optionality to renovate and add further value later, perhaps creating a finished article home to be sold on to a family buyer later in the property cycle.
Are there any downsides to investing in a gentrifying suburb?
There can be some genuine social issues relating to gentrification, such as the displacement of existing residents, or unwanted changes to the community's culture and character, for example.
The transition may not always be a smooth one, as we have sometimes seen in Sydney when public housing has been sold off, to the detriment of the incumbent tenants.
If you invest early in the gentrification process, it may be tricky to land a secure tenancy, where the demand for rentals is still low, for example.
Where there is significant development in the area, with older homes being pulled down to make way for medium-density townhouses and apartments, then there could be an oversupply of new properties in the suburb…at least temporarily.
However, where investors have bought houses well in gentrifying suburbs, they've often seen a doubling of property values over the course of a decade, and sometimes more.
How to get in early
How can you identify gentrifying suburbs before they become too expensive to invest in?
Firstly, start by looking up the most affordable suburbs close to the city or close to the water, in the city in which you are interested.
Median house price data by suburb can be your guide here, for an initial screening of potential candidate suburbs.
Secondly, look at the Census and other suburb data for employment and income trends, and look at changes in demographics.
Are incomes increasing?
Are there more professionals?
Are there more two-income households?
Thirdly, get out there from behind the desktop and take a look for yourself.
I may be biased, but personally I reckon there is no substitute for getting out there and treading the streets.
The soft indicators of a genuinely gentrifying suburb will suddenly become more than evident to you, and even more so if you can meet with and chat to a few locals about what is happening in the area...the good and the bad!
Investors and gentrifying suburbs
If you are an investor in a gentrifying suburb, should you buy a rundown style of property in need of renovation in these gentrifying suburbs, or should you buy a fully renovated property?
There is no right or wrong answer here, but materials costs are presently very high, and tradies are often in shortly supply, following on from the previous government's HomeBuilder stimulus and the associated construction boom.
The best bang for your buck may be to look to invest in a property which is in good enough to condition to rent out to a young family or young professionals today, but with future potential to add value or renovate in the future ('equity on ice').
Happy hunting!
To have one of the friendly Propertybuyer Buyers' Agents to contact
you in regards to buying property :
or
call on 1300 655 615 today.