Future drivers of the property market - July 2020



July 10, 2020 / Written by Rich Harvey
By Guest Blogger: John Lindeman,CEO
www.lindemanreports.com.au
It has been ten years since I explained how the housing market works in my best-selling book, Mastering the Housing Market, published by Wileys. Not only have those methodologies delivered a past predictive accuracy of more than ninety per cent over the last decade - they are more relevant today than ever before.
While predicting its future regularly confounds many experts, the housing market always responds in the same way to changes its main drivers. Even if we think of the COVID-19 crisis as an unwelcome aberration, its effects on property are quite predictable. We only need to correctly estimate the likely short and long term impacts it will have on the market's key drivers, so let's look at what they are.
Population growth and movement create housing demand
We all need a place to live, so population growth and movement have a direct effect on housing demand. When migrants, students and tourists move into Australia they create such housing demand. The number of overseas arrivals has virtually come to a complete standstill, which means that areas relying on these arrivals are being hardest hit.
They are Melbourne, Sydney and Brisbane and in particular the suburbs where these arrivals rent, which in turn impacts investor cash flow and could lead to price falls, especially in high density unit precincts.
On the other hand, fewer such past arrivals means less dependence on them to create demand. Cities such as Adelaide, Canberra, Darwin and Perth which have not had large intakes of overseas arrivals for some years have less potential for rental demand to fall over the next year or so.
Once our national borders are reopened, we can expect a huge influx of migrants, especially from countries that have suffered economically, socially or politically while the borders were closed. This means that housing demand in Sydney, Melbourne and Brisbane will once again significantly increase.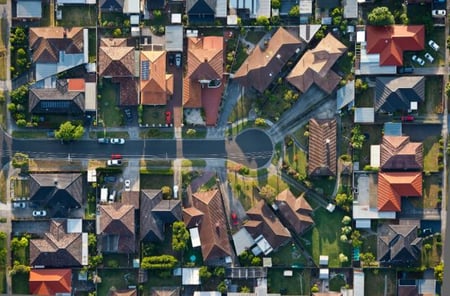 Purchasing power turns this demand into rentals or purchases
The big banks direct housing demand into rentals or purchases by making housing finance easier and cheaper or harder and more costly to obtain. Right now, housing finance lenders are limiting their exposure to those housing finance applicants who they see as being at higher risk of becoming unemployed in the next year.
This means that those people working in tourism, hospitality, sporting, recreation, accommodation, construction industries and casual or temporary employment are likely to find it more difficult to obtain housing finance until the situation improves.
They are also limiting their exposure in areas they see as being at risk, such as high density inner urban units and areas reliant on housing demand from international students and tourists.
Turn back the clock to the last Sydney property market boom in 2013 and the reverse was the case with banks opening their doors to investors such that they made up half of all housing finance approvals, many buying off the plan units in inner urban areas.
Just as the number of people coming into or Australia changes over time, so does the way in which banks provide housing finance, and right now banks are favouring established home owners wishing to refinance, renovate or upgrade. This in turn creates more buyer demand in the suburbs where they buy.
Property prices and rents are determined by supply and demand
Rental or buyer demand can only lead to a rise in prices or rents in any suburb or town if the demand is large enough to cause a shortage in properties. On the other hand, if the demand is less than the number properties available, then prices or rent will fall.
The well-established middle suburban areas of our major cities have always exhibited high price stability and are likely not to be impacted at all from any general downturn. As these areas have a limited supply of housing on the market at any time and very little development potential, house prices in some localities could even rise.
On the other hand, inner urban unit markets in Sydney, Melbourne and Brisbane are highly likely to experience rental surpluses in the next year, the situation which can only change after our national borders have been thrown open for some time.
Putting the three drivers together enables us to make realistic predictions
Sydney, Melbourne and Brisbane's inner urban high density unit markets will suffer from a collapse in rental demand followed by falling prices. However, even the worst impacted markets could ultimately recover and possibly boom. This is because three events will coincide in a year or two:
A general shortage of new stock caused by the near total drying up of building approvals for high and medium density units.
A reduction in rental stock as owner investors of inner urban units sell off their vacant units.
A surge in rental demand from overseas migrants, students and tourists arriving after our national borers reopen.
The well-established middle suburban areas in Sydney, Melbourne and Brisbane will be immune both from any major changes in population growth or finance availability, and prices could even rise.
Cities such as Adelaide, Perth, Canberra and Darwin are relatively immune from the current property market volatility caused by the closing of our national borders, and their housing markets should not suffer any significant changes.
John Lindeman is the In-Depth columnist for Your Investment Property Magazine and a popular contributor to property related media. John also authored the landmark best-selling books for property investors, Mastering the Australian Housing Market and Unlocking the Property Market, both published by Wileys. Visit www.lindemanreports.com.au
To have one of our friendly Propertybuyer - Buyers' Agents contact you:
or
call us on 1300 655 615 today.