Goal Setting Strategies in 2020 - Three Crucial Steps - January Market Update



January 6, 2020 / Written by Rich Harvey
By Rich Harvey, CEO & Founder propertybuyer
Written by: Rich Harvey, CEO & Founder
propertybuyer.com.au
Click here to watch Rich's Goal Setting Strategies (Video):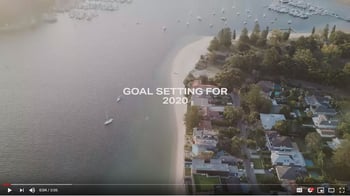 What's stopping you from living your dreams? What fears are holding you back? Successful people are typically intensely goal driven and clear about what they want. Despite difficult circumstances, goal minded people have a way of using their energy on the things that matter most on the way to achieving those goals. They know that motivation moves up and down, so they set their goals and make sure they make themselves accountable for them.
January is a great month to take time out to reflect and set goals for the year ahead. Why not make 2020 a year of change and more for you and your family? More excitement, more time, more enjoyment, more of everything that makes your life worth living. If you keep doing the same thing year in year out, then you will keep getting what you've always got. Ask yourself some tough questions (or find a true friend to ask these of you!)
Some of these questions might be:
What is the one major thing you would like to change about your life this year and why?
What do you find yourself thinking about all the time?
What gives you the greatest meaning and purpose in life?
What would you like to change about your personal and work life?
Do you regularly make up excuses to avoid taking action? List those excuses…
Has fear or negativity taken hold of your life? What beliefs are holding you back?
Where would you like to live? Why? What would it be like to live there? What can you see yourself doing in that area on weekends?
These are just some of the questions you may start to ask to really think about your future. We rarely analyse our own thinking – but the good news is that you can change your life, by changing your thinking, as this leads to action and positive change.
When thinking about the types of goals you might want to consider there are all kinds of templates and processes you can use. I like to use my own "WATT" goal setting system (this has the connotation of energy from watts i.e. units of power!)
"WATT" type of GOALS should you set?
Wholistic - I like my goals to be about the 6 key areas of life, that reflect my values and beliefs.

Family/ Relationships
Work/ Business
Financial/ Wealth
Social
Health and fitness
Spiritual/ community/ contribution



Attainable – It's great to dream big, but also you need to chunk down your goals into bite size pieces so you can make progress towards the bigger end goal.


Task oriented – When setting goals, just write simple tasks and do them. For example, go to the gym 3 x per week, or read a book a month, or volunteer with the Salvos on Fridays, or save 10% of my income for the house deposit, etc. As well as doing something you might also have a goal of stopping something to allow more time for higher priorities. For example, quit smoking, quit eating sugar, quit wasting time gaming on x-box, etc.


Time measurable – Impose a deadline or a diary date to implement each goal – otherwise it might get completely missed. Putting you goals in your weekly diary and staying accountable to someone else is a great way to get the task done!
I encourage you wherever you are now to take time out and start thinking about your goals for 2020. Even if you are on the beach on holidays, your mind is probably in the most relaxed state and ideal place for goal setting.
Here are three key steps to a successful 2020:
Set those realistic goals. Make a list of 10 goals around those key areas of your life. Write down the most important goals in your life right now. Take hold of the worries in your life and start designing goals that will create an ideal future.


Create a financial plan. Sadly, very few people take the time to really establish their financial future. With some simple steps and regular doses of financial wisdom you can create a healthy nest egg for you and your family. There's lots to consider in creating a plan, but a sound financial plan would include property, shares, cash buffers, life insurance, income protection insurance, estate planning and retirement planning. My advice is don't leave any of this to chance - get a wholistic plan established today.


Engage a support team. To get all aspects of your financial plan sorted, I highly recommend engaging an experienced financial planner to help you create a road map. Not only will they plug existing gaps, they will keep you accountable and on track. Just like going to the doctor for regular checkups, a financial planner will review your situation and diagnose solutions for a better financial future.
To find the best performing investment properties, or your next home, you will also need an experienced buyer's agent. Your buyer's agent will help you create a property brief, research suitable properties, accurately appraise value and then negotiate the lowest price.


If you're seeking a home or investment loan this year, engage with a professional mortgage broker – don't go to the banks directly – let the broker do the leg work and help find the best loan for your personal situation.
If you would like a referral to a:
Financial Planner
Mortgage Broker or
Buyer's Agent
Then please call us today on 1300 655 615 or email your enquiry here. We only work with the best professional advisors and we are happy to share contacts.
If you're wondering what is likely to happen in the property market in 2020, then click here to review my outlook on Property Predictions for 2020.
If you'd like professional support finding your next home or investment property please give us call today on 1300 655 615 or email us your wishlist to start a conversation about your preferences.
or click below to: