Property Bounce Back - but for how long? - October Market Update



September 30, 2019 / Written by Rich Harvey
By Rich Harvey, CEO & Founder propertybuyer
Written by: Rich Harvey, CEO & Founder
propertybuyer.com.au
As we head into the second month of Spring, with the weather warming up and the football finals coming to a crescendo, property markets are showing strong signs of recovery with some forecasters predicting a 10% rise in prices over the next 12 months.
Auction clearance rates in Sydney were a very healthy 78% from 747 auctions on the weekend. Melbourne had the AFL grand final last Saturday so only 49 auctions were held giving a 78% clearance rate too.
Interest rates are forecast to drop another 0.25% today with the RBA announcement coming at 2.30pm on the first Tuesday of each month. This would take the cash rate to just 0.75%. The effectiveness of interest rates cuts to stimulate the economy is greatly diminishing as rates head toward zero. Further reductions in rates will however spur more borrowers to action and stimulate the property market. However, the regulators don't want another boom, they want to see greater productivity in the economy without inflating asset prices.
During my property inspections on weekends, I've observed a massive rise in the number of eager buyers at open homes. First home buyers and up grader's are back and are chasing properties around or below median price. Some open homes I attended had 90 to 100 groups through on the first opening. Happy days for vendors – tough competition for buyers!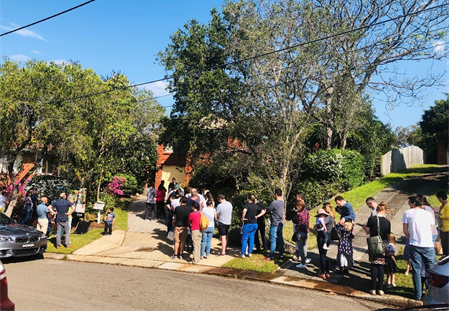 Lining up for inspections – reminiscent of boom times again.
The number of bidders on these properties has markedly increased. At the start of the year (before the elections) you were lucky to see 2 or more active bidders. In this spring market, we are seeing up to 10 registered bidders for well-priced properties. Watching the optimism drain from the faces of young hopeful buyers as the bidding races past their limit is a common site that I hate to see. I also regularly see the bank of mum and dad nearby whispering in the ears of bidders to keep going.
Until we see a definitive rise in the number of new listings this situation is likely to continue for some time with prices continuing to climb back to their zenith of 2017. With listings volumes down 15% to 20% in most areas, tight supply means rising prices.
Property prices respond with a lag – it takes time for each interest rate reduction to filter its way through the economy. And there are plenty of factors other than interest rates driving the economy – think trade wars, politics, sluggish wages and restrictive taxes.
Vendors are also slow to respond to rising a market. The common issue I hear from potential vendors sales and their sales agents is "Where will I move to – there is just not enough choice at the moment".
Finance for buyers is still tight as lenders thoroughly scrutinise lending applications with several levels of cross checking. Whereas pre-approvals used to be turned around in a few days, it is now taking weeks as lenders ask for more information about saving history, spending habits and verifying all manner of expenses from potential borrowers. While interest rate cuts are welcome news for borrowers, it remains to be seen how much will be passed on.
The volume of lending going to investors has declined substantially since the peak of the market and is down 28% over the past year, while lending to owner occupiers is also down 18% the past 12 months.

Source: Corelogic
Buying in this market is tough and competitive but that doesn't mean you need to shy away. First step is getting your finance pre-approved, then working out your target suburbs and key buying criteria. Then it's time to hit the streets and visit open homes. Once you found the right place that ticks your boxes consider carefully what it's worth as the market is constantly changing.
If you'd like professional support finding your next home or investment property please give us call today on 1300 655 615 or email us your wishlist to start a conversation about your preferences.
or click below to: