Property Demand in a Post Covid World - August Market Update



August 4, 2020 / Written by Rich Harvey
By Rich Harvey, CEO & Founder propertybuyer
Written by: Rich Harvey, CEO & Founder
propertybuyer.com.au
Click here to watch Rich's Video of the August Market Update: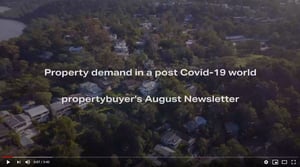 The impact on the Australian property market is showing very mixed results with some sectors being more affected than others.
The demand for residential homes has shown to be quite resilient in spite of the COVID-19 pandemic. This is evidenced by the reasonably strong auction clearance results in the major capital cities over the past few months and the relatively minor drop in prices of 4% compared to those of 30% that the media sensationally predicted.
The number of enquiries and buyers at open homes still remains very reasonable despite the current economic recession. What has dropped dramatically is the total volume of transactions occurring. Listing volumes are still very low but are likely to bounce back in early spring.
In a post Covid world the demand for residential property will continue to be strong, however it may take a year or two to recover its normal trajectory until immigration numbers and employment are restored to previous levels. While the market is soft, it provides an excellent opportunity for homebuyers to consider upgrading their home, first-time buyers the chance to get into the market and for downsizers the chance to find a home that will better suit their needs.
Another major factor that will change is the TYPE of home in highest demand. Many people have found that their "home office" space is woefully inadequate. Homes of the future are likely to incorporate a quieter home office space (away from the kids), extra bedrooms or more study nooks. Homes with a downstairs or separate Granny flat will continue to be in high demand.
The demand for residential investment property will also continue to be strong in a post Covid world. Over the past few decades, the census has shown that around one third of the population own a home outright, one third are paying off a mortgage, and the remaining third are renting. It is highly likely that this ratio will continue into the future, meaning there will continue to be good opportunities for savvy investors that buy investment property in high demand locations.
One interesting trend to watch is the potentially higher demand for areas within 1 to 2 hours of the major capital cities. SQM research constantly track vacancy rates and have recently identified a decline in vacancy rates in some of the major regional areas such as Newcastle, Wollongong and the Central Coast. If working from home continues to be a viable and effective means for workers to stay productive, then demand from both owner occupiers and investors in these areas is likely to increase as it gives the opportunity to buy properties that are more affordable and with great lifestyle benefits.
The demand for Commercial Property in the post Covid world is likely to show some significant changes. The widespread adoption of working from home has significantly reduced congestion on the roads and the demand for inner-city office space. Some recent reports indicate that it is likely that up to 10% to 15% of the workforce will continue to work from home on a more permanent basis. This is likely to lead to reduced demand for office space in the CBD. However, it may potentially lead to increased demand for smaller and more boutique office space in suburban and sub-prime markets.
Demand for retail space is also likely to suffer a decline in the next decade as the trend of online shopping increases. Good quality retail assets will need to be located in prime areas with good foot traffic and easy public transport access in order to get good long-term growth.
The demand for hotels has taken a big hit during Covid but is highly likely to resume its normal growth cycle once the pandemic is over. Australia is a highly desirable tourism destination from overseas and a great business destination for conferences so there is no reason that this demand will not continue in the future.
The demand for student accommodation is very similar to the hotel sector. Australia provides a leading world class education opportunity for students and once the pandemic is over student numbers should start to swell again, giving rise for increased demand for this specialised accommodation.
Similarly, the demand for other key sectors of Medical and Industrial/ Logistics are likely to see continued strong demand once Covid passes.
The demand for Development sites has also seen a downturn during the Covid crisis, as the demand for brand new residential properties has slowed significantly. Again, there are very mixed results in this sector. Demand for high-end boutique residential sites is still strong as this market maintains demand from downsizers that are able to pay higher resale values (in areas such as Eastern suburbs, Lower North shore, Inner West and Northern Beaches).
Demand for large-scale high-rise residential and commercial developments has dropped as developers don't want to take on large-scale projects that would have a very long sales pipeline with too much risk.
Other types of residential development sites including Seniors living and boutique townhouse sites are still in reasonable demand, but the value of most development sites has decreased as the end value of the finished product has also declined in proportion with the rest of the market.
There are still many unknowns in the property market that will unfold as we continue through this Covid crisis. However, we all need a roof over our head and residential property will continue to be a robust and resilient strategy for smart homebuyers and investors.
If you are looking to get deeper insights into the market and buy your next property in the coming months we would love to start a conversation with you about how we can help you identify the best opportunities.
Please get in touch with our friendly team of buyers' agents as we would love to have a conversation about your next move. Send us your wishlist or call us on 1300 655 615.
Or click below to:
and tell us what you are looking for.