The Speed of Property Listings - October 2021



October 12, 2021 / Written by Rich Harvey
By Guest Blogger, Pete Wargent,
Next Level Wealth
Disruption!
One of the big global themes this year has been supply chain disruptions due to the extraordinary circumstances the world is facing.
We've seen examples of them all over the world, and in its own small way, Australian property has had its challenges, from lumber shortages to disruptions in the construction industry.
And with all of the uncertainties surrounding travel and restrictions on movement, few vendors have been willing to list their properties for sale.
And as buyers have channelled their holiday money and stimulus cheques into property, the number of properties for sale has been abnormally low in 2021.

Stock shortage
Anyone who has looked to buy a property this year will tell you that the great challenge has been finding quality stock to actually buy!
Listings have been consistently about a quarter lower than usual for the time of year for some time now.
Even at the end of September, SQM Research's figures showed national listings 26 per cent down from a year earlier, driven by some huge declines in Canberra, Brisbane, Hobart, and Adelaide.
If you look closely, though, you'll see that there were small increases in September in five of the eight capital cities, which may just be the first sign of the stock of properties for sale normalising.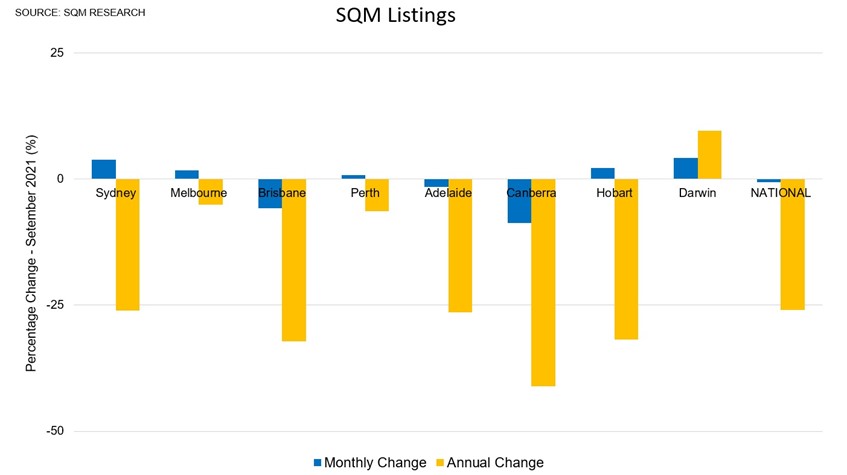 An interesting question is 'what has been holding back vendors from listing their properties for sale?'
It's been a combination of factors, including a rising market, uncertainty about the rules and restrictions, and a concern that even if a sale can be facilitated there may not be an appropriate property available to trade up to!
The spring market is more subdued because of a lack of listings to date, but with the rules in Melbourne now allowing for one-to-one inspections again there are already signs of listings picking up again.
There is talk of a potential rise in the volume of listings in the final quarter of this calendar year, and this is likely to materialise, with the compressed traditional spring selling season likely to run all the way up until the week before Christmas.
Demand for housing, meanwhile, remains high, in part thanks to record low mortgage rates.
Even if macroprudential curbs are introduced to restriction higher debt-to-income borrowing, buyers are still likely to be active in the market (albeit potentially at slightly lower price points).
Overall, then, there's enough depth of buyer demand that it will be well into 2022 before we see a more balanced market.

Listings set to rise
When and where can buyers get excited about having more choice in their property search?
There's a healthy number of listings in Melbourne and Darwin at this point, but elsewhere choice is tight for the time being.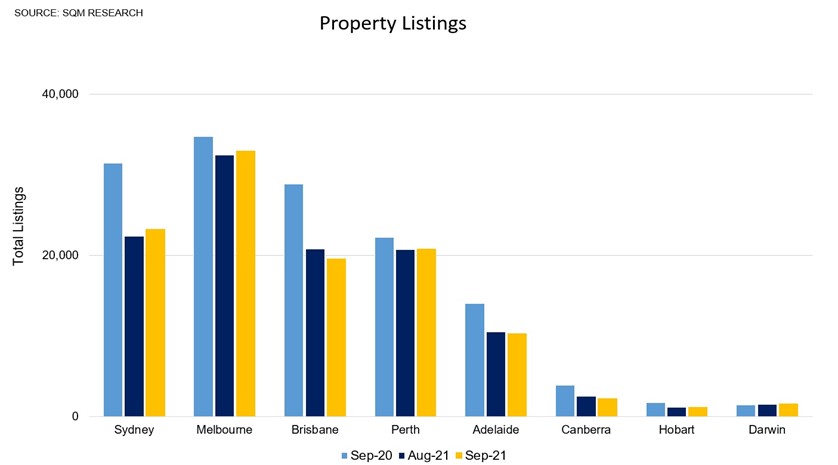 Listings should begin to increase from here, so decisive buyers with their ears to the ground may be able to pick up a good deal before Christmas, but a balanced market between buyers and sellers still seems some months away.
To have one of the friendly Propertybuyer Buyers' Agents to contact
you in regards to buying property :
or
call us on 1300 655 615 today.