How To Invest $1 million In Sydney Property - October 2021



October 12, 2021 / Written by Rich Harvey
By Rich Harvey, CEO & Founder, propertybuyer.com.au
The title of this article might seem ridiculous to some people.
Why would you need instruction on how to spend $1 million in Sydney… it's easy! Just about any property will set you back at least that amount!
But that's how buyers come a cropper in our capital. They plough into the market blindly. The FOMO is great, and many will plonk down serious dollar amounts simply to get a foot in the door, with little thought on whether their decision stacks up.
So, I think it's important to take a breather and discuss exactly how you should invest sensibly in this country's hottest market.
Fundamentals remain key
The number one tip for those looking to invest is to never, EVER lose sight of good fundamentals.
These are the tried-and-true rules for selecting real estate with excellent price-growth prospects. Whether you're spending $500,000 or $10 million, you should always keep fundamentals at the front and centre of your investment decisions.
The first of these is location. It's the one thing you can never change in real estate.
You should buy in locations that are highly desirable to a wide range of buyers. For example, areas close to the CBD or major employment hubs. Prime locations have access to excellent lifestyle options – like water, café strips, brilliant retail, parkland and top-notch schooling. They have great public transport options too.
Next, think about the individual property's position. You could be in a highly desirable suburb, but if you buy the home that's next to the all-night service station, fronts a main road and is under a mobile phone tower, you haven't spent wisely.
Now, I want you to consider the physical elements of your property and decide which ones are important for value growth. For example, plenty of land area with good useable space is appealing. Certain views are another desirable characteristic (but check they won't get built out by the neighbours).
Particular house designs – classic colonials or terraces for example – always have wide appeal in the market. Keep this in mind as you hunt the listings.
Now, I want you to think about the trade-offs worth making to secure a property.
For example, cosmetic renovation work can be easily handled. If you have the chance to buy something at a discount because it needs a bit of work, perhaps you should grab it. In the same vein, you might find an excellent home that falls short on one or two elements of your wish list. Perhaps you need one more bedroom, or there's no covered off-street parking. Can this be easily remedied? If so, don't ignore the opportunity. Instead, explore the options.
How to spend $1 million
So, with all this in mind, how should you spend $1 million in Sydney?
First up, it depends on your personal strategy and goals. Everyone has a different financial position, income and borrowing power – so it is crucial to get independent advice on a property strategy that fits for your individual situation.
If you are chasing higher capital growth, then I believe you should buy as close to the city or waterline as possible for your money. These areas normally do well during rising price cycles.
These suburbs are also expensive. You're unlikely to find a stand-alone house for $1 million in the likes of Paddington, Balmain or Double Bay, so what's your manageable trade off?
Well, consider a unit in one of these inner-city locations – but not just any unit. Something with a decent floor area and a bit of character. Those cookie-cutter investment units in new high-rise towers are too generic. An older unit has appeal and can often be renovated simply to create a beautiful living space. Also, if you can find something in a small complex without big body corporate costs, that would be a winner too.
An example might be this unit in Balmain which sold recently for $990,000. It's a well presented two-bedroom, two-bathroom, single garage apartment with views through to the CBD. Not a huge floor area but certainly a solid option for the right buyer.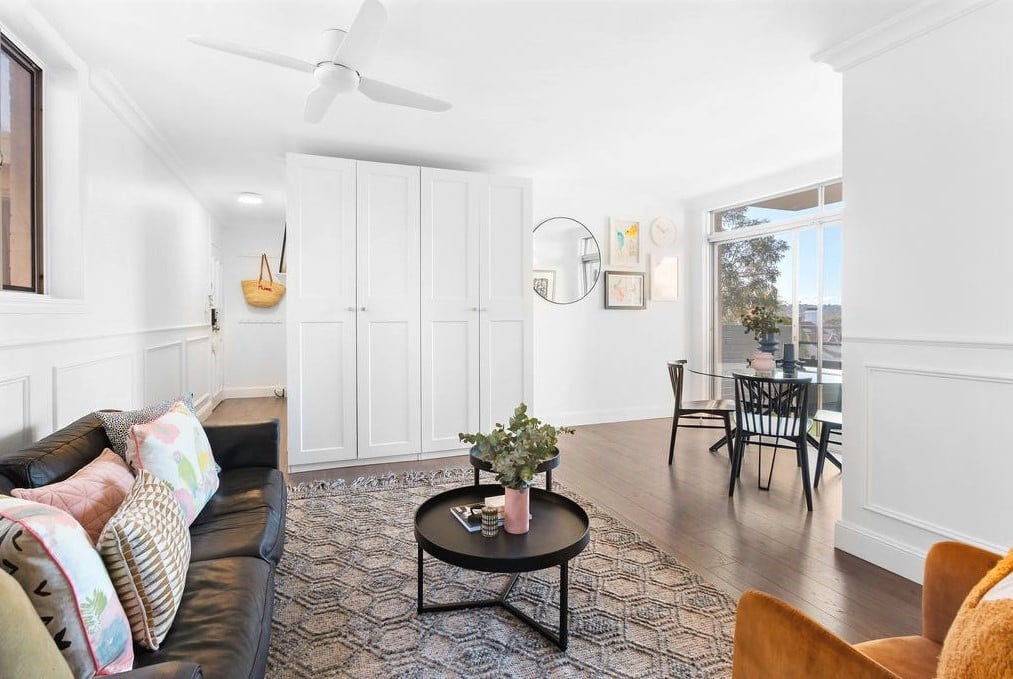 Balmain unit (source: realestate.com.au)
'Bridesmaid locations' are another category to look for. These are suburbs adjacent to other higher profile addresses. They have ready access to all the services and amenities their flash neighbouring suburbs enjoy, but at a lower buy-in price. Bridesmaid suburbs are also primed for gentrification, which is another fundamental that can deliver value gains. I recently highlighted some of my favourite Sydney bridesmaid areas, with Mortlake and Eastlake included on the list.
If you are chasing both capital growth and yield, then head West. The Western Sydney property market is being fuelled by massive infrastructure (ie Second Sydney Airport and population expansion)- so getting larger land blocks with the ability to install a granny flat is a fabulous way to generate a higher yield.
Another option for investors chasing growth is buying a townhouse in selected middle ring and outer-ring suburbs that have a high percentage of owner occupiers – some part of the Shire are ideal for this. Ensure they are at least 3 bedrooms and have some garden space for pets.
Finally, if you are wanting a detached home for $1 million, consider something further away from the CBD with fixer upper potential. The key here is to seek good utility. Look for properties with a useable floor plan and functional layout – 'good bones' as we say in the industry. This gives you plenty of scope to make changes and add value.
Of course, the ideal way to spend $1 million in Sydney is via an expert buyers' agent who will represent your interests. Not only can we unearth great property options – many that come to us off-market through our agent and owner contacts – but we can guide you away from bad choices. A buyers' agent is your ace in the hole when it comes to spending a cool $1 million in Sydney's hot market.
To have one of our friendly Buyers' Agent's contact you, click here to:
or
call us on 1300 655 615 today.