What factors have the biggest influence on the property market? - February 2020



February 18, 2020 / Written by Rich Harvey
By Guest Blogger, Pete Wargent,
Next Level Wealth - www.gonextlevelwealth.com.au
Immutable laws
As with all assets, property prices are driven by the immutable laws of supply and demand.
In recent years Australia's Reserve Bank had looked to downplay the role of interest rates as a cause of rising housing prices.
The RBA instead cited a strong increase in demand from surging immigration, an inelastic supply response, and the propensity of Australians to live in just a handful of prized population and employment growth hubs (largely Sydney, Melbourne, Perth, and south-east Queensland).
More recently, however, Governor Lowe noted a reticence to cut interest rates further towards the zero-lower bound, because lower rates have evidently been pushing up asset prices.
When pushed further on this point, Lowe could only note that at various stages in the cycle different supply and demand factors are responsible for driving markets.
What should homebuyers and investors make of this confusing stance?
What matters most?
In the short-term access to and availability of credit matter a great deal for housing, and the recent election result showed that consumer confidence and house price expectations are also key.
Business and property cycles also continue to repeat in part due to human nature: everyone in together, everyone out together.
Over the longer term, in the more highly sought-after areas close to the major employment hubs, higher demand and prices are driven by:
-the increasing size of the population; and
-the increasing wealth of the population
There are some very populous cities in the world where property booms have remained elusive due to a lack of prosperity.
In 2012, I visited Cairo during a period of nascent civil unrest, and it was clear that the economy was not thriving as it should or could be, despite the enormous burgeoning city population of more than 20 million.
By way of a contrast, my brothers recently congregated in Japan for the Rugby World Cup, a country with an ageing population, and a population which is set for a long-term decline.
In America, meanwhile, despite all of the prosperity, median house price multiples are notably often surprisingly low, in part because of the range of secondary cities which offer a similar standard of living and employment opportunities.
These are situations and examples where the dynamics for rising house prices are not much in evidence.
Prices tend to rise when there is a concentrating of housing demand and wealth.
Australia's premier city
There's a fascinating ongoing battle in Australia for the title of the most influential capital city between long-term rivals Sydney and Melbourne.
Which city will prevail over the coming decades?
Melbourne is a city which can spread more easily geographically, and its relative affordability and strong economy has been attracting migrants both from overseas and interstate.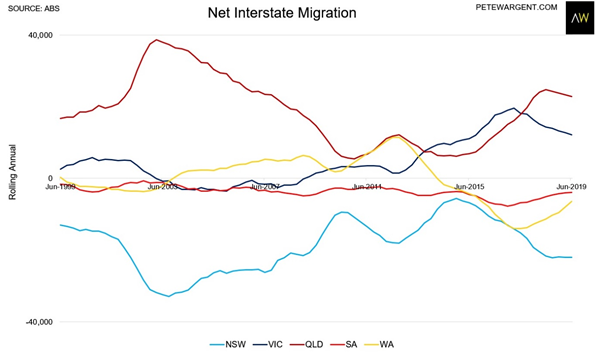 As a result Melbourne's population has been growing faster than at any time since the gold rushes of the 1880s.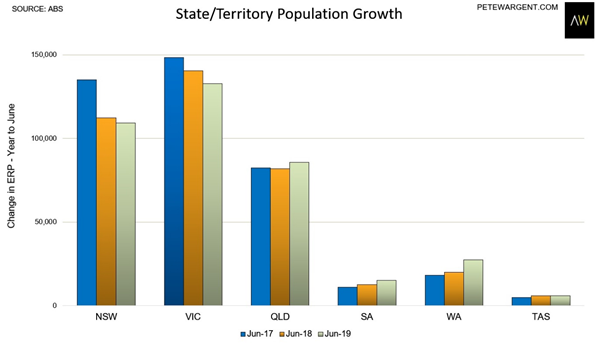 Depending upon where you choose to draw the boundaries (is the Central Coast really a part of Greater Sydney?) Melbourne's population will soon overtake that of Sydney, as both cities power towards 6 million by the second half of this decade, and perhaps around 8 million as the middle of this century approaches.
Sydney tech boom
Sydney, with its striking harbour, has an ace up its sleeve, though.
The New South Wales capital is attracting the major tech players from the US, and this will bring tremendous creativity, innovation, talent, and wealth to the harbour city.
Tech giant Google has moved into Pyrmont on Sydney's Darling Harbour to hoover up some 50,000 square metres of space, transforming the future of the suburb towards that of a tech campus.
Meanwhile, Amazon is set to take over up to 40,000 square metres of space across the water at Market Street.
Other commercial demand has been centralising too.
Some 10,000 Commonwealth Bank technology and operations staff have already begun their mass exodus from three other disparate locations in Sydney's Parramatta, Olympic Park, and Lidcombe to their new state-of-the-art offices at the Australian Technology Park in South Eveleigh in central Sydney.
Expect to see Apple (George Street), Facebook, Tesla (Martin Place), and others dominating commercial space in Sydney's CBD and its immediate surrounds over the years to come, while Atlassian will spearhead the commercial space in the Western Gateway revamp at the Sydney Central station precinct.
Emerging trends
The tech revolution has been different from the agricultural and industrial revolutions that went before, with the mega-cap FAANG stocks having an ability to scale and drive unprecedented revenues but using considerably less labour than the traditional sectors of the economy ever have.
This is driving a record concentration of wealth, and potentially a shift to populism, as well as structural shifts in commercial real estate trends.
As for residential property, we've already seen at Palo Alto in Silicon Valley what a tech boom can do the price of housing, wherein the median house price was blown sky high.
Summarily, by 2040 I expect Melbourne to be comfortably Australia's most populous capital city, but Sydney to be the wealthiest.
To identify suburbs set to perform within the most populated and wealthiest areas it makes good sense to get the advice from a buyers' agent that can provide local knowledge and access to off-market opportunities.
To have one of our friendly Buyers' Agents to contact you in regards to buying property :
or
call us on 1300 655 615 today.