Why are Aussies staying put for longer? - December 2019



December 22, 2019 / Written by Rich Harvey
By Guest Blogger, Pete Wargent,
Next Level Wealth - www.gonextlevelwealth.com.au
Increasing length of tenure
The latest available figures show that Aussie homeowners are hanging on to their properties for longer than they used to.
On average, owners are now holding onto their houses for about 11 years, while the figure is a bit lower for apartments at about 10 years.
Why are people staying put for longer?
One of the reasons relates to the discouraging cost of buying, selling, and moving, as underscored by the longest average tenure being in houses in Sydney and Melbourne.
While property transaction levels dropped sharply over a 2-year downturn, stamp duty take didn't fall by nearly as much.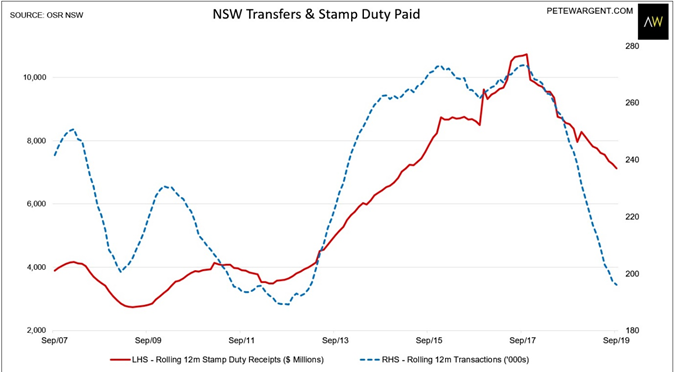 This reflects that stamp duty thresholds were designed when housing prices were lower than they are today, and this punitive tax negatively impacts stock turnover and labour force mobility.
Population pyramid
Demographic trends play a role here too.
There are more Baby Boomers heading into retirement than ever before.
And these days, if we're lucky enough to live until the retirement date, we might reasonably expect to live for about 20 years in retirement (or perhaps longer still as healthcare improves).
While it had been expected that many would downsize, more Aussies are deciding to 'age in place', and this has likely also contributed to a longer tenure.
This trend may in part be due to a lack of suitable medium-density choices, and it's something which policy makers and developers need to address over time.
Don't forget, however, that Australia also has a very high rate of population growth, and this is largely focused on those aged under 30.
Thus while we have a growing number of retirees, the shape of the Aussie population pyramid remains very healthy.
Indeed the faster rate of immigration through the mining boom years - and now beyond - means that we have an unprecedented surge of young Aussies moving into the prime first home buying age brackets.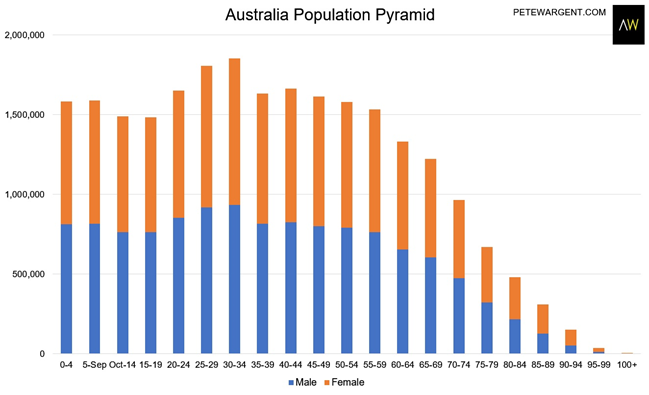 Despite the longer average lengthy of tenure, the official figures show that most investors still sell within the first 5 years of ownership, possibly due to poor asset selection and underwhelming results.
This is a key reason why most investors never make it past a portfolio of 1 or 2 properties: they don't stay in the market for long enough to build the required equity.
Implications of lower stock turnover
Lower prices over the past two years have led to a chronic shortage of new listings, especially in Sydney.
And this in turn pushed housing market turnover to near record lows.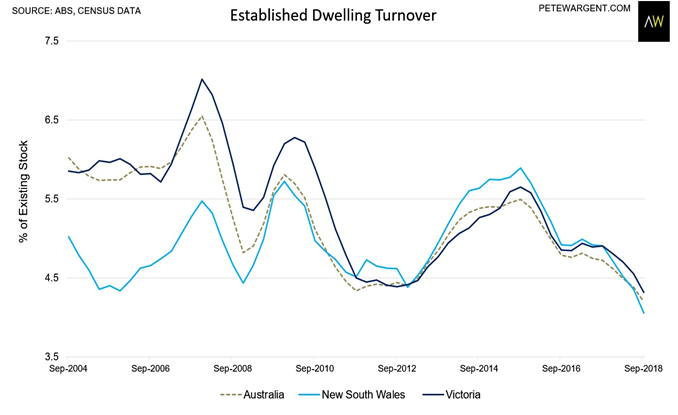 A lack of stock and more buyers has inevitably led to a sharp rebound in prices in Q3 2019.
However, this 'cobweb' effect means that as prices rise in 2020 more sellers will eventually choose to list and buyers will have more choice as the year rolls on.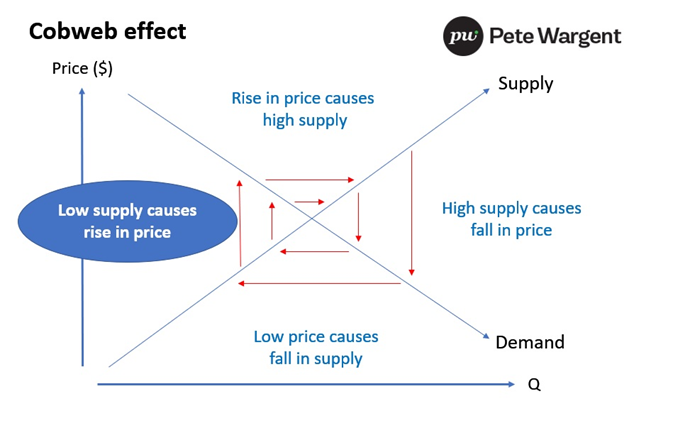 To summarise, two of the key lessons from this cycle are to:
Buy assets with scarcity value; and
Hold onto them for long enough to reap the benefits!
To have one of our friendly Buyers' Agents to contact you in regards to buying property :
or
call us on 1300 655 615 today.