Sydney's Eastern Suburb Luxury Home Guide - December 2022



December 13, 2022 / Written by Rich Harvey
By Rich Harvey, CEO & Founder, propertybuyer.com.au
When it comes to luxury real estate, few locations can hold a candle to Sydney's eastern suburbs. It is one of the world's great destinations for finding dream homes in proximity of enviable lifestyle facilities, all within a stone's throw of one of the world's most iconic CBD's.
But staying abreast of what's available for purchase and how what it will take acquire it can be tough without guidance from a local expert.
Fortunately, Propertybuyer's eastern suburbs specialist is on hand to help. Munro Donen has an impressive track record of success when it comes to buying homes in this most prestige of locations.
I had a chat with Munro, and we've put together this ready go-to guide on the luxury home market in the eastern suburbs.
Luxury home guide
While eastern Sydney's premium real estate is diverse, most of this high-end property can be described under four categories.
Character and heritage
This category includes beautiful old federation homes and Californian bungalows. These properties sometime appear unimpressive from the street front because heritage/conservation overlays limit renovating their external finish. But step beyond the threshold and you'll discover some beautiful renovations and extension that take these older homes to a whole new level of prestige.
Character homes are often on large allotments and will include extensive garden and ancillary improvements. Think 550 square metres or even more in areas where this sort of block size if considered incredibly generous.
You see a lot of these homes in Randwick and Kensington and Rosebery, for a renovated federation home, you can expect to pay from the high $3 millions up.
The really good quality stock has held value well in the eastern suburbs this year despite prices softening more generally across Sydney. Stock levels are limited for prestige property and demand remains strong and as such values have remained stable.
Commonly the buyers of these homes are families and expats looking to secure a place back in Sydney for their return.
Architectural contemporary
Contemporary architectural homes are breathtakingly diverse and luxurious in Sydney's eastern suburbs. Land sizes will vary, but if you look at beach areas such as Clovelly, Bronte,
Waverley, Bondi, Tamarama as well as Bellevue Hill, Dover Heights and even Rose Bay you'll see what I mean.
Architects have so much to work with in the East, wonderful views, good-size allotments and impressive budgets.
Depending on the land size you're looking at ,expect to pay upward of $6 million (and possibly into the tens of millions) to acquire one of these homes.
I recently saw a sale at 24 Fairweather St, Bellevue Hill which reportedly sold for $14.8 million. It's a stunning six-bedroom, six-bathroom, four-car home on 624 square metre site, the guide on this property was high $11 million.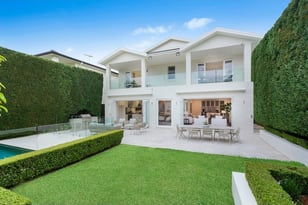 24 Fairweather Street, Bellevue Hill (source: realestate.com.au)
Semi-detached and duplex
We see a lot of contemporary semi-detached and duplex properties in these suburbs where land sizes are limited but the lifestyle and facilities help drive up prestige property prices.
We're talking blocks of around 200 to 350 square metres in suburbs such as Bronte , Clovelly, Waverley, Bondi, Vaucluse, Dover Heights and Bellevue Hill.
Semi-detached properties are usually older style structures that have two living area which share a common roofline. Duplexes are a modern version of a semi. A duplex has two new properties built with a common wall joining them.
Luxury semis and duplexes will include four-bedroom properties with a single or double lockup garage, beautiful gardens and a pool. These homes will achieve $5 million and $7 million in today's market.
If you are a bit more price sensitive, the same calibre home can be purchased in the southeast beach suburbs of Matraville, Chifley or Malabar for somewhere in the high $2 million to mid $3 million range.
Families love these properties, and we've seen quite a few people who've moved to Sydney from Melbourne and Perth looking to secure this type of property.
Apartments
The luxury apartment market has remained strong in the eastern suburbs, despite a general slowdown in value growth throughout 2022.
You can find some outstanding attached housing in the Bayside suburbs of Potts Point, Elizabeth Bay, Rushcutters Bay and in the Beach suburbs of Coogee, Bronte, Waverley, Clovelly, Bondi and Tamarama. Demand for larger sized apartments is very good at present.
One of the more dominant buyer demographics in the apartment market is downsizers. These buyers have normally sold their family home for $5 to $10 million and are now happy to pay $3 to $4 million for a plush apartment. They simply want something with a large floor area as well as access to great services and facilities.
Buying beautiful homes in Sydney's eastern suburbs takes experience, networks and advanced negotiation skills. If you're interested in getting your own piece of the East, contact our office.
To have one of our friendly Buyers' Advocate's contact you, click here to:
or
call us on 1300 655 615 today.