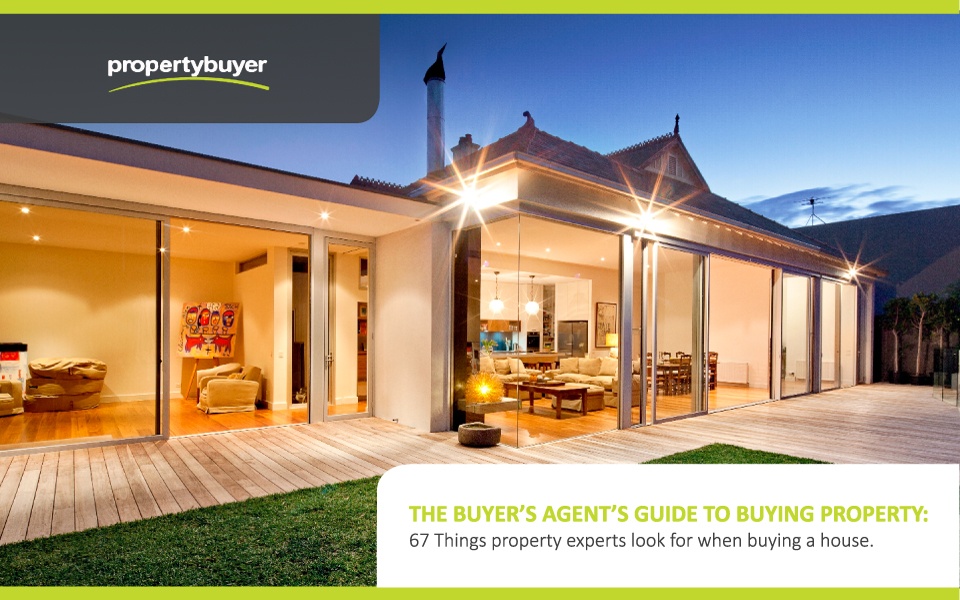 The Buyers' Agent's guide to buying property: 67 things property experts look for when buying a house.
Buying a new property and navigating the real estate market is a complex, and often stressful, undertaking for buyers.
To assist potential home buyers in this process, we've gathered advice from qualified buyers' agents – experienced property professionals who help buyers find and secure their dream homes on a daily basis.
Below are over 60 expert tips for potential buyers, straight from the property experts themselves.
We've categorised them in the following sections

When looking for a property, always be on the lookout for the following potential warning signs:
– High rental vacancies in the area
Rental vacancy rates is often a good indication of an area's desirability. If the area has a high vacancy rate you need to ask why is the demand so low.
Purchasing property in an area like this will also restrict the pool of potential renters and buyers in future. Proceed with caution.
– High supply of comparable properties
This indicates the possibility of a very competitive sellers market should you decide to sell or rent out your property.
Keep an eye out for areas where many of the surrounding properties are of a similar size and value.
– Surrounding DA's and associated developments
Always look at pending Development Applications (DAs) in the surrounding area before buying a property.
Undesirable developments can reduce the value of surrounding properties significantly, making it important to review all pending DAs before making a decision.
– Rejected DA's for the subject property
These restrictions may limit your ability to build, develop or add value and should be assessed thoroughly.
– Restrictions on the use of land
Although you might only want the property for one purpose, restrictions on the use of land narrow the field of prospective buyers should you decide to sell.
Consider the implications of these restrictions before you decide to buy.
– Settlement date
If the vendor is pushing for an early settlement date it may indicate that they have committed to another property.
This gives you less time to organise financing and paperwork and can make the process more complicated.
– Multiple houses for sale in the street or area
A high property turnover rate, or a sudden upswing in properties for sale may be indicative of an unpleasant area or developments.
Make sure you find out why this is before you buy in the neighbourhood.
– Renovation needed / structural problems.
Always bear in mind that the cost of the renovations often outstrip the value they add. Minor changes are okay, but if any significant work needs to be done you should be wary.
It also goes without saying that any evidence of severe issues or structural problems (especially multiple roof repairs) should ring major warning bells.
– Disclosure requirements in the contract
Issues involving events such as flood, fire or future road widening should not be overlooked.
Vendors are required by law to provide this information, and buyers should consider it thoroughly.
– Zoning changes with dramatic increase in density
Watch of for areas where zoning changes allow significant increase in density which could mean having a big apartment block next door overshadowing you
– Build a balanced portfolio
Build a balanced portfolio with a good mix of high capital growth properties and positive cashflow properties, so that you don't run into a situation of cashflow crisis having to support a highly negatively geared portfolio.
The following items indicate potential for excellent future return on investment:
– Potential to easily add extra rooms or parking
Extra parking and bedrooms are additions that add a lot of value to a property. If there is an opportunity to add them with relatively little cost to you this might offer a great return when the time comes to sell.
– Quality of surrounding homes
Good neighbourhoods increase appeal. Buying a home that's surrounded by other beautiful properties (or if neighbouring properties are renovating) often guarantees a good re-sale price.
– Changes in local demographics
Certain propitious changes in the area's demographics can increase value and widen the range of prospective buyers.
Speaking to a local area expert will help you get a better idea of how good the investment will be.
– Scarcity suburbs
Established suburbs in high demand from buyers and with high amenity value are hotly contested when they come up for sale. These suburbs have low turnover of properties and are tightly held by owners as they are so attractive.
– Recent or planned changes to local streetscape
Future infrastructure improvements (for example, public transport, major road networks or installation of new internet/broadband networks) can add value to properties in the area.
If you note any of these changes on the horizon it might be a good time to purchase.
– Potential to add value
Re-developments and additions such as subdivisions, duplexes and granny-flats can add value.
If you see the potential for these developments you may be able to increase the selling price nicely.
– Apartments with parking on separate title
In high-density areas parking is sometimes allowed to be sold separately.
In many cases, parking is in high demand in these areas and can be sold or rented out to others at a premium.
– Space to install a parking stacker
Parking spaces that have enough room to add a parking stacker create an opportunity to add additional parking space.
In high-density areas where parking is in high demand, this can add value to your property.
– Ripple effect growth
Look for areas that are not well known but are adjacent to the "hot" areas. Price growth is likely to ripple through to the neighbouring suburbs.
– Flat backyard
A flat backyard makes it easier and cheaper to add valuable additions such as a granny flat or a deck.
– Council re-zoning opportunities
Areas proposed to be re-zoned can create very significant increases to the value of your property. Make sure you get advice and don't just buy on speculation.
3.

Investment Considerations

Investors should always consider the following before buying a property with the intention of renting it out:
– Do not buy solely on rental expectation
Periods of extended vacancy are always a possibility. Rental demand fluctuates no matter where you live or buy. Check historical vacancy rates and make sure there is not going to be an abundance of new units flooding the market.
– Economic diversification
Select areas where there are plentiful job opportunities and a diverse economy. Avoid mining towns that are solely reliant on one industry type. Always consider the underlying asset over and above anything else. You don't want to end up with an illiquid asset.
– Target demographic
Look for properties that have wide appeal to all demographics – eg, 1 bed plus sunroom would appeal to professionals, couples with one baby, or students or retirees etc.
– Have a tailored and customised strategy in place
Property investing is a long term venture with many twists and turns before you reach your end goal. By having a tailored and customised strategy in place it's like having a GPS to guide you seamlessly and effortlessly to your final destination. Consider your exit strategy, not just your entry strategy.
– Buy an investment property with proximity to good amenities
Tenants desire to live close to transport, shops and good schools and access to lifestyle opportunities. They often rent in areas where they can't afford to buy.
– The ability to add value with a cosmetic renovation
Some simple renovations can add value without being too expensive. Cosmetic renovations can increase rent return and improve chances of finding a tenant.
– Number of potential occupants
Always consider the number of potential occupants in a rental property, which is determined by the number of bedrooms and bathrooms.
– Always obtain landlord insurance if you're renting out
Landlord insurance protects you and your asset and, if you are unlucky enough to have something badly damaged, you can look at it as an opportunity for a 'free' upgrade.
– Engage a good property manager
A good property manager can prove invaluable to landlords. Try to find one that will manage your asset properly, including the suggestion of rental increases at appropriate times.
– Look for low-maintenance homes if you are looking for a long term rental
Try to find something that will be easy to maintain and inexpensive to spruce up for sale.

– Allow pets (with their own references)
Allowing pets in your home makes it easier to attract tenants – especially long-term tenants.
Ask for a pet reference from a previous landlord.
– Market conditions
When buying a development site, consider the time frames required to obtain a DA (Development Approval) consent and complete the building project and factor in delays and contingencies. They typically always take longer than expected.
– Type of property demanded
Look at the current demand in an area (for example, 1-bed units or most popular size of suite/warehouse/shop) and buy accordingly.
Looking at the current demand will give you a better idea of what will do better in that particular area.

When considering an area in which to buy property, keep these features in mind:
– Diversification
Plan to select a range of locations that have the right fundamentals for capital growth and strong yield. Don't put all your eggs in one basket (location). Diversifying into other states also helps take advantage of different property cycles and spreads your land tax liability.
– Good access to amenities
Purchase in areas that include amenities such as schools, parks, restaurants, beaches, shops and that are well serviced by public transport.
– Well-established areas
Well-established areas will have fewer new residential developments, reducing the chances of an undesirable development springing up and decreasing the value of your property.
– Community and Family Friendly Areas
Buy in areas that have a great community spirit – suburbs which are family friendly and with low crime rates, plenty of parks and outdoor space and sporting facilities. Often there is a local community shopping centre with cafes and specialty shops that are hidden gems.
– Good schools
Buying in an area with a good school catchment is a proven strategy for increasing your investment return. Owner occupiers often pay 10% more to buy in these areas which helps drive capital growth.
– Find the vibe
Investors and home buyers are often attracted to an area with plenty of "vibe" and activity. There's always some suburbs considered more trendy and hip than neighbouring areas.
Understand the vibe from a local expert before you commit to buying there.
5.

Things that can be overlooked:

Certain features that can be off-putting at first may not actually be a major issue. These include:
– External facades
The street appeal of a home can usually be easily and relatively inexpensively improved.
– Internal finishes
Small finishes such as wallpaper, paint and colour can be easily fixed. It's best to focus on size, light, floor plan, outlook, direction and overall aspect instead.
– Closed in spaces
There may be an opportunity to easily remove a wall and open up rooms to create more space. Assess the building's structure to see if this might be possible.
– No car space
Even if there is no car space on title, if the property is located very close to transport links, then tenants can dispense with having a car.
– Poorly kept gardens
Gardens can be easily improved to significantly increase the overall appeal and value.
– Construction type
The quality of the property construction will determine the level of maintenance that will be required later. Brick homes generally have less long term maintenance compared to weatherboard properties
6.

Things that should never be overlooked:

These are issues you should never overlook, no matter how enticing the property might otherwise be:
– Massive ongoing water-proofing issues
Any water-proofing issues should be carefully considered. Get a strata report and building inspection to ensure water issues have been fixed adequately.
– Significant termite infestation and damage
Like water-proofing, this is an issue that should never be overlooked. Minor termite damage can be fixed, but ensure long term termite prevention is installed.
– Illegal non-council approved work
This is potentially unsafe and, once this is your house it will be your problem.
– Location, Location, Location
No matter how beautiful the house itself may be, if it's in the wrong location it's not going to be a sure investment.
– No sunshine
Often an agent will only show a property in summer and in the one hour period it gets a glimpse of sun.
Make sure you assess the surrounding buildings/sun blockers, or visit the property at different times of day before you buy.
– Expired commercial leases
When buying commercial property, it is vital that you check the quality of the leases as this helps support the underlying value of the commercial asset. Make sure the business leasing the property is viable and intends to stay in the premises long term.
– Crunch your numbers
consider all the costs associated with the purchase PLUS the ongoing costs of holding a property BEFORE you commit to a purchase – i.e. consider, insurance, rates, levies, water, maintenance and repairs, interest, management fees, land tax, etc.

And finally, below are a list of questions one should always ask the vendor and agent:
Is the owner or agent aware of any neighbouring developments or issues with the property?
Is the owner flexible with settlement terms (in other words, has the owner already purchased another property)?
How did you arrive at your quoted price/rental estimate?
Why is the vendor selling this property?
Ask the agent how many building reports or strata reports have been completed?
How many people do think will seriously be attending the auction?
Is there anything else about the property I should know about?
Bonus Tip: If there is a tenant currently staying in the property, ask them if there have been any issues and ask the rental agent about any outstanding maintenance. You're more likely to get a straight answer out of them than the seller or agent.